Marble lion sculptures have held a special place in art and architecture for centuries, admired for their timeless appeal and symbolic significance. These majestic creatures, with their enduring aura of strength and courage, continue to captivate and adorn our homes. Regarding porch decoration, marble lion sculptures are an exquisite choice, as they not only add a touch of grandeur but also carry deep cultural and artistic meanings. In this blog, we'll explore the top 6 most unique marble lion sculpture designs that can grace your porch and elevate its aesthetic appeal.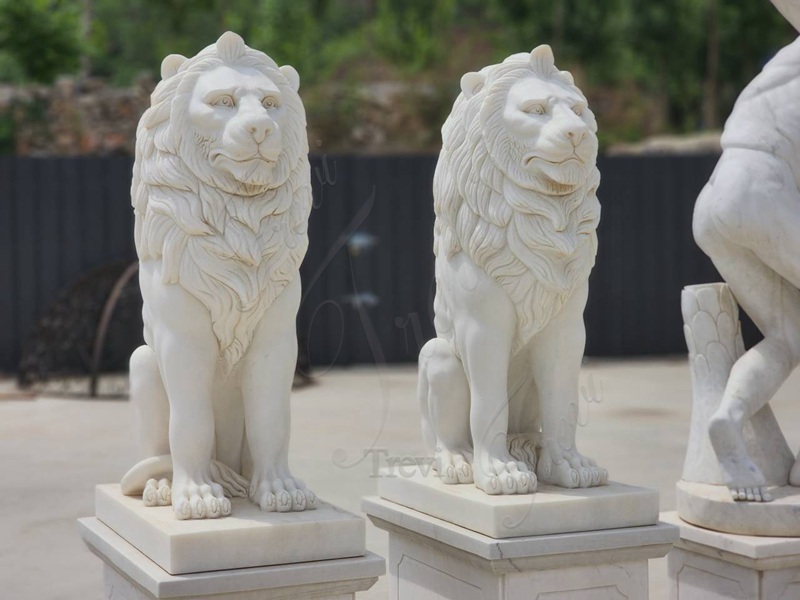 6 Unique Marble Lion Statue Designs
1. Guardian Sitting Lion Statue
Embodying balance and protection, a pair of guardian lion sculptures is a classic choice. One lion, often depicted with a paw resting on a globe, symbolizes protection, while the other, with a paw on a playful cub, signifies nurture and harmony. Carved from fine white marble, these regal lions exude a sense of serene authority.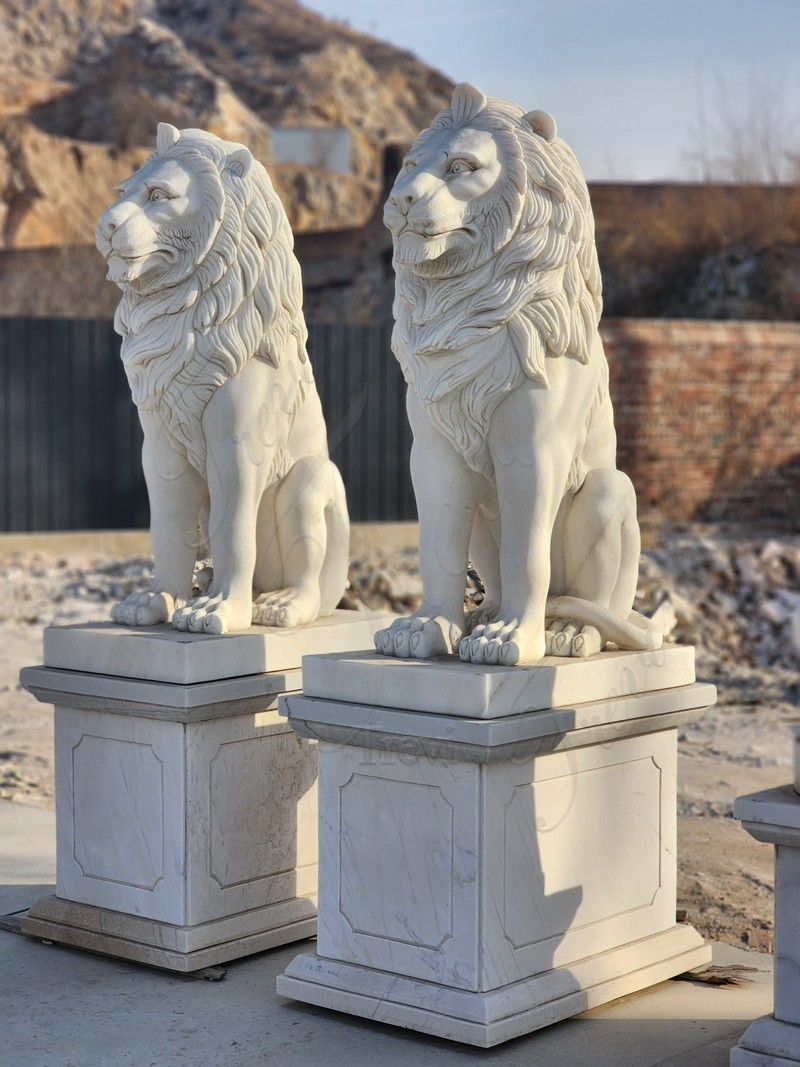 2. Winged Marble Lion Sculpture
These majestic huge marble-winged western lion statues would guard your home or estate and create an elegant and charming atmosphere. Crafted from marble, this sculpture portrays a lion with gracefully spread wings, adding a touch of mythical and celestial elements to its regal form. This unique piece blends strength and grace, making it a mesmerizing focal point in any setting.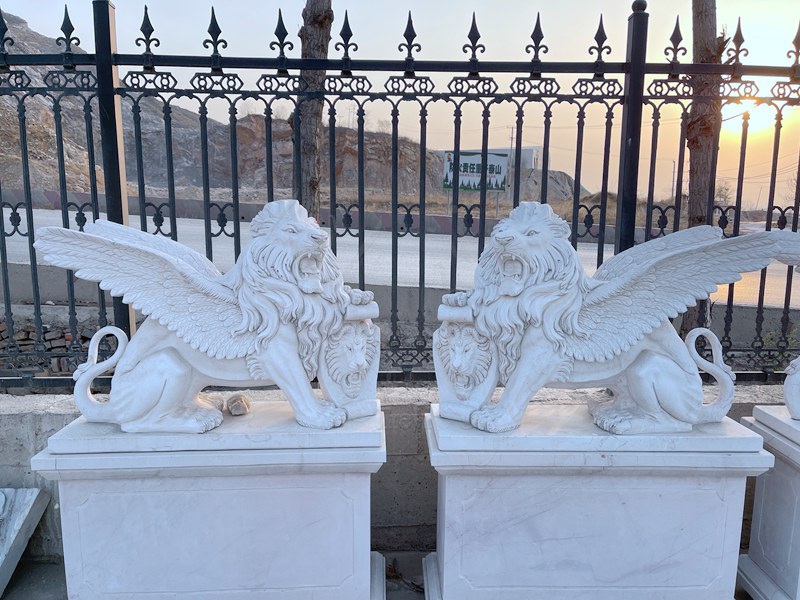 3. The Majestic Roaring Lion Statue
The roar of a lion symbolizes courage and strength. A marble sculpture of a majestic roaring lion poised on your porch embodies these attributes with unparalleled grandeur. The intricate details of its flowing mane and fierce expression make a powerful statement.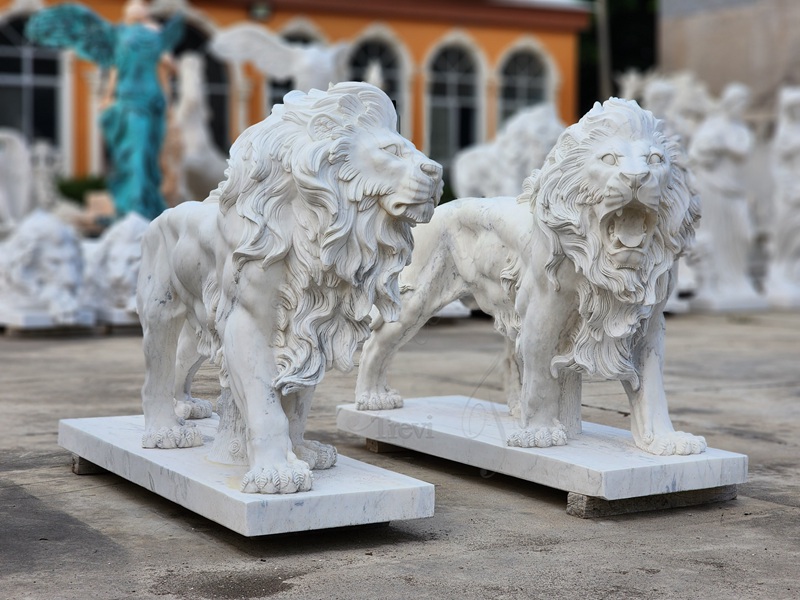 4. Black Marble Lion Sculpture
A Black Marble Lion Sculpture is a striking and elegant artistic creation carved from black marble, featuring the iconic image of a lion. This sculpture exudes a sense of regal power and majesty, making it a captivating addition to any space for its aesthetic appeal and its symbolism.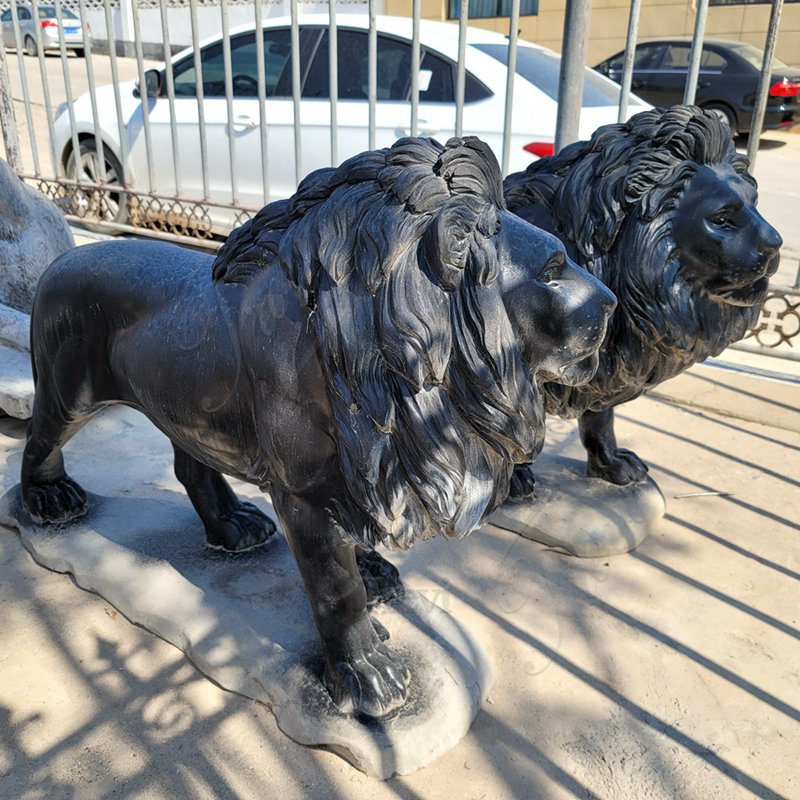 5. Marble Lion and Child Statue
This pair of marble lion statues is incredibly stunning. The lions are depicted lying on marble pedestals, with charming cherubs resting on their backs. The statues are adorned with an abundance of flowers and green grass, creating a vibrant and prosperous scene. With such exquisite sculptures as decorations, your house will radiate magnificence. These sculptures are not limited to houses; they are also perfect for garden entrances, manor entrances, office buildings, or even bank entrances.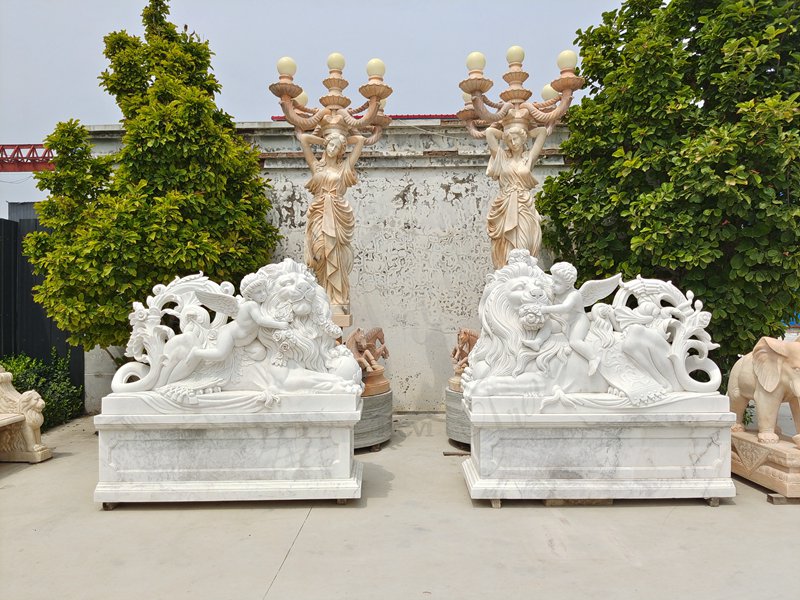 6. Chinese Foo Dog Lion Statue
This pair of Chinese Foo Dog Lion Statues consists of two intricately crafted statues, typically made of marble. These statues represent the mythical guardian lions known as "Foo Dogs" in Chinese culture. One typically features a male with a paw on a globe, while the other is a female, often seen with a paw on a cub. These statues symbolize protection, harmony, and prosperity, and are commonly placed at entrances to homes and buildings in Chinese tradition.
Placing Marble Lions to Create Atmosphere
Where you place your marble lion sculptures can significantly impact the atmosphere of your porch. Placing a pair of guardian lions at the entrance symbolizes protection and balance, welcoming guests with a sense of security. Roaring lions can emphasize courage and strength, while lionesses can add a maternal and protective ambiance. The choice of placement depends on the atmosphere you wish to create.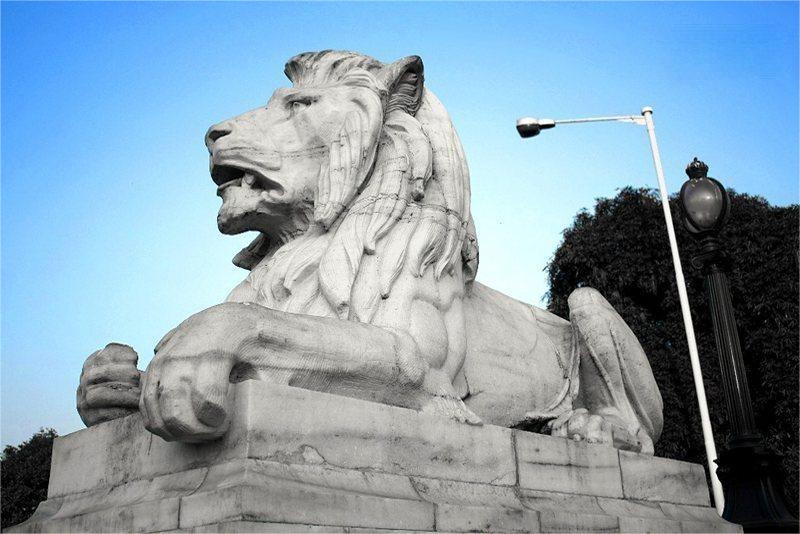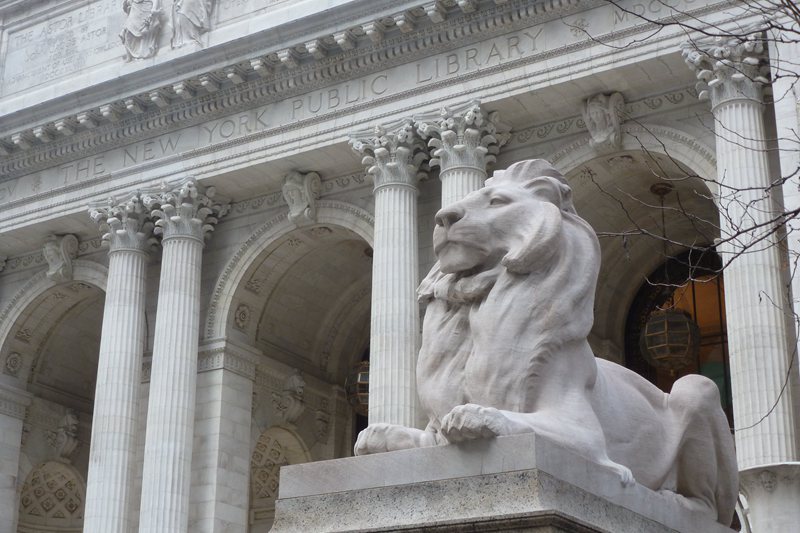 Trevi Factory's Advantage
If you're considering acquiring these magnificent marble lion sculptures, Trevi Factory offers an array of advantages. With an impeccable reputation for craftsmanship and attention to detail, Trevi Factory's sculptures are renowned for their quality. They can create custom designs, ensuring that your porch reflects your unique taste and style. Moreover, their experience and expertise make them a trusted source for genuine and exquisite marble lion sculptures.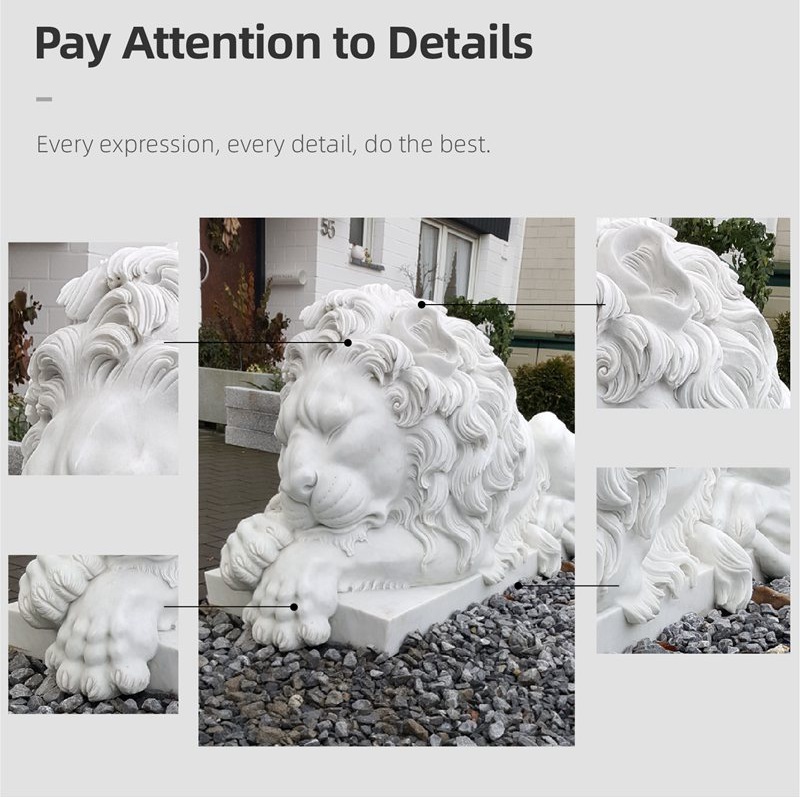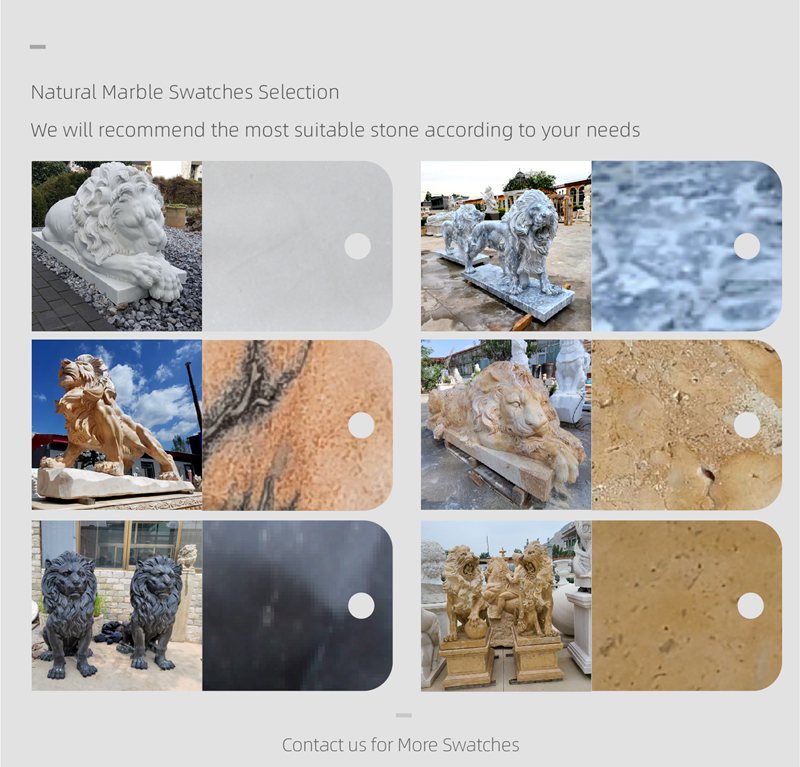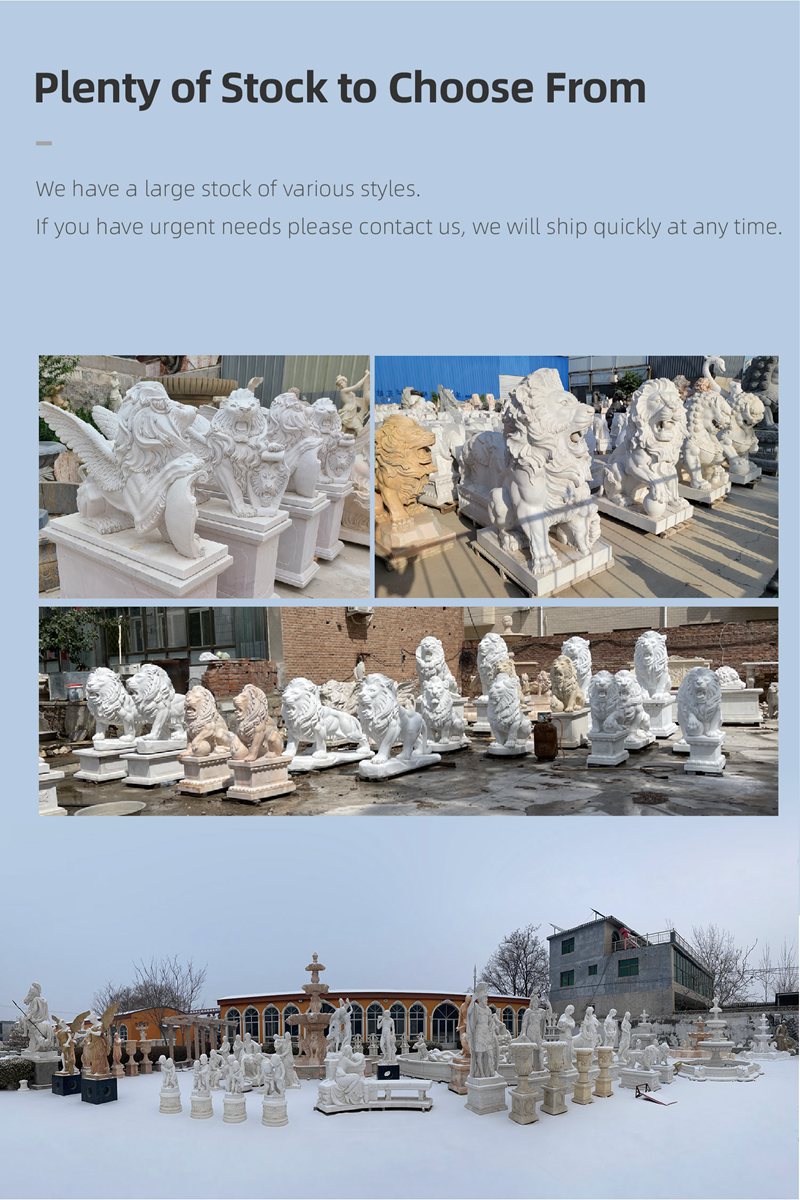 Marble lion sculptures are more than just decorative pieces – they are symbols of strength, courage, and timeless artistry. Choosing one of these unique designs can transform your porch into a regal and inviting space that not only reflects your personal style but also conveys deep cultural and symbolic meanings. Whether classic, abstract, roaring, sleek, maternal, or playful, there's a marble lion sculpture to suit your porch and make a bold statement.