Description of Lion Statues Outdoor:
Trevi marble lion statues outdoor uses pure natural raw materials. When you see them, you would be deeply attracted by them. The shapes of the two Foo Dogs are so cute and vivid. Especially the way they tilt their heads is very pleasing. And Foo Dog's body is very beautifully carved. The most distinctive thing is that they have the same bells hanging around their necks, and there is also this different-shaped hydrangea under their paws. When people pass by your home, people would definitely be attracted to them.
Unique Marble Pier Design:
When you walk on the street, you would see all kinds of lion sculptures, some of them are lying on the ground, some are standing on stone piers. Trevi marble lion statues outdoor are standing on a stone pier. You could clearly see that this stone pier is very different. Our artists give them unique shapes. Especially at the bottom of the stone pier, the designer uses auspicious clouds to symbolize auspicious blessings.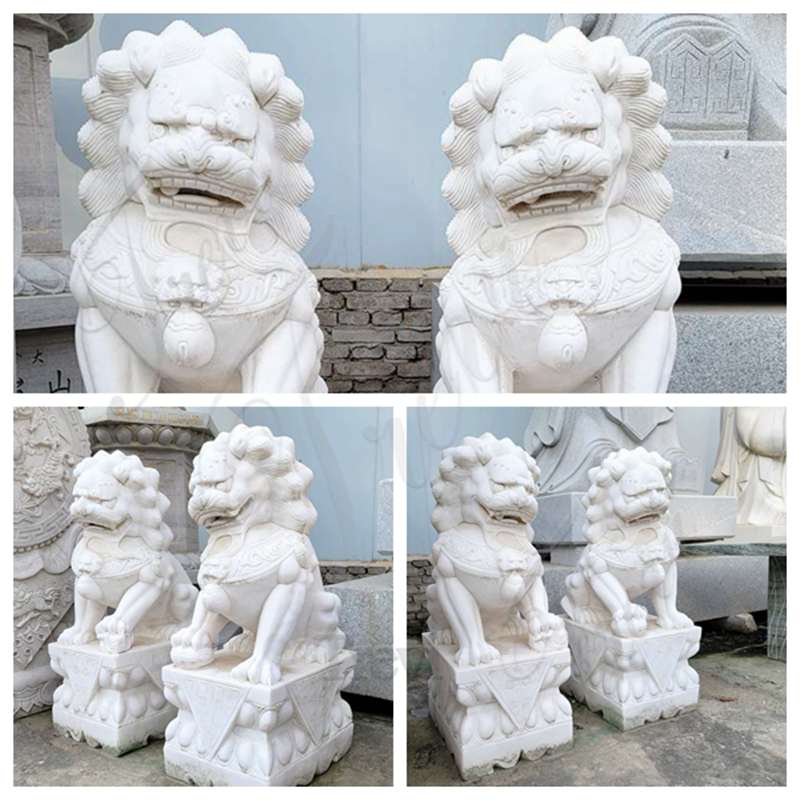 Use High-Quality White Marble:
Trevi marble lion statues outdoor use high-quality white marble. Only good raw materials could carve exquisite lion sculptures. Therefore, we always insist on using high-grade stone. Trevi natural marble is dense but not hard. Therefore, it is easy to process, sculpt, grind, and polish. And after the marble is polished, it is smooth and delicate, the texture is natural and smooth, and it is highly decorative. Moreover, our marble sculptures have low water absorption and high durability and could be used for hundreds of years.
Of course, we also have other types of white marble, such as Hunan white, Guangxi white, Sichuan white, and other marbles. Trevi not only has white marble, but we also have natural raw materials in various colors. Therefore, Trevi not only meets your requirements for styles but also meets your requirements for different colors.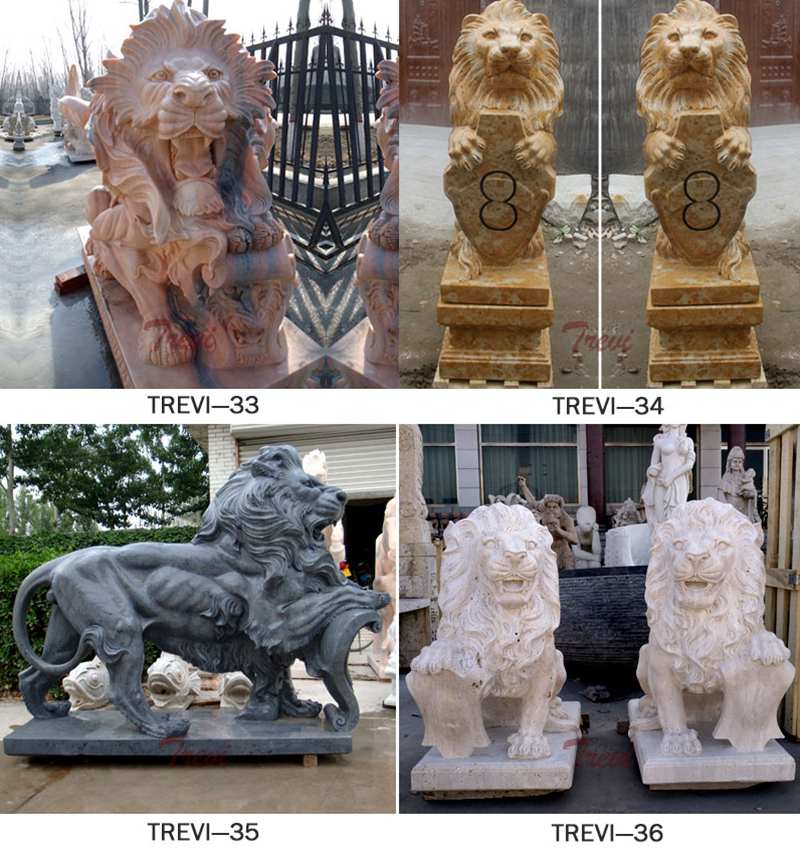 You could contact us immediately, and we would explain in detail the advantages of our marble and the exquisiteness of the artist's engraving work. Of course, we would also provide you with the most favorable price.