Marble Lion Statue Details:
Our lion statue in front of the house is made of high-quality natural marble. Our raw materials are high-quality A-grade materials. And, we make sure that our raw materials are pure natural stone. Therefore, the high-quality stone could be carved into a very vivid and realistic Chinese lion sculpture. In addition to the finely carved details, our high-quality lion sculptures are guaranteed to be used outdoors for hundreds of years. There is no doubt that our lions only need regular cleaning and maintenance to maintain their beautiful appearance for a long time. Please see how interesting these two fu dog lions are. Our front porch stone animal lion statues are made of high-quality natural marble. As a professional marble carving factory, all our marble lion sculptures are hand-carved by our professional artists.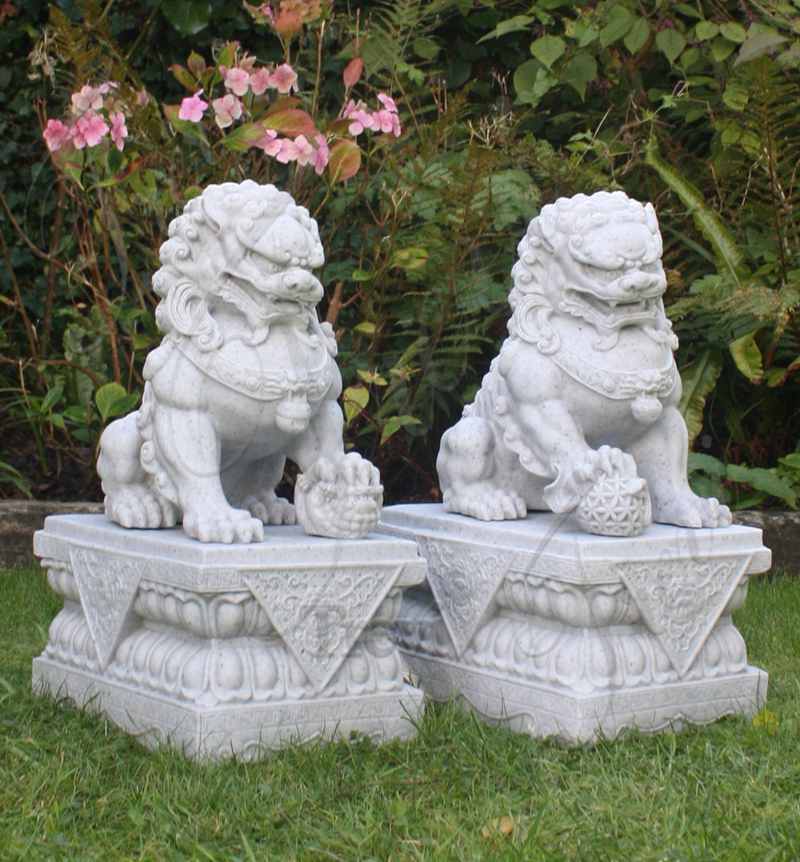 The Meaning of the Lion:
Chinese Lion Foo Dog is actually China's guardian lion, it is also called the feng shui dog.  It was Westerners who named them Foo dogs. Some people also call them fu dogsOthers may call them Buddha dogs. The Chinese most often call them shi zi, which means lions. In Japan, the feng shui  Foo dog is called Komainu. Foo Dog meaning The Fu dog placed inside or outside the building is designed to protect your home or workplace from negative energy damage.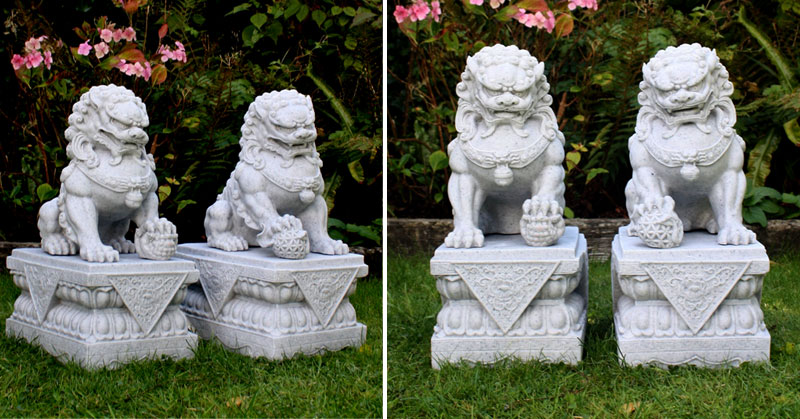 It is said that these guardians ' lions will prevent anyone who has malicious intrusion from entering your home. For example, it may be a jealous person or anyone who wants to denigrate you in any way. It may also be those who crush your dreams and plans to build a better future. Their intentions may be good, but their negative concerns may make you wince or even worse, let you give up your dreams.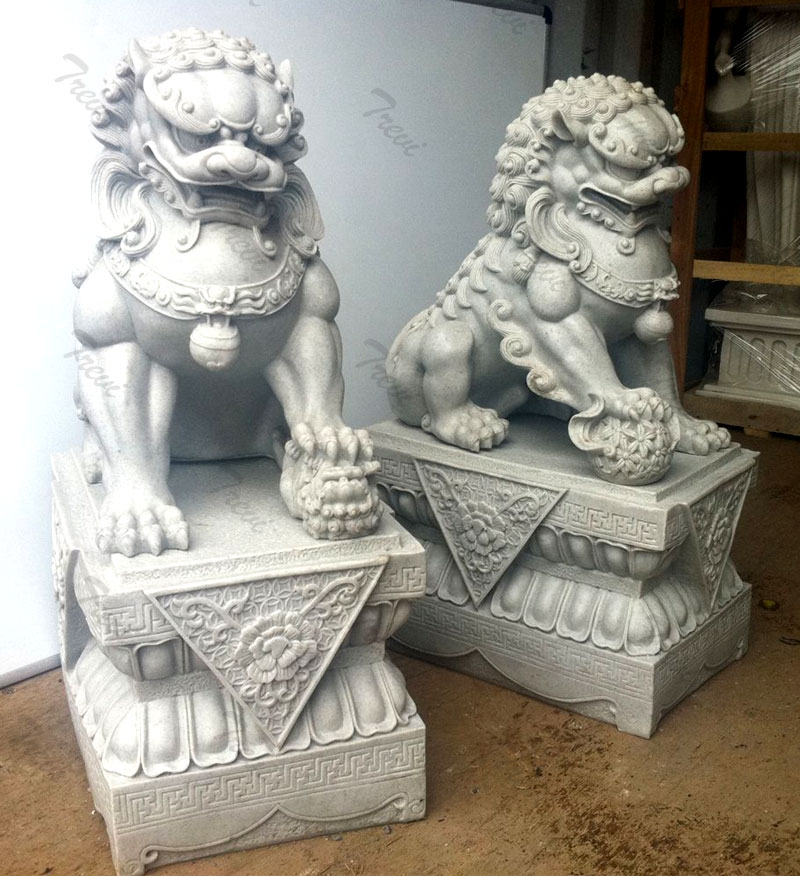 More Marble Lion Sculpture Designs:
At Trevi Art Sculpture, you could find hundreds of stone lion statues for front porch designs. These are all popular designs in our factory. Of course, there is always one of our many lion sculptures to meet your needs. And, we still have a lot of lions in stock. So buy a lion sculpture at Trevi and you could get it done quickly and get your lion sculpture the first time. Regarding the size of the sculpture, you could choose our regular size, of course, we could also customize it for you according to your requirements.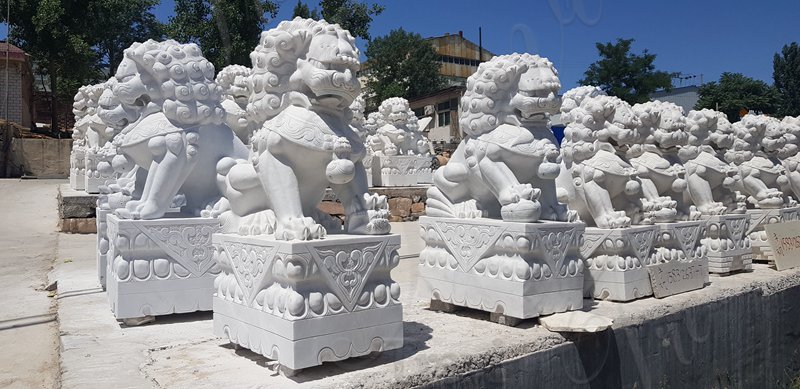 Exquisite Free Clay Model:
At Trevi, you would have many different styles of Chinese lion sculptures. And, each of our lion sculptures has an exquisite clay model. You could choose to use these existing clay models for free. Without a doubt, you would save a lot of money on the clay model. Of course, as a large lion sculpture factory, we guarantee you would get a realistic lion sculpture.
As a professional marble lion carving factory, all our front porch stone lion statues are hand-carved by our professional marble artists. And our lion sculpture price is also the best ex-factory price, please feel free to contact us for the latest prices and discounts.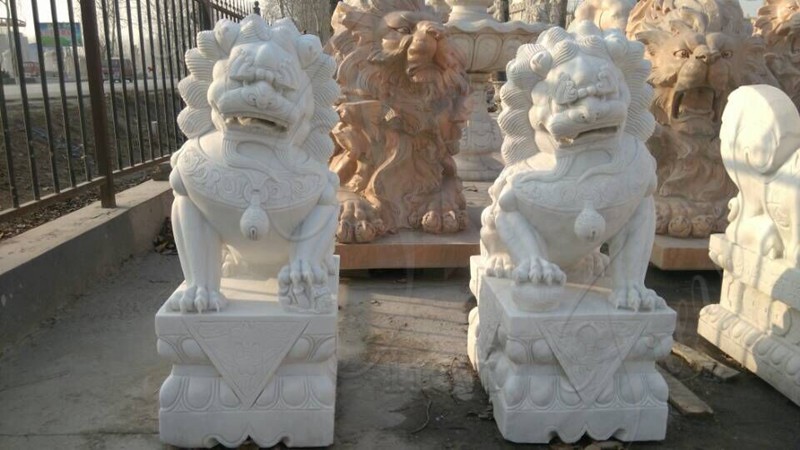 Foo Dog reminds all negative energy away from home. Many offices, shops, hotels, and restaurants may place the lions of these Chinese guardians on either side of the entrance. They are considered to be able to protect their business.