Modern Famous Marble Cupid and Psyche Statue Detail
There is a famous story in ancient Greek mythology. The goddess Venus was jealous of a woman who was more beautiful than her, so she cast a spell to make this woman sleep. Only the kiss of Eros could awaken the woman. The Famous Marble Cupid and Psyche sculpture depicts the moment when the woman was awakened by Cupid, a winged god of love.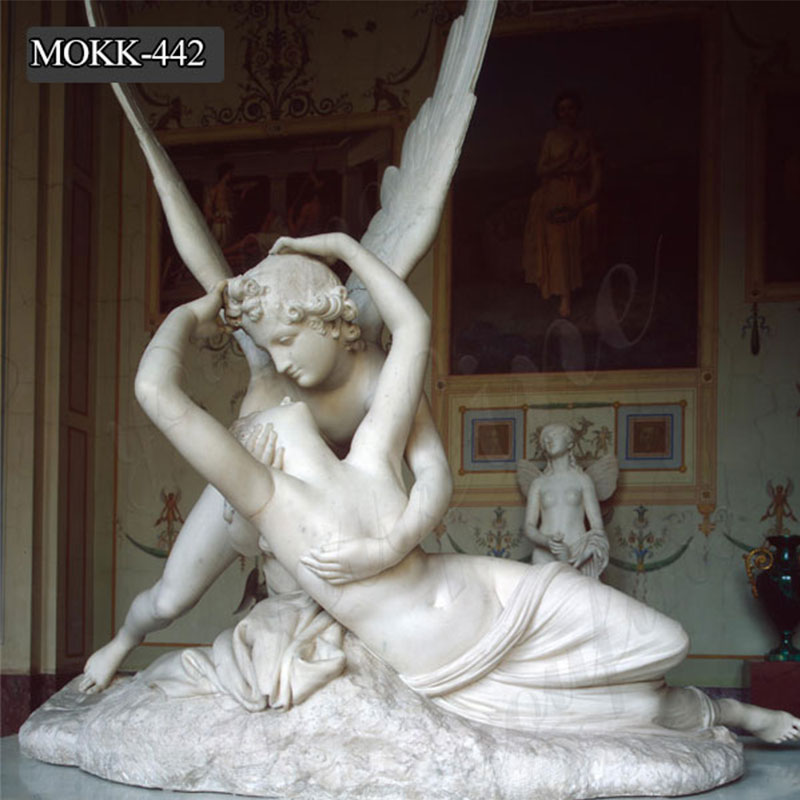 Our product advantages
Marble Cupid and Psyche statues are made of natural high-quality stone. Our professional craftsmanship and vivid wing lines greatly enhance its visual beauty. This stunning figure marble sculpture design is purely hand-carved by our marble masters. In fact, marble has long been used to show different abstract art forms from different cultural backgrounds. Marble is ideal for a variety of statues due to its translucent quality, and it inspires realism to some extent.
About After-sales Service
All of our marble sculptures and products are guaranteed with high quality. If you find any quality problems during use, you can always contact our staff. We will solve the after-sales problems for you as soon as possible, please rest assured that we have a perfect after-sales service system, and we can surely provide you with satisfactory products and services.
Shipping
As for the transportation of Modern Famous Marble Cupid and Psyche Statue, in general, we choose to transport by sea, but other transportation methods can also be used, such as air transportation. Our nearest port is Tianjin, China, of course if you choose another port it is also possible.
TREVI Art Sculpture has been dedicated to the sculpture industry for many years, is the leader of the series and has a team of experienced handmade sculptors. Our sculptures can be designed in a variety of styles and sizes, and can be customized. If you have any requirements, please contact us as soon as possible!