Marble Water Fountain Details:
The layers of marble water fountains are 12 feet in diameter. The pillars of the fountain are also decorated with detailed carvings. Of course, there are also some neatly carved pieces of marble around the rim of each bowl. In addition, the water from the fountain flows down each bowl and into each basin in turn.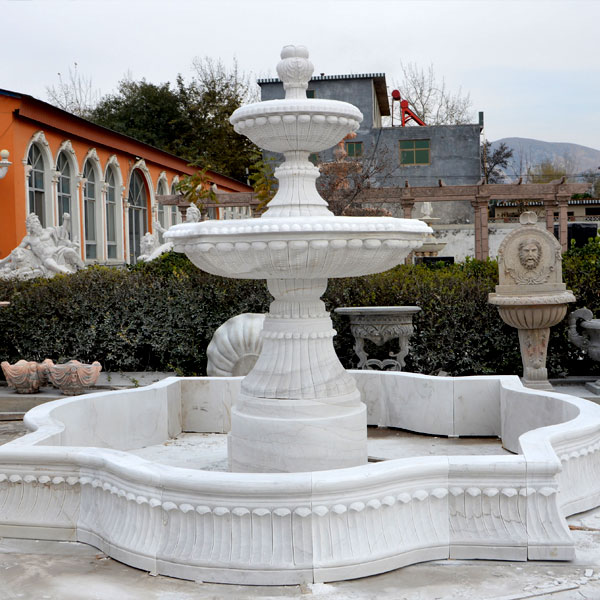 Marble Fountain Sculpted for UK Clients:
This tiered marble fountain is a classic design we've previously made for our UK client. They ordered this for their hotel and it was in the center of the driveway. They liked our fountain very much and said it was very eye-catching and many clients took pictures with it. Customers are very satisfied with our quality and hope to have more cooperation in the future.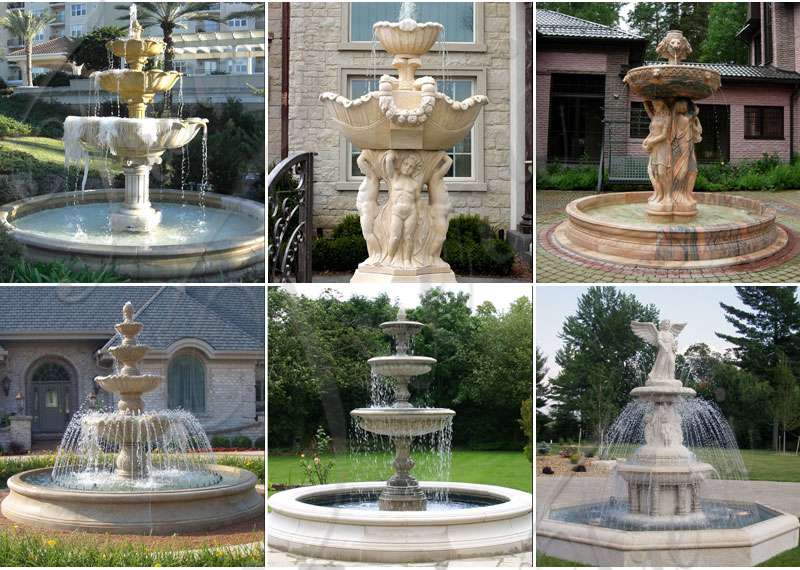 More Designs of Marble Fountains:
In addition to this design with a neat and beautiful layered marble fountain, we have another fountain design. For example, we also have character fountains, wall fountains, and animal fountains. If you have a picture of the design you like, please provide us the picture, we would carve this marble fountain according to the picture you like.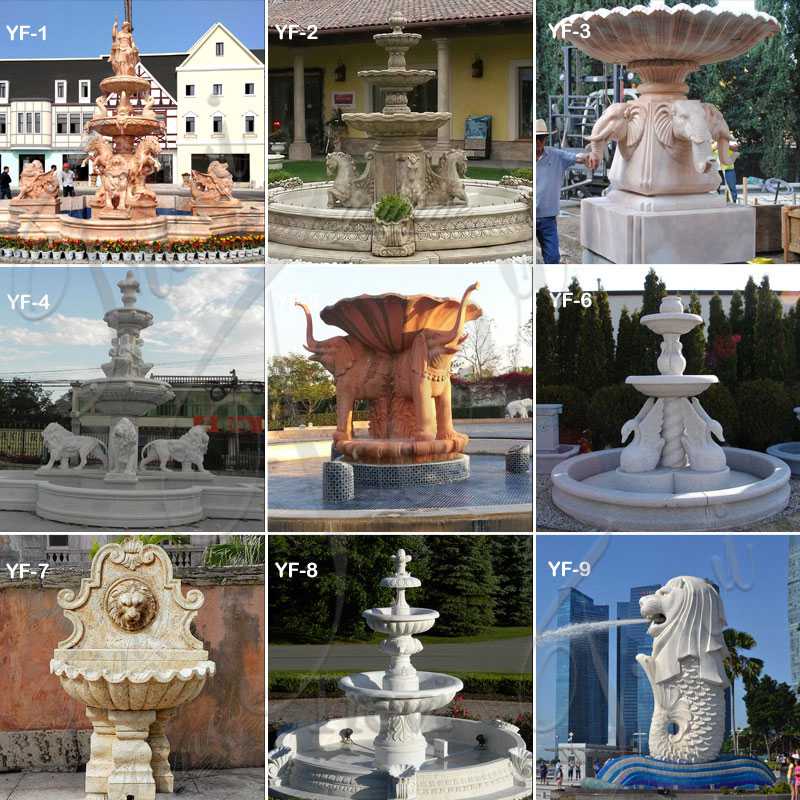 Trevi Factory Professional Service:
As a professional factory engaged in marble carving for nearly 40 years, marble fountains are hot-selling products. We have professional artists to carve marble fountains. During this process, we would update the picture. After the engraving is completed, we would install it in our factory, take pictures and videos for our customers for confirmation. Also, our fountains test the water in our factory. Also, we send the hose for the fountain for free.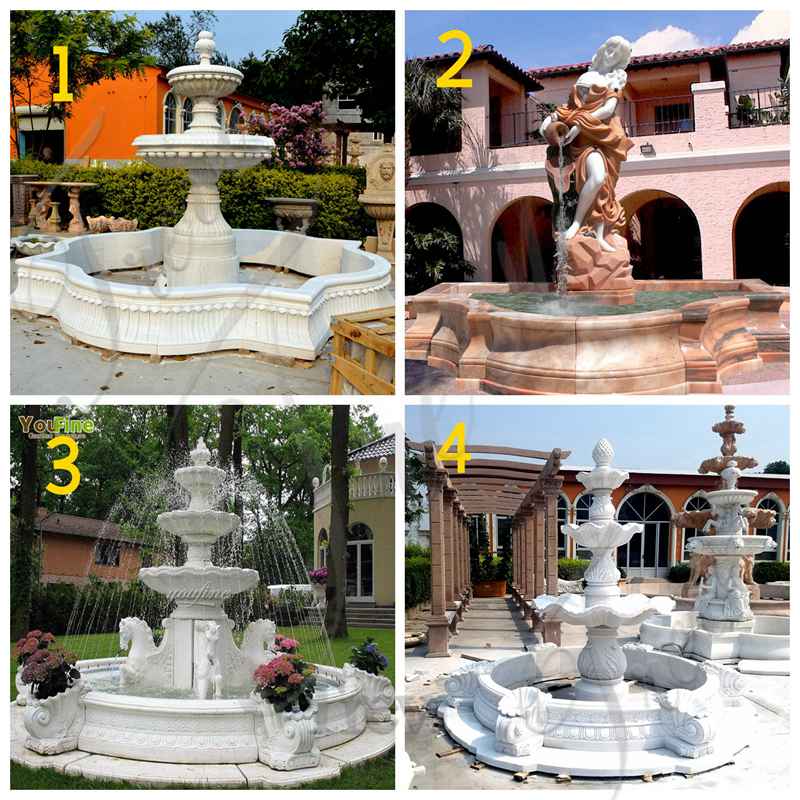 Reasons why fountains Are Popular:
In some elegant gardens, artificial pools have been decorated with many three-tiered fountains since ancient times. In Europe, many-tiered garden fountains are located on classical sculptures. Outdoor marble fountains have been around since ancient Greek times.
The operation of early stepped fountains mainly relied on the gravity of water flow, for example, using the inertia of water flow to spray upwards to a certain height through long-distance pipelines. In addition, in the design of the outdoor three-tier fountain, ancient Greek hydraulic engineers exerted their creativity. They make the stepped garden fountain work automatically through different mechanical parts and physics. In ancient Persia, fountains also appeared in classical gardens.

Trevi excellent artist:
Trevi's excellent artists use professional Quyang white marble to carve marble fountains. These artists specialize in making a variety of European-style and layered fountains. Our artists pay great attention to the beauty of detail, so trust us to provide you with beautiful marble fountains! Since ancient times, many 3 tier water fountains have been decorated in artificial pools in some elegant gardens. In Europe, many-tiered garden fountains are located on classical sculptures. Marble water fountains outdoor have long appeared in the ancient Greek era.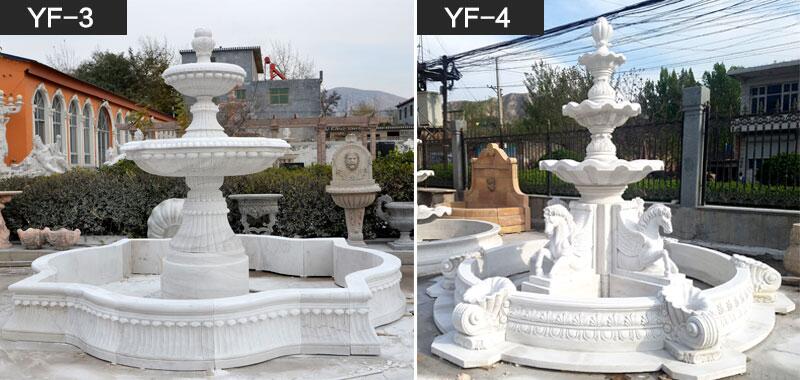 The operation of the early Tiered water fountain was mainly dependent on the gravity of the current, for example, by using the inertia of the current to spray it upwards to a certain height through a long-distance pipe. In the design of the outdoor 3 tier water fountain, Ancient Greek water conservancy engineer used their creativity, through different mechanical parts and physical automatically to make the tiered garden water fountain work. In ancient Persia, fountains also appeared in classical gardens.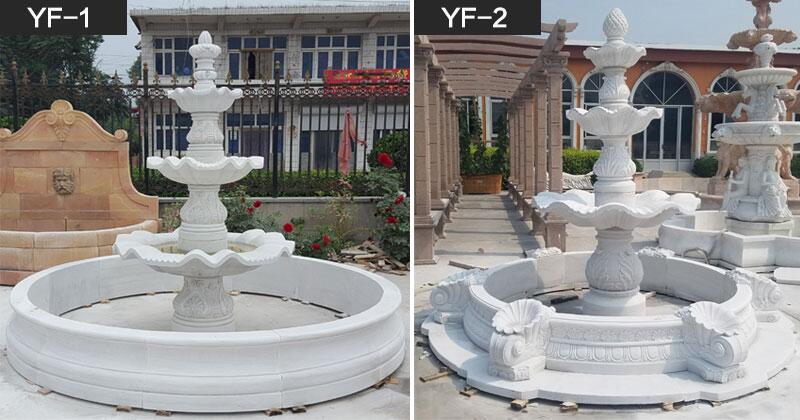 In the 16th century, the exquisite large Tiered water fountain was the symbol of the Italian and Indian aristocracy gardens. During the long years, a large number of Western-style fountains were built in Beijing Yuanmingyuan. They are called the flood law and were destroyed by the Anglo-French coalition in the Second Opium War. Our You fine sculpture Factory is located in Quyang.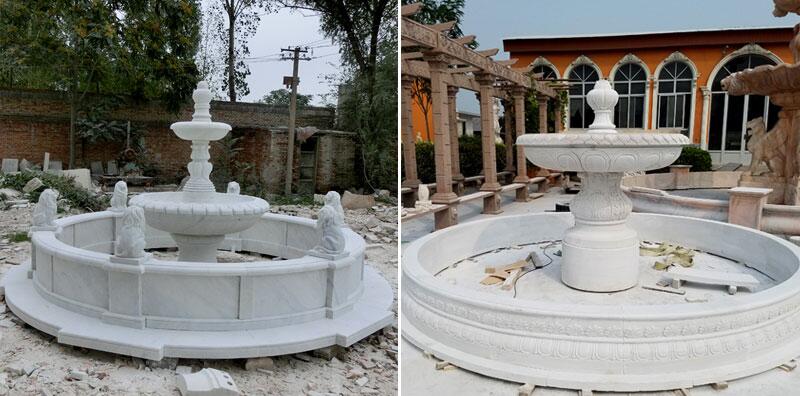 The professional Quyang white marble stone maker produced thousands of hammer sculptures, producing a variety of Western figures of European celebrity sculptures, suitable for placement in courtyards, villas, real estate statues, their own white marble mines, focusing on the production of various European and Western sculptures of the tiered water fountain. Perfection is not a small detail, but attention to detail can be perfect, so I believe we can be very good statues! So if you want to buy a marble tiered fountain. Trevi would be your best choice. You could always contact us and we would provide you with more detailed information and the best discounts.