Is Marble Suitable for Fireplaces?
First Trevi carved the modern marble fireplace surrounded by high-quality marble. We all know that natural marble has excellent heat resistance. Therefore, there is no doubt that natural marble could be used for wood-fired and gas-fired mantels. In addition, natural marble is very easy to maintain. Generally speaking, as long as you properly maintain your marble fireplace. Stains, cracks, and chips are rare with this marble fireplace. Of course, there is a wide range of marbles to choose from at Trevi, usually white and beige. Of course, we also have dark marbles like black. If you want a unique and stylish marble fireplace please contact us today. Trevi would give you more marble fireplace styles catalog.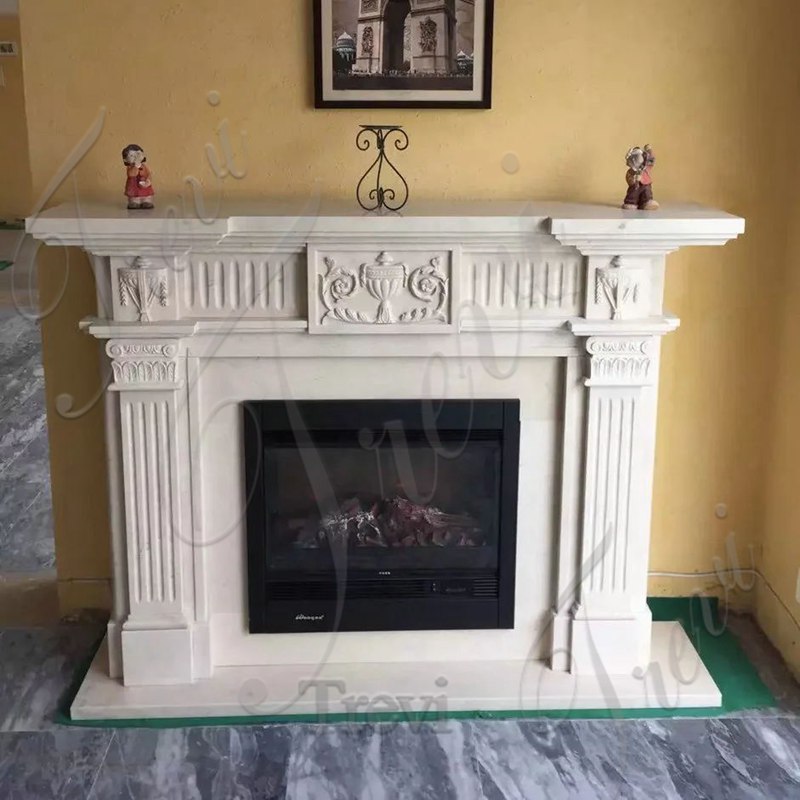 Description of Modern Marble Fireplace Surround:
This white marble fireplace is regency style. For this fireplace, we could clearly feel its simple and atmospheric pattern. There is not much decoration in the whole fireplace. And there are regular lines on both legs of the fireplace. Furthermore, the fireplace is entirely hand-carved by our artists. You could clearly feel the charm of this ingenious fireplace.
Trevi Pays Great Attention to Design Aesthetics:
Nowadays, our home environment is getting better and better. Therefore, it is more necessary to have high-quality home furnishing to embellish the overall visual effect. Trevi fireplaces could express your noble and elegant living space. We have professional fireplace designers, especially our designers who pay great attention to design aesthetics while ensuring practicality. If you also have romantic feelings and like style, then this fireplace is very suitable as your home decoration. Of course, having an elegant home environment would make the whole person feel comfortable. In addition, family members would also exude a positive energy aura every day, a full of vigor and vitality.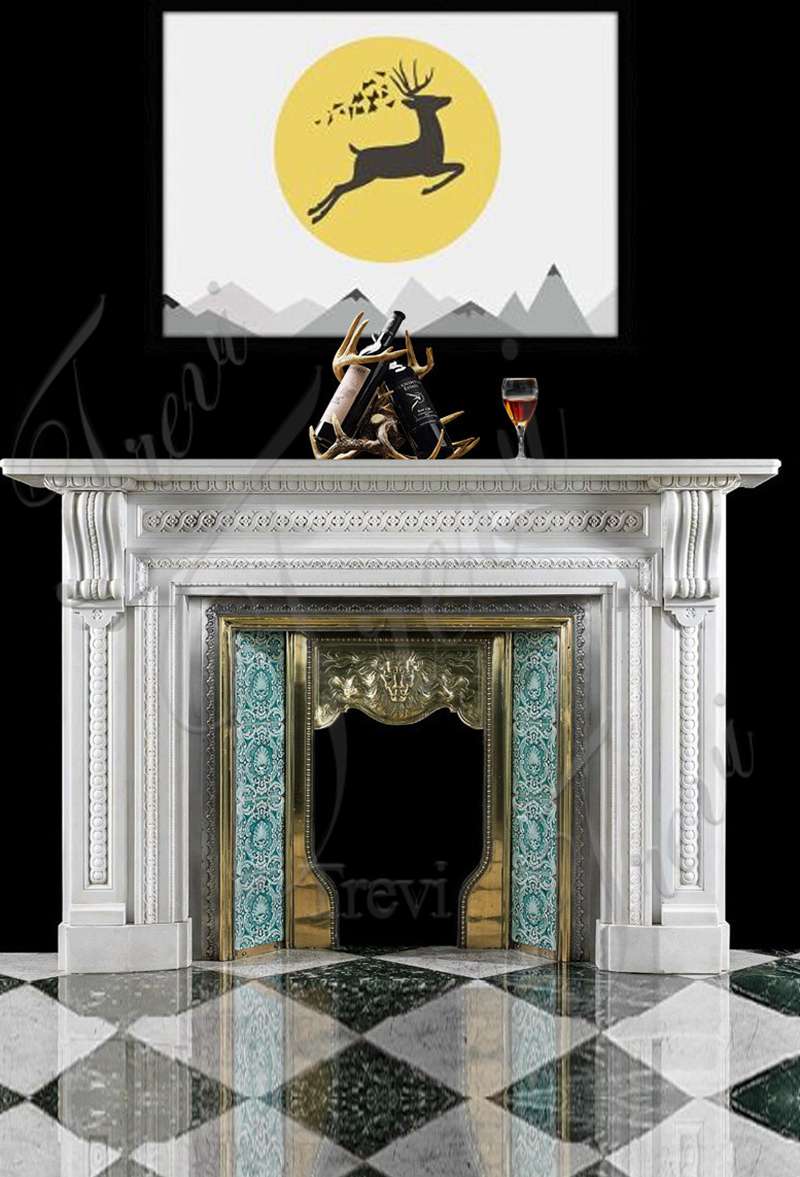 Advantages of Marble Fireplaces:
First of all, natural marble fireplaces are very high-end. These marble surfaces have a naturally formed line and are beautiful. Moreover, our fireplace carvings are carved out of the whole stone, not pasted. As a result, Trevi fireplaces last a long time. And we have professional polishing artists. And, our artists have decades of grinding experience. As a result, the surface of these fireplaces is smooth and delicate to the touch. Trevi indoor fireplaces are definitely worth choosing.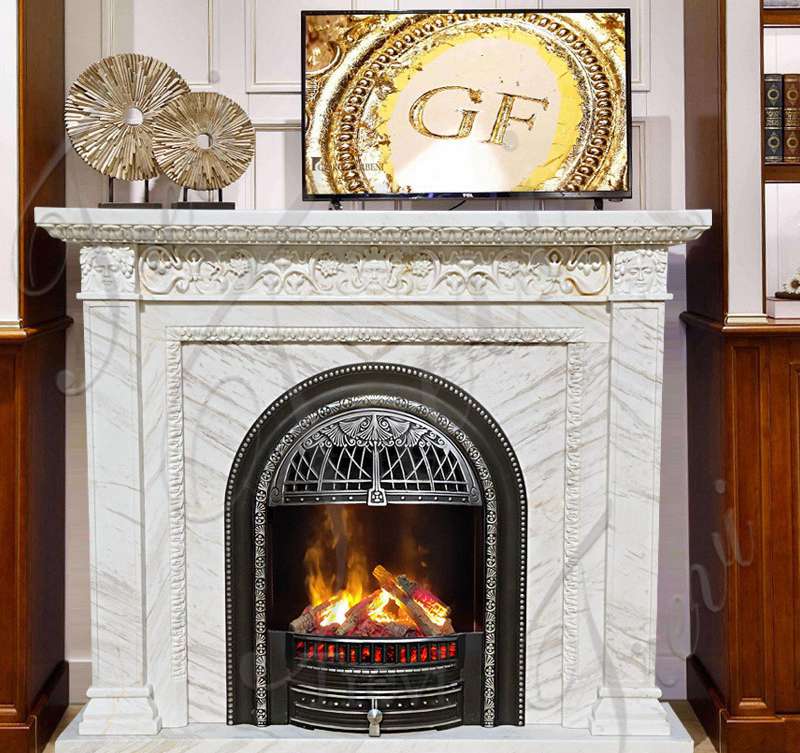 Use Feelings and Purchase Reasons:
There is no doubt that a large marble fireplace must be beautiful in your home. Of course, the fireplace gives the whole room the theme and quality. If you put some decorations on it, or the TV would be more warm and stylish. In addition, natural marble fireplaces have a strong load-bearing capacity. Also, Trevi has many styles of marble fireplace stones. So you could choose the style for customer service. Most notably, Trevi is a direct factory with no middlemen. Therefore, our prices are ideal.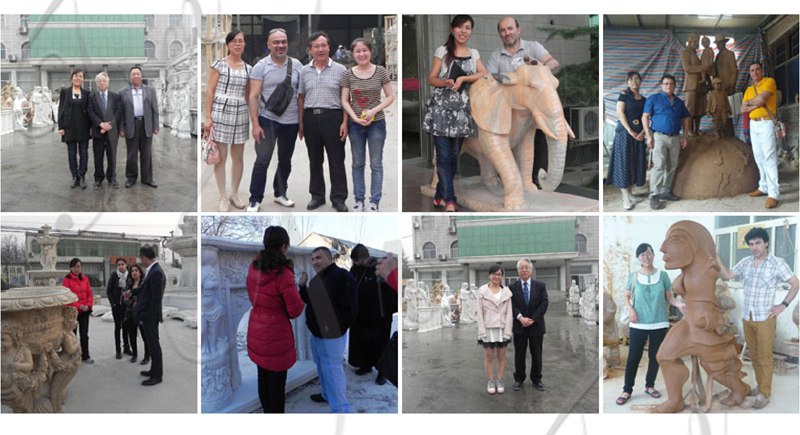 Marble's solid composition and heat resistance make it an ideal stone for fireplace surrounds. Marble is the perfect choice for your home fireplace. Its makeup and color would bring the warmth you want to create in your designs. Trevi believes you must be tempted, so contact us today for more styles of fireplaces.