Aesthetic Large Marble Fountain Design
This grand large marble fountain is a breathtaking masterpiece, adorned with an array of marble statues of diverse shapes at its center. Gracefully positioned at the base are four nude statues seated atop fish, exuding elegance and tranquility through their poised postures and serene expressions. Crowning the fountain is a half-naked statue, a female figure with two cherub sculptures encircling her feet.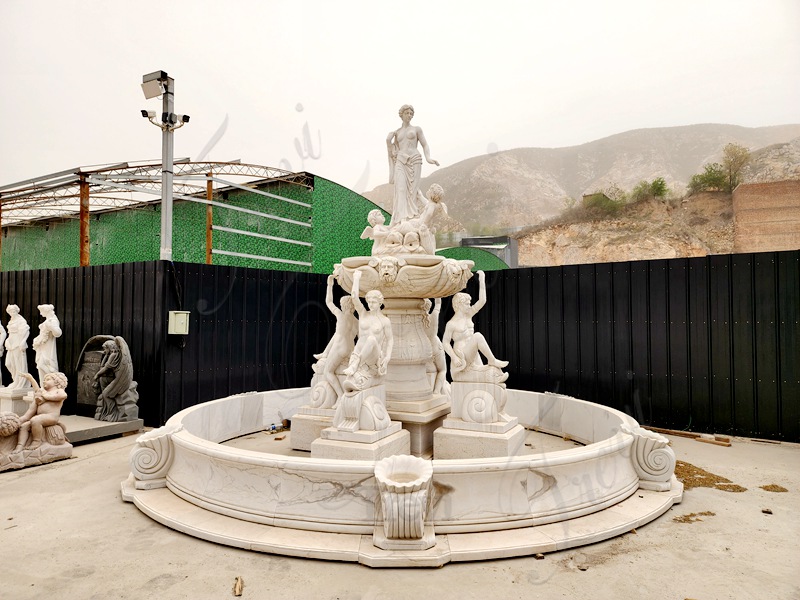 Consider this marble statue fountain as an exquisite addition to embellish your square, hotel courtyard, or shopping mall. The large marble fountains crafted by the Trevi factory boast exceptional quality. Constructed from premium marble, these fountains are designed to endure the rigors of various outdoor weather conditions, ensuring longevity and retaining their aesthetic appeal.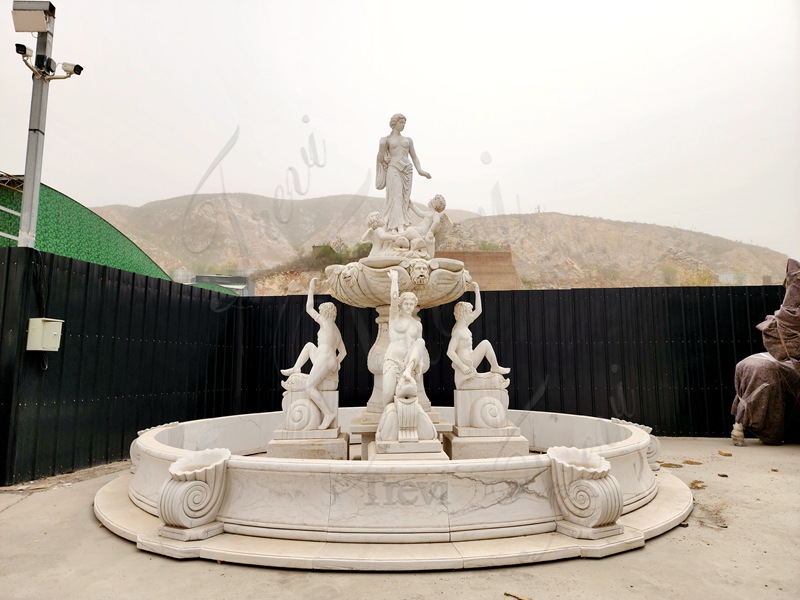 Unparalleled Hand-Carving Skill
The large marble fountain's realistic sculptures showcase the skilled artistry and abundant experience of the Trevi factory's craftsmen. Each figure is intricately carved, displaying a remarkable sense of lifelike detail and elegance. The four nude statues seated on fish at the fountain's base exemplify the artisans' expertise, capturing the human form with grace and harmony alongside aquatic elements. Their calm expressions and poised postures reflect the craftsmen's deep understanding of human anatomy integrated into the fountain's design. At the pinnacle of the fountain, the half-naked female statue, flanked by cherub sculptures, stands as a captivating centerpiece.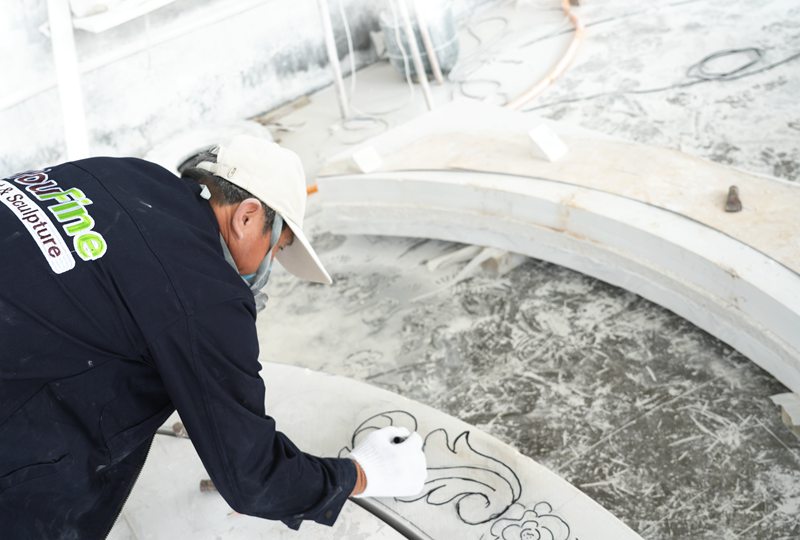 Installation Support by Professional
Trevi is committed to providing valuable installation support to our customers. As part of this commitment, we offer detailed installation drawings that are specifically tailored to the design of each marble fountain. These installation diagram templates are created to facilitate a seamless and hassle-free installation process. By providing clear and precise instructions, we ensure that our customers can easily and efficiently install their marble fountains, saving them time and effort.
Provide Marble Fountain Customization Services
Trevi could customize different types of fountains for you. Whether it's a simple single layer multiple layers, or even a carved figure or animal, We could customize it for you. At the same time, we would provide you with professional answers and services when choosing a water pump. Whether it's lifted, power, or flow, Trevi could resolve it through communication.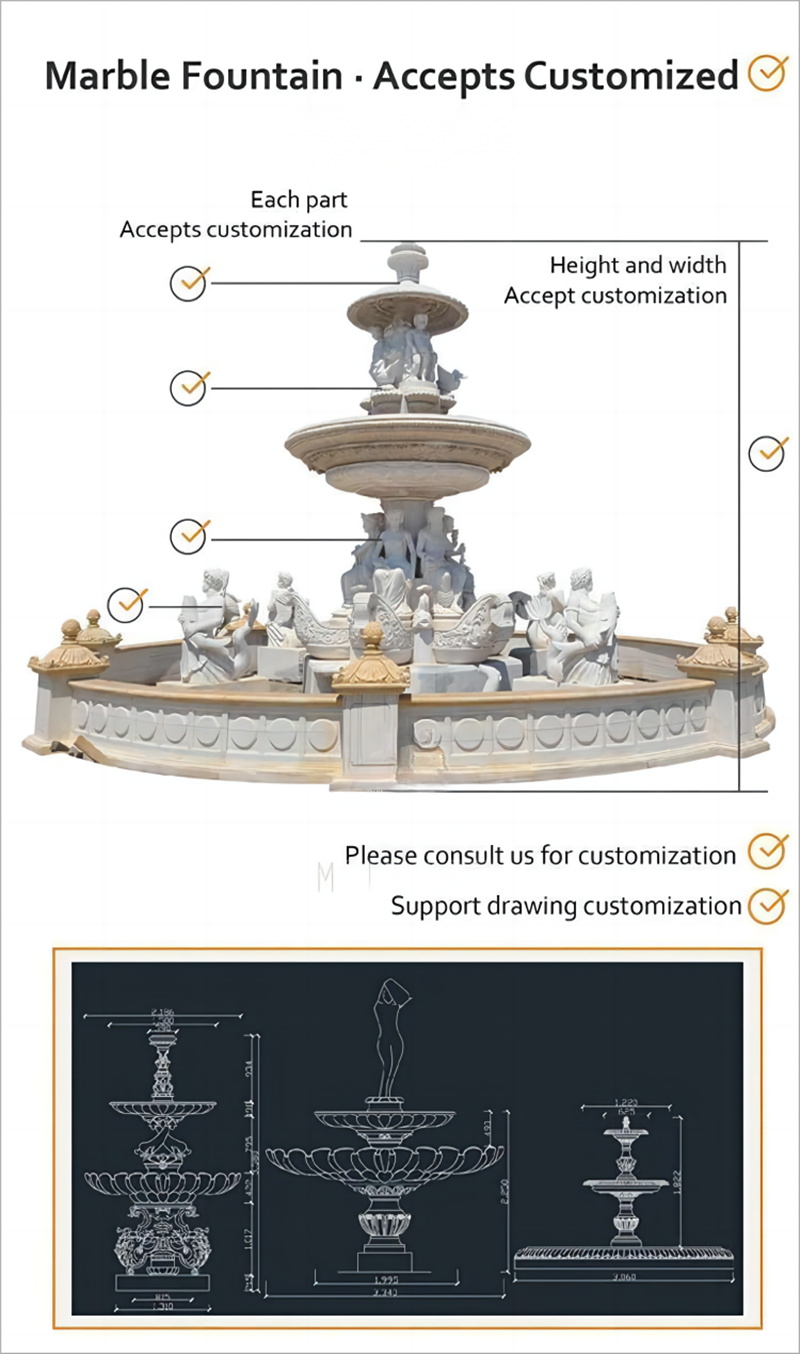 Explore Our Other Marble Garden Fountains
You could explore a diverse range of marble fountains at our factory, showcasing a variety of styles and designs. From classic to contemporary, our collection offers a fountain to suit every taste and elevate any space.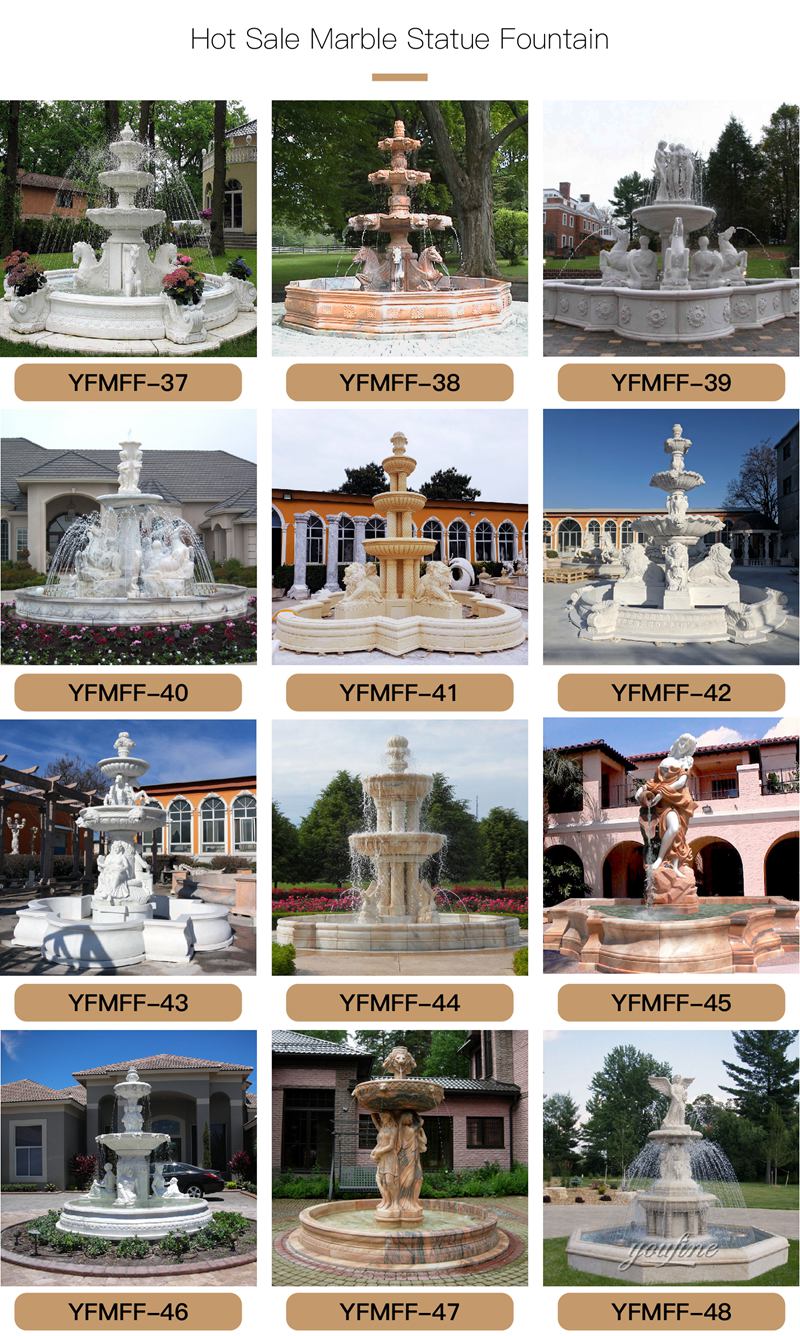 Don't miss the opportunity to own this magnificent large marble fountain. Order yours today!