Introduction of Marble Wedding Columns:
Trevi has many different styles of marble wedding columns. And, our artist in order to reflect the romance and happiness of the wedding. We use high-quality natural marble carvings. This high-quality marble could be stored and used for hundreds of years. Moreover, we use a single piece of natural marble to carve a wedding pillar. This expresses our good wishes for marriage. I hope everyone who gets married would live a long and happy life. Moreover, we also endow the newlyweds who get married with mutual trust and the expectation of sharing weal and woe. Therefore, choosing Trevi wedding columns and pillars for sale would be your clearest choice.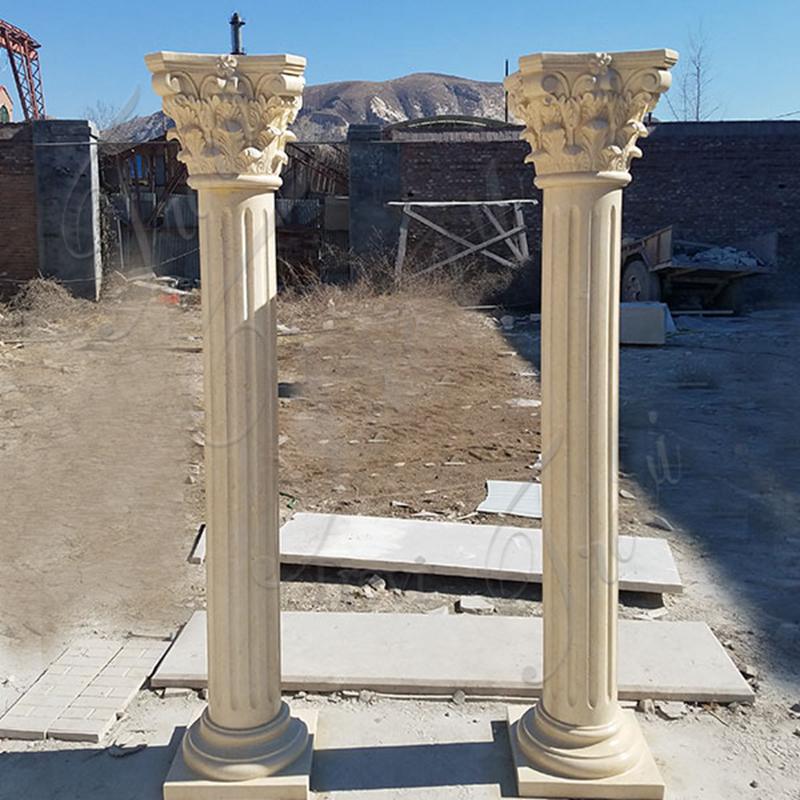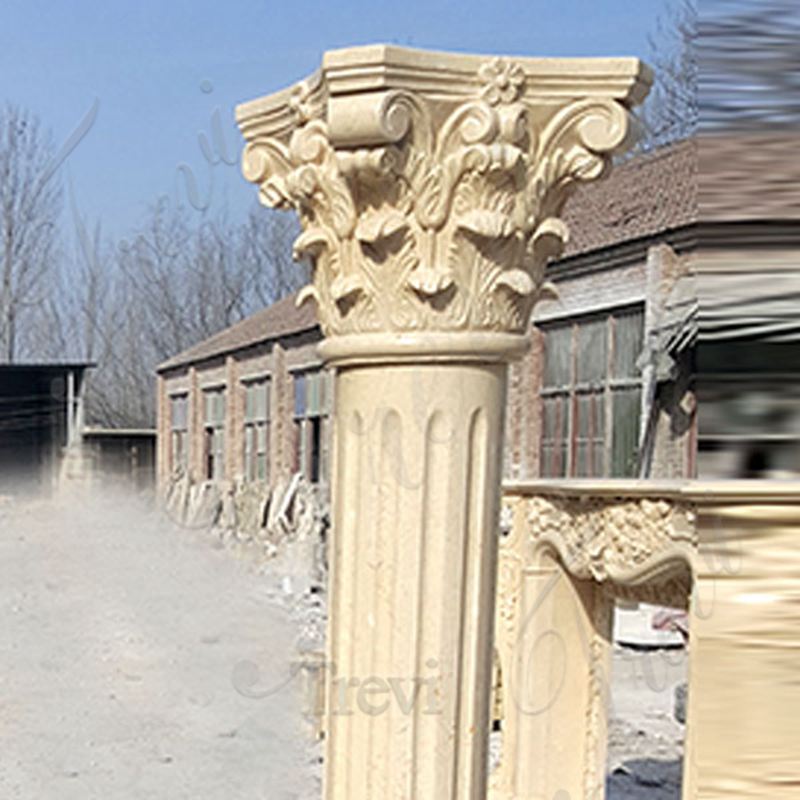 The Role of Wedding Building Pillars:
First of all, we all know that the first character of the house is that the plan is composed of a 1:1 or 1:2 rectangle. Generally speaking, the center of the house is the hall or the main hall. Then around the hall are wedding columns. Of course, we could collectively refer to these buildings as ring-column buildings. Such a modeling structure makes the wedding more artistic. Because under the sunlight, each building produces rich light and shadow effects and virtual and real changes. Compared with other closed buildings, the sun's rays eliminate the dullness of the closed walls and strengthen the sculptural character of Greek architecture. Moreover, the addition of pillars brings more happiness to the wedding.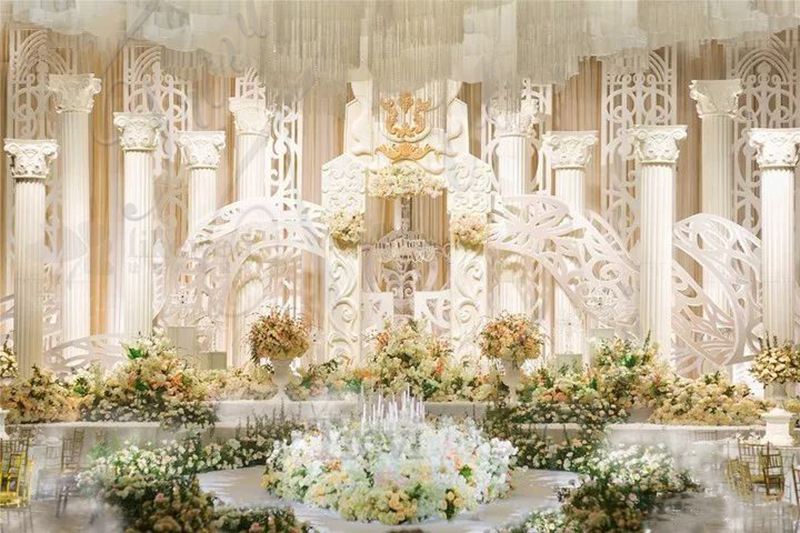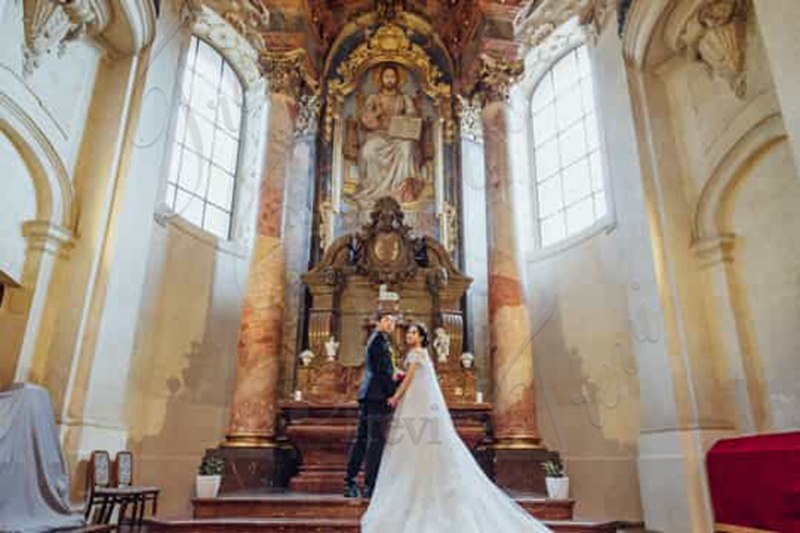 Features of Different Columns:
The development of the column type played a decisive role in the structure of ancient Greek architecture. And it had a significant impact on the architectural style of ancient Rome and Europe. Of course, there are four types of columns: 1. Doric, 2. Ionic, 3. Corinthian, and 4. Girl statue column. These four pillars are slowly formed in people's exploration. Moreover, there is a certain connection between the back column and the front column, which has a certain progressive significance. And running through the four pillars is the eternal harmony of human beauty and numbers.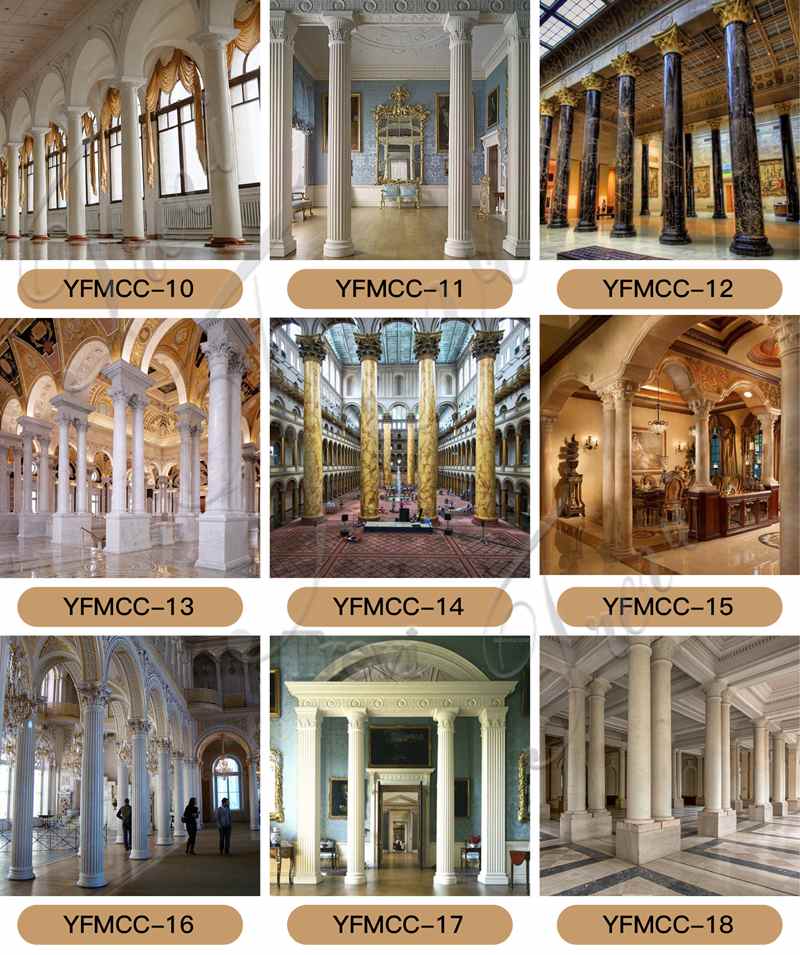 How to Connect the Columns?
Undoubtedly, the Trevi column is carved from a complete block of marble. Then in order to make the structure harmonious and strong, mortise and tenon or metal pins are used to connect the column head and column base. Our wedding buildings are supported by columns instead of "walls". Moreover, some wedding buildings are mainly column structures and beam-column systems. Therefore, these buildings use columns as frames, and the weight of the roof and eaves is transferred to the marble columns through the beams. Well, the walls only act as a partition, not as a structural part that bears the weight of the house.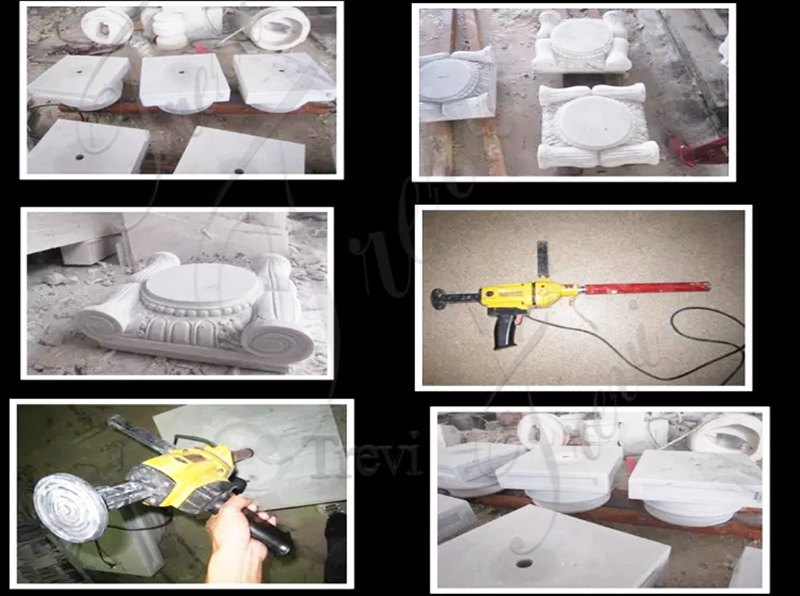 Carved by the Artist by Hand:
Trevi has numerous crystal wedding columns for sale. And, the columns are custom designed and hand-carved by our master carvers. We carefully select each marble to achieve the best possible result. Each piece of hand-carved marble decorative columns usually takes months of work to complete. And, Trevi's artists employ deep sculpting techniques. Therefore, every ornament on the column is exquisite. These delicate columns are sure to add more fond memories to your wedding.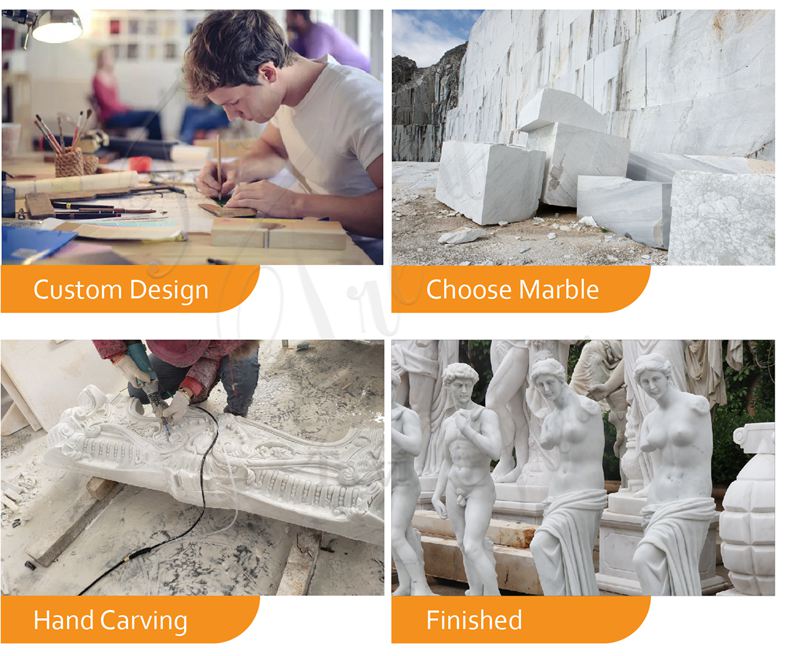 Provide Column Wholesale:
Trevi is a large marble pillar carving factory. We have many different styles of marble wedding columns for sale. Therefore, we have classic columns with simple designs, and of course, there are also sculpture columns with delicate and complex shapes. Our wholesale colonnades are also perfect for weddings and special events. Also, these columns and colonnades are exclusively manufactured in the Trevi factory. Choose Trevi wedding columns, we would give you more favorable wholesale prices.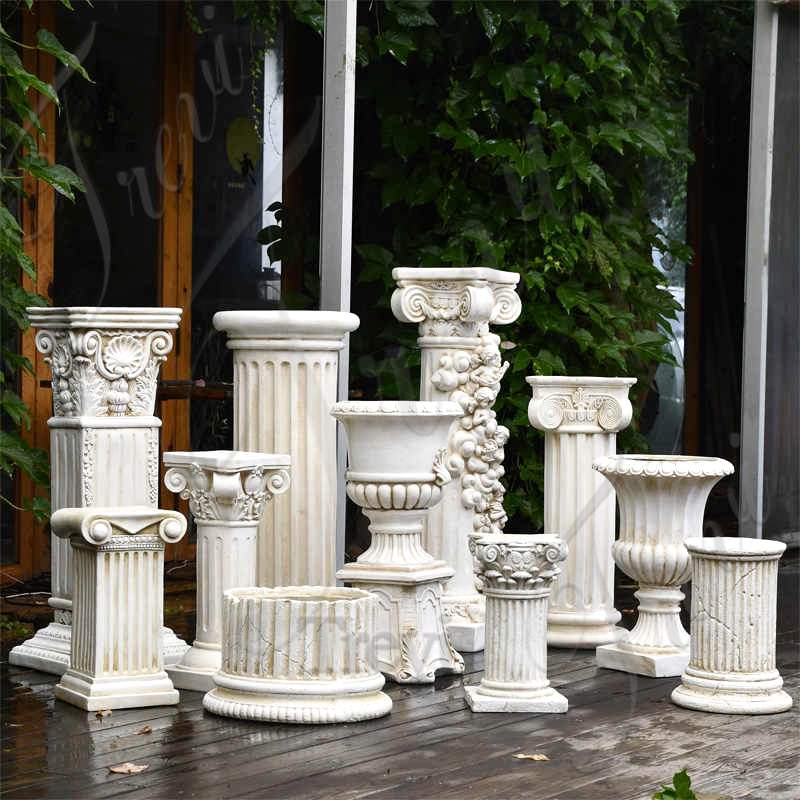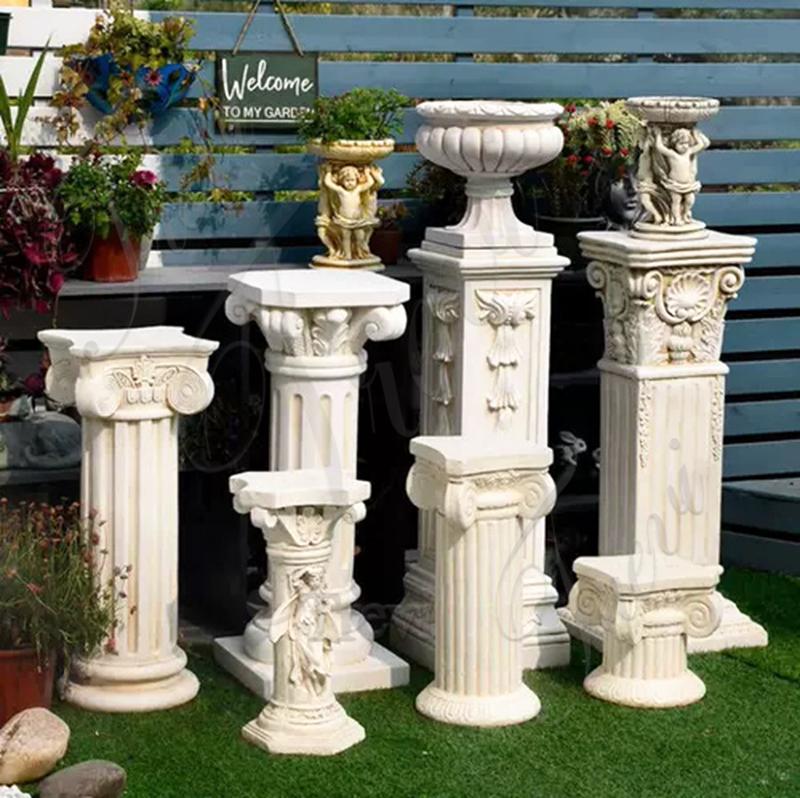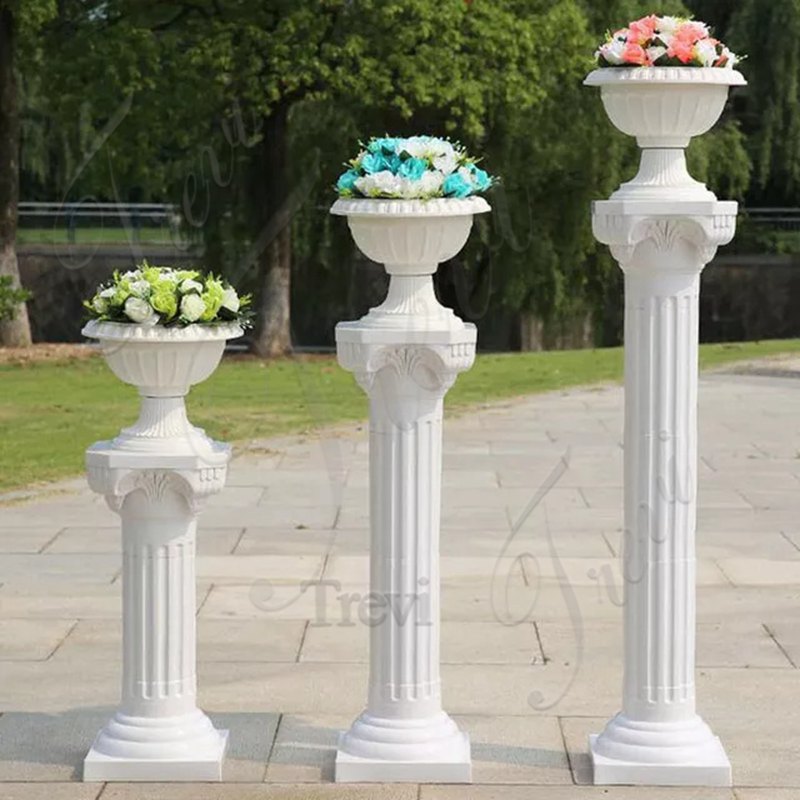 At Trevi, you would get all kinds of perfect wedding arches and columns. Of course, we would provide you with wonderful wedding memories that would last a lifetime. Contact us today, Trevi's wholesale columns are the best choice for you.