Holy Family Statue Details:
Such a beautiful holy family statue is your best choice. Trevi marble holy family statues are hand carved. The statue depicts baby Jesus sleeping peacefully in the arms of its parents. Mary is very petite, and he is very quiet under the protection of Saint Joseph. In addition, Joseph's eyes are calm and his head is slightly lowered. These vivid and delicate carving details engrave the image of the Holy Family incisively and vividly. Especially Joseph's hair and beard are so real. Whether viewed from a distance or up close, the sculpture looks like a real person. It could be seen from the exquisite carving skills of our artists.

Meaning of Holy Family Statue:
The Holy Family includes Jesus, the Virgin Mary, and St. Joseph. The sacred family's respect began in the 17th century with the first bishop of New France, St. Francois De Laval, who founded a fraternity. The feast of the Holy Family is a celebration in the Catholic Church to commemorate Jesus, his mother, and his legal father St. Joseph as a family. The main purpose of this festival is to use the Holy Family as a model for Christian families.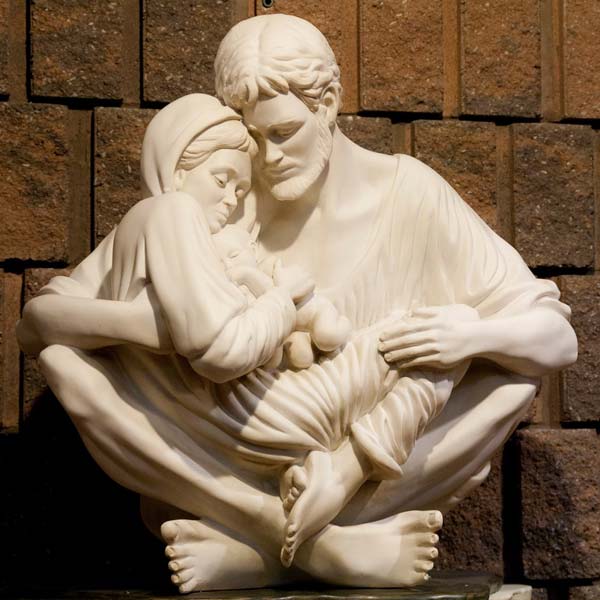 The holy family statue is aimed to be a model for Christian families and bring hope and wishes to the prayer or meditation. The feast is held on Sunday between Christmas and New Year's Day; if both are Sunday, the feast will be celebrated on December 30th.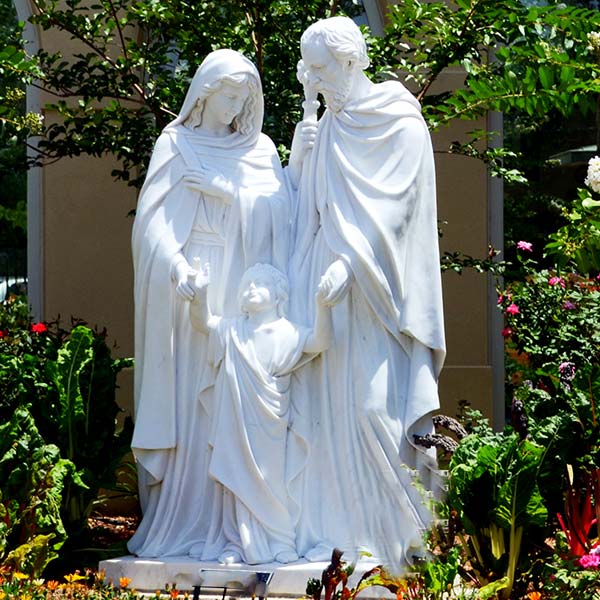 Use this religious holy family statue to make Christ the center of your home. Christian Saint Mary, Jesus, and Joseph are engraved with the awe of peace and detail, including the holy crown and the spirit of spirituality. Craftsmen cast these new religious sculptures with pure white marble stones to capture lasting faith. Each unique Christian statue creates a point in time for prayer or meditation and becomes a great gift.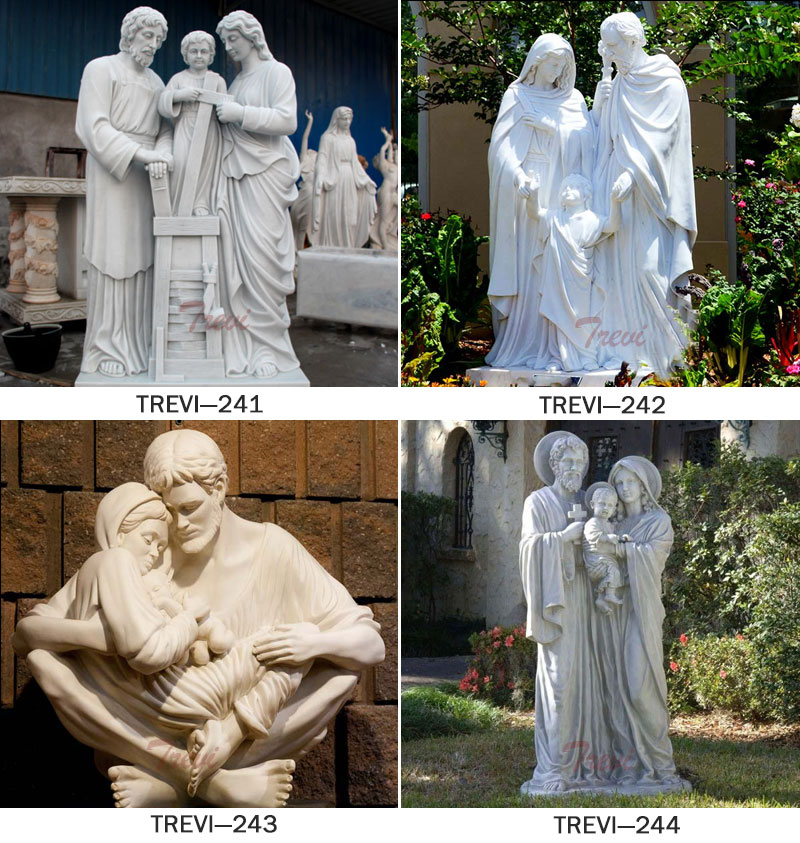 Trevi Excellent Carver:
Our marble religious statues would be hand-carved by professional carvers in our factory. It could be clearly seen that every detail of the statue is very vivid. These details are meticulously hand-carved by our masters, and the details are guaranteed. As our guru was also a devout Catholic, he was very knowledgeable about Catholic figures. Therefore, any Catholic statue carved by our master is more sacred. Also, our artists use deep carving techniques. Therefore, the subtle expressions on St. Joseph's face are also very realistic. Of course, our artists were in awe of Catholic sculpture. So, the image of Trevi's large holy family statues is very holy.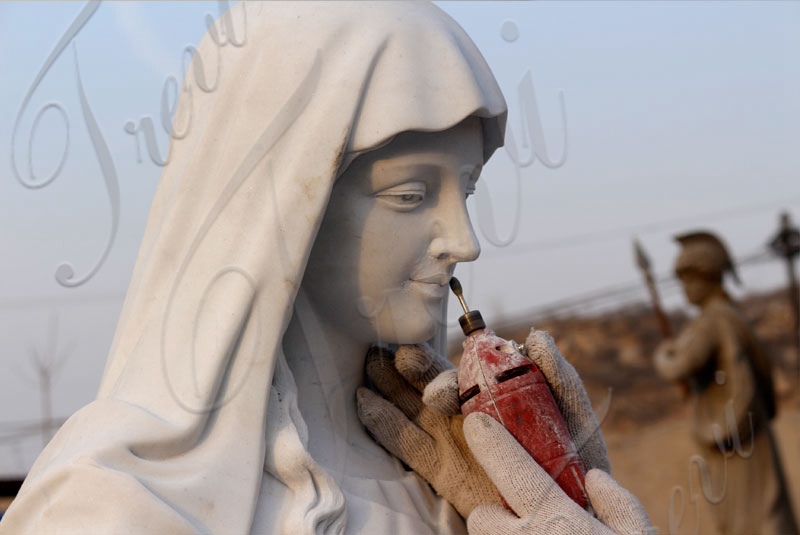 Positions that Could be Decorated:
This classic marble life-size religious statue is carved from high-quality white marble material. And, Trevi's artists use high-quality A-grade marble, which is pure in texture. So our catholic statues could be placed inside and outside any catholic church as decoration. Of course, if you are a devout catholic, you could have the holy family statues in your home. Also, many Catholics choose to place holy family statues in caves in the jungle. Then, when people walk in the forest, they could not only enjoy the beauty of nature but also feel inner peace.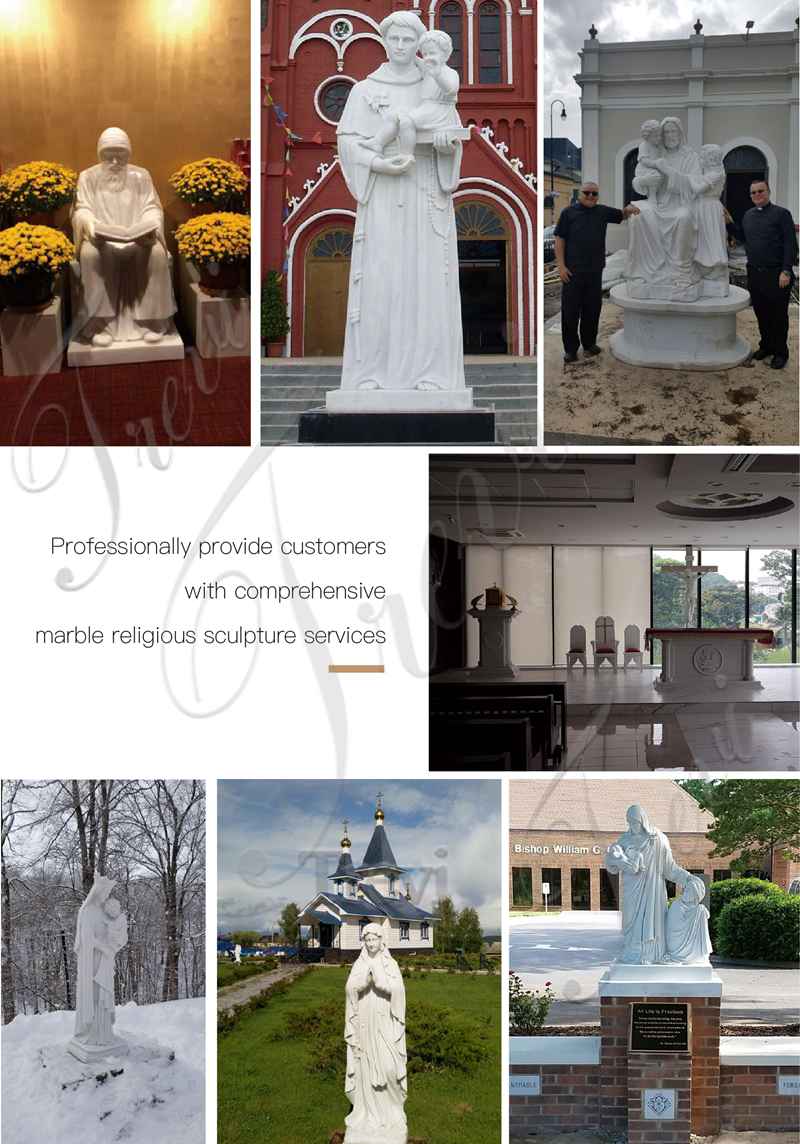 If you want these lifesize holy family statues please contact us immediately. Trevi would give you a better price.