Introduction to Religious Sculpture:
This fine marble sculpture of Saint Anthony is perfect for a Catholic church. First of all, we could see that Saint Anthony is so handsome and his facial expressions are very natural. Especially the young Jesus touching his chin, this scene is so happy and wonderful. Of course, our artists employ deep sculpting techniques. Therefore, the clothes of St. Anthony are also very real. Trevi St. Anthony Marble Sculpture is worth choosing.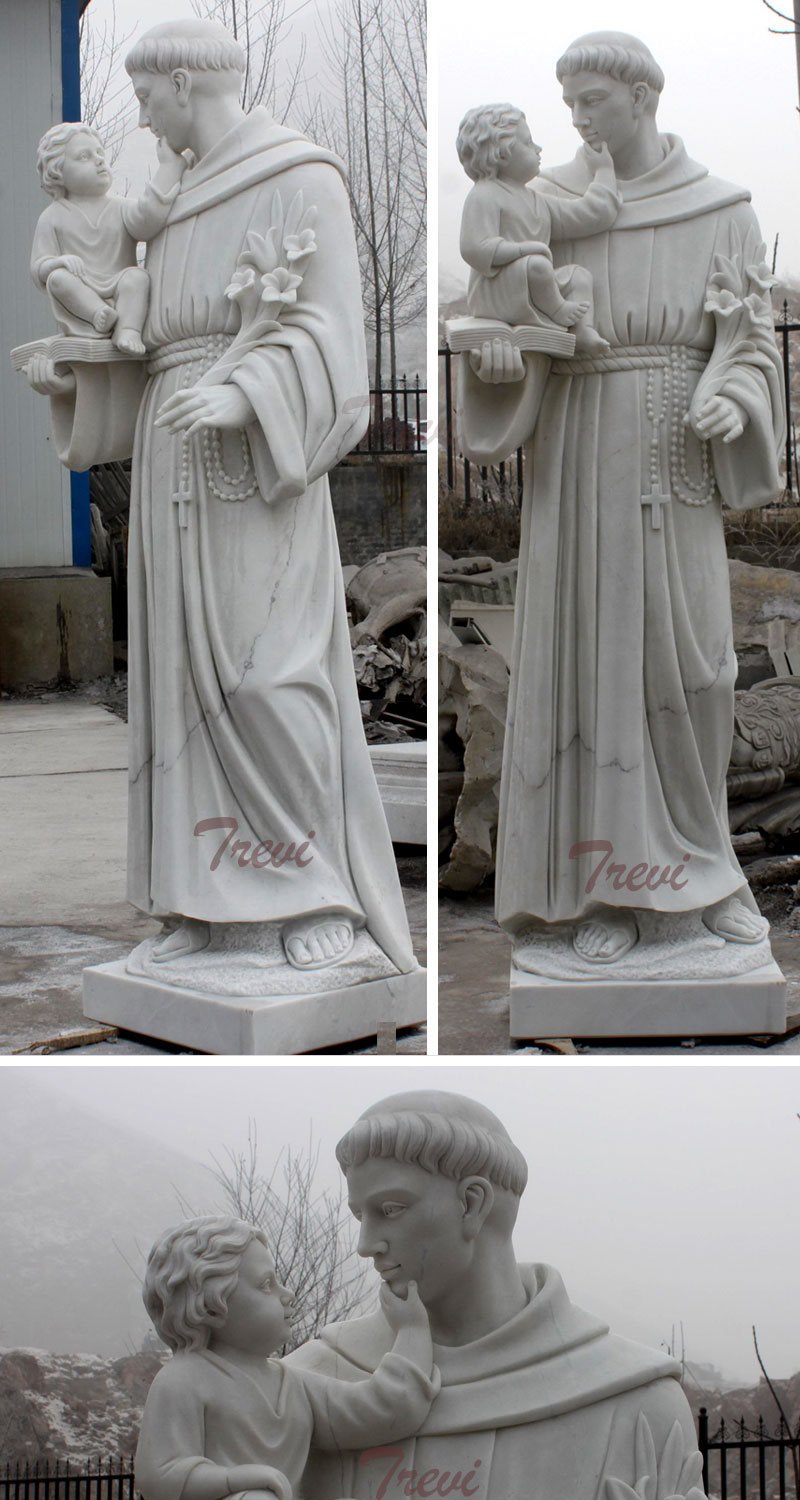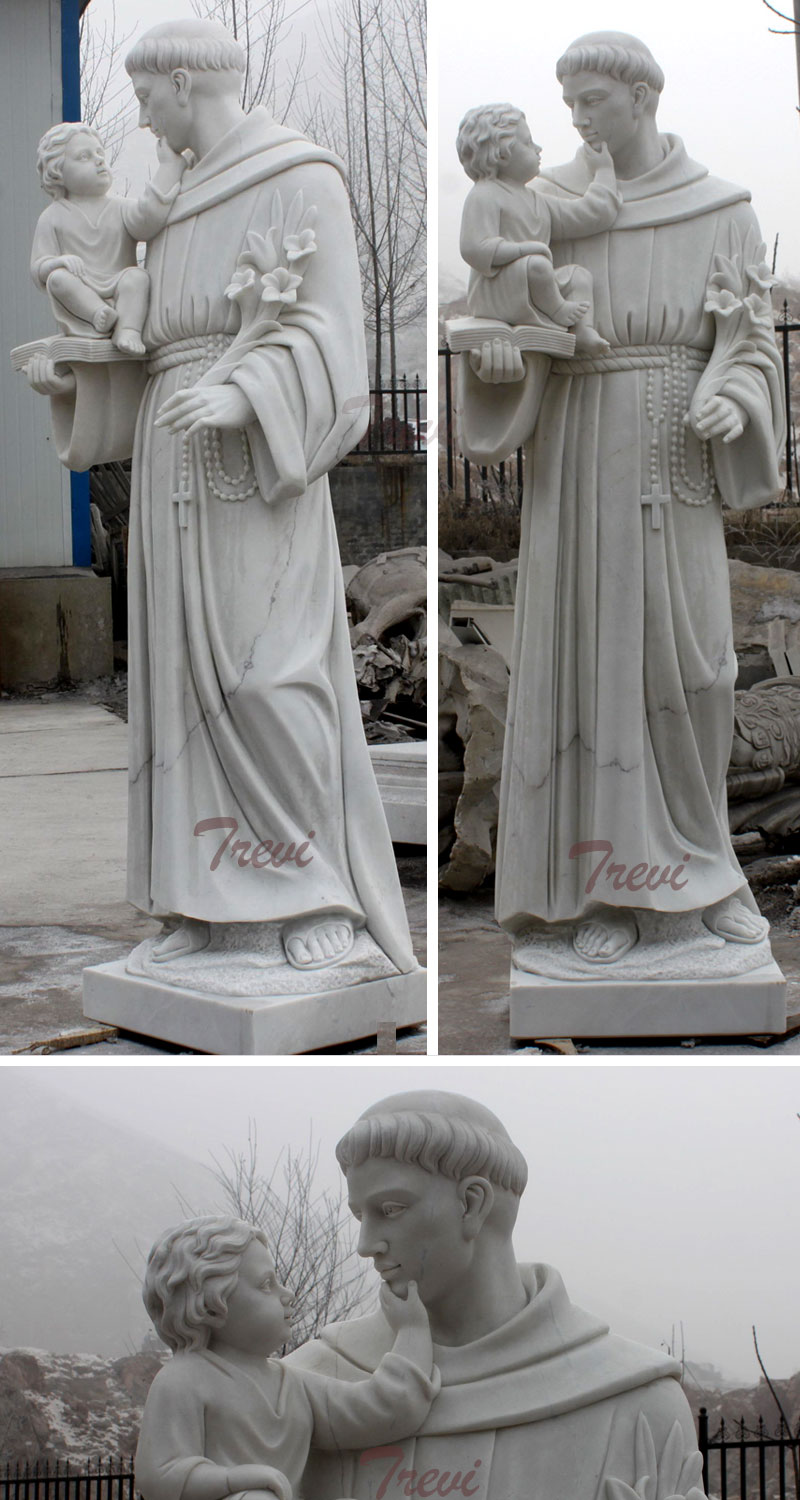 Origin of St. Anthony:
Saint Anthony was a devout monk who lived in Saint Francis of Assisi. Born in Portugal, Saint Anthony was born to wealthy parents. But he left his family at 15 to follow the Franciscans and teach the Catholic faith as a missionary. Since then, St. Anthony traveled to southern Europe and Morocco. Therefore, you could find many statues and paintings of St. Anthony all over the world. He often carried baby Jesus on his arm and held a lily in his hand. Both of these symbolize the purity, innocence, and integrity of St. Anthony's faith.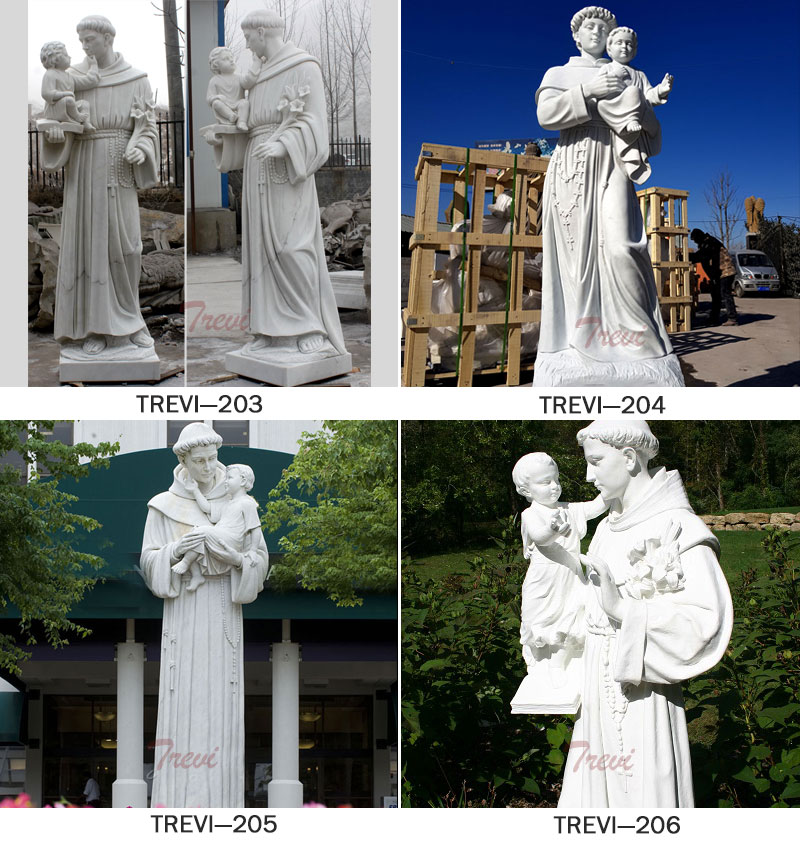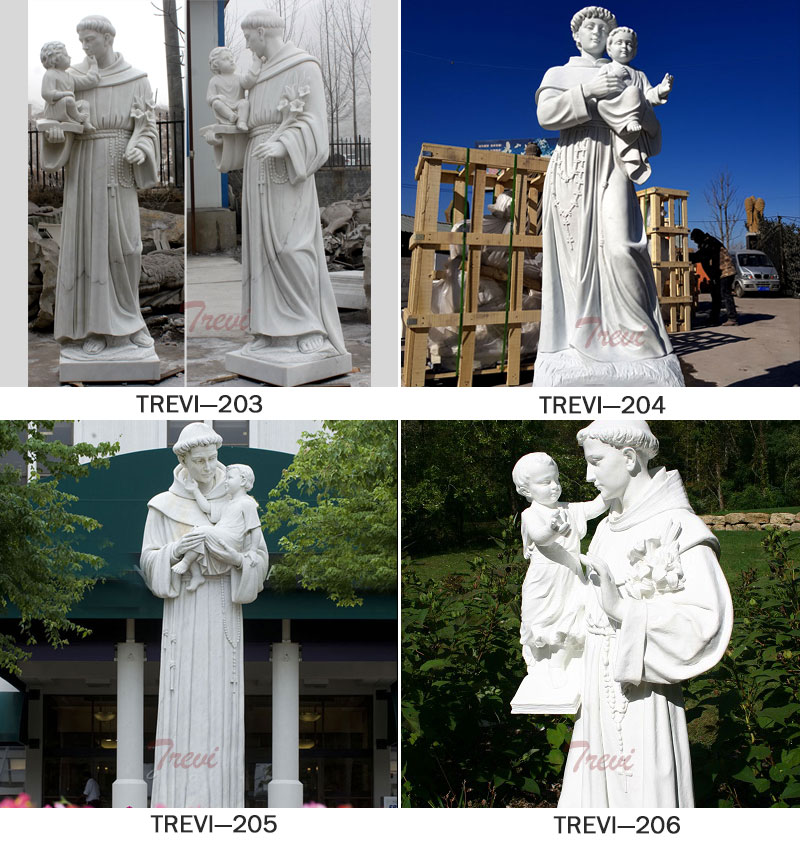 Anthony or Anthony of Padua was born Fernando Martins de Burgos. He was born and raised in a wealthy family in Lisbon, Portugal, and died in Padua, Italy. He is known for his powerful preaching, biblical expertise, and undying love and devotion to the poor and sick. He is one of the saints in church history. On January 16, 1946, Pope Pius XII proclaimed him Doctor of the Church.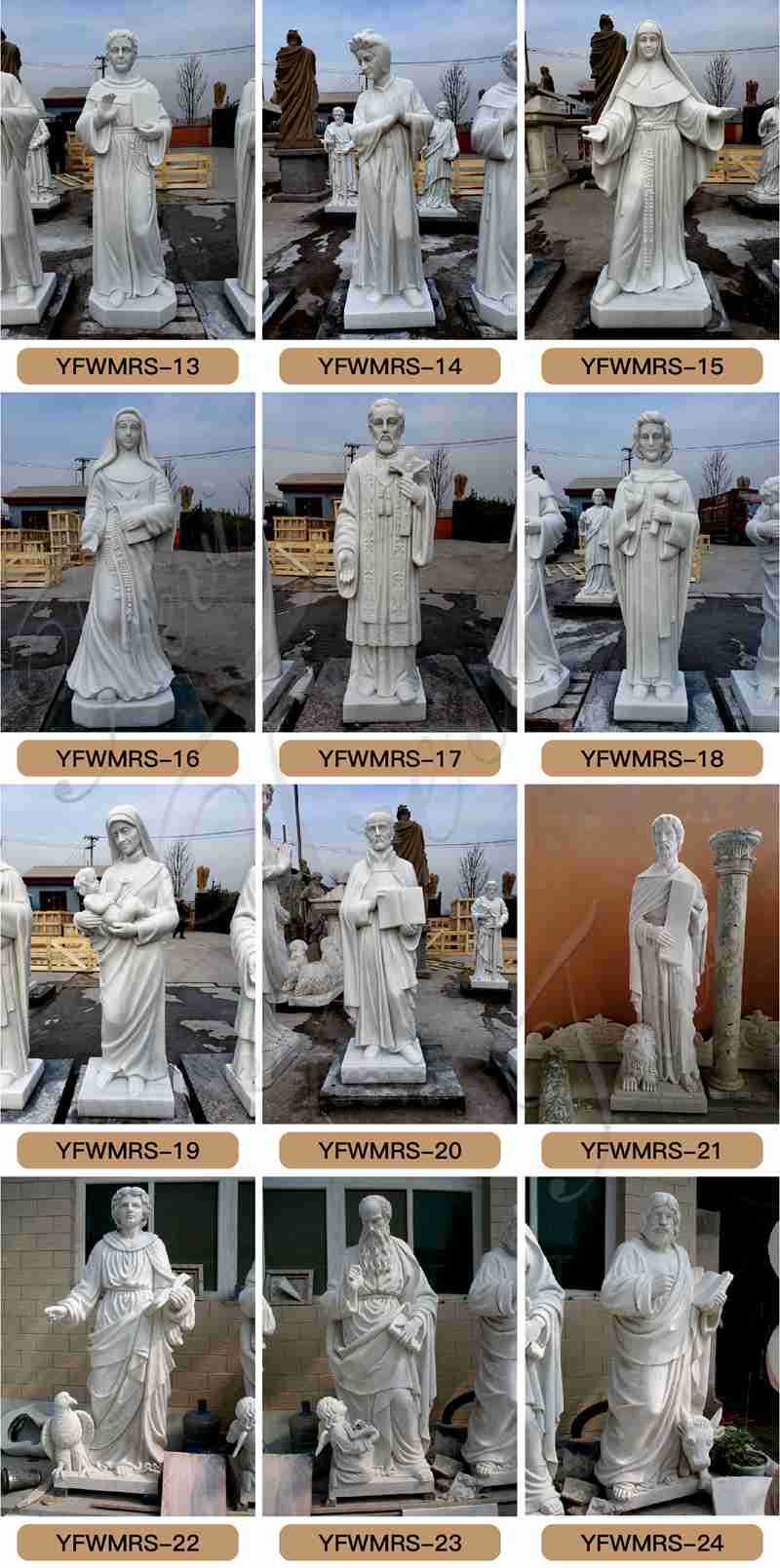 What does Saint Anthony Stand for?
As the patron saint of recovering lost items, he is specially summoned and revered around the world. And, he is credited with many of the miracles involved in the return of the lost and found. Saint Anthony is known as the saint of marriage in Portugal, Spain, and Brazil because of legends that he would reconcile couples. His holiday is a municipal holiday in Lisbon, celebrated with parades and weddings.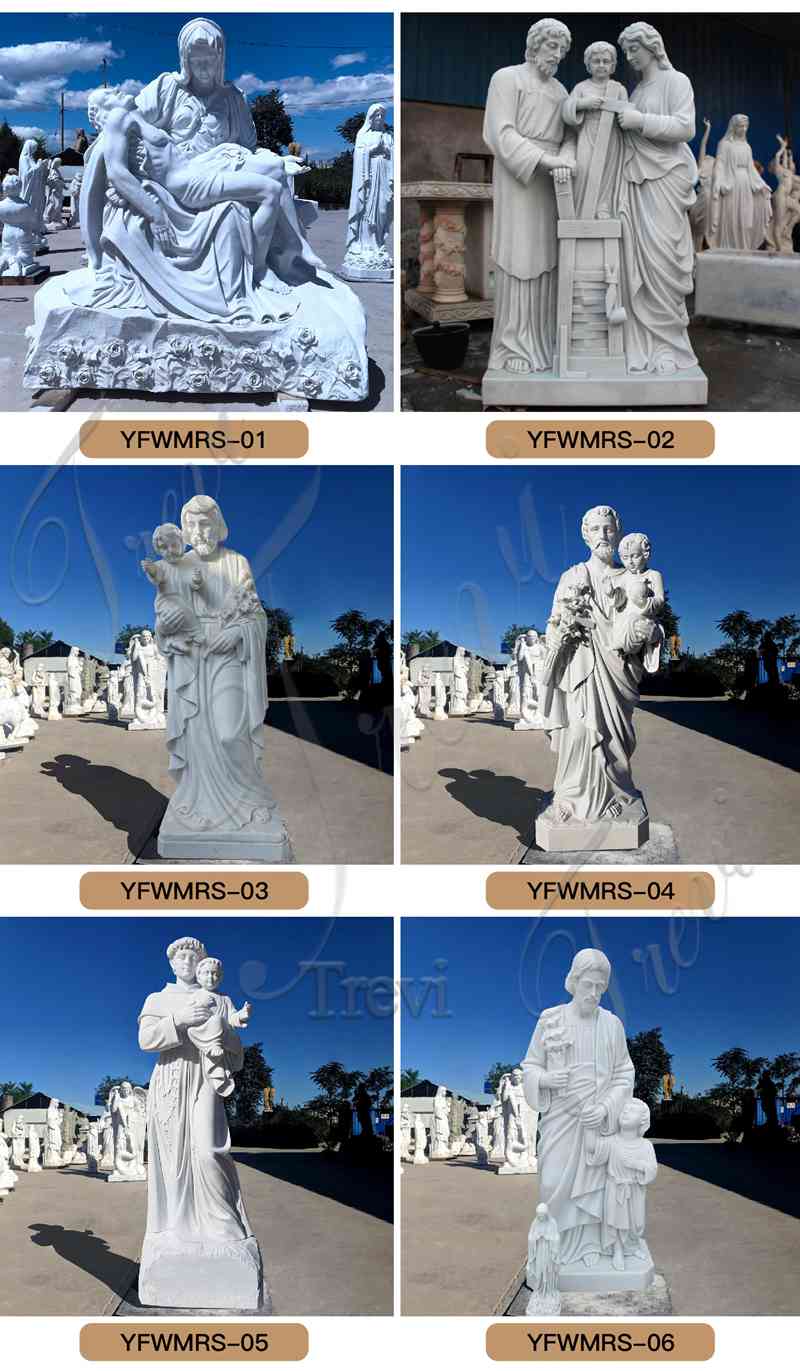 What do You Pray to St. Anthony?
In general, "Prayers to St. Anthony" is a popular prayer for St. Anthony of Padua. People often ask for help finding lost items. "Untiring Prayer to St. Anthony" is a prayer asking St. Anthony of Padua to assist in finding lost objects. People would also pray: "O St. Anthony, the gentlest and kindest saint, your ardent love for God, your sublime virtues, and your great charity to your fellow men, that you have in the world what other saints do not have magical power."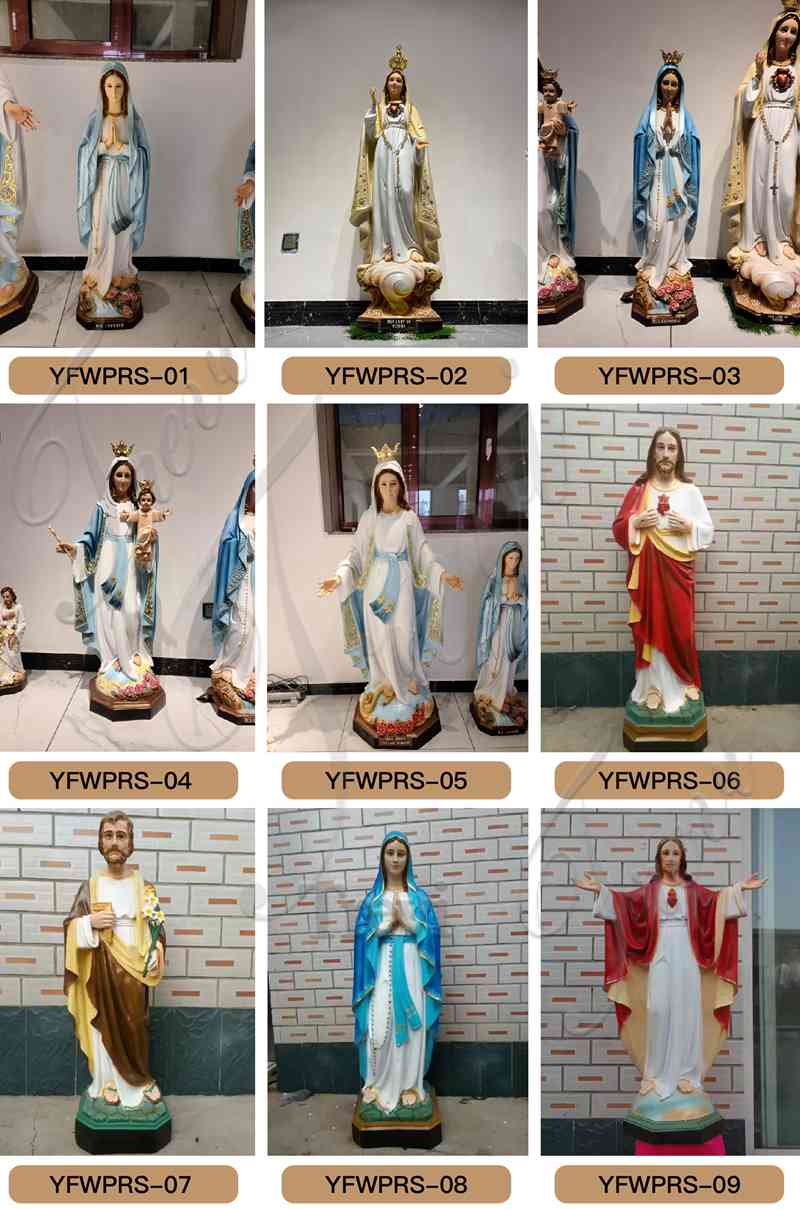 What was Saint Anthony the Great Known for?
He is also known as the father of all monks due to his importance in the Desert Fathers and all later Christian monasticism. Also, he is also known as Antony the Great. He was also a physician of the church and a patron of the poor.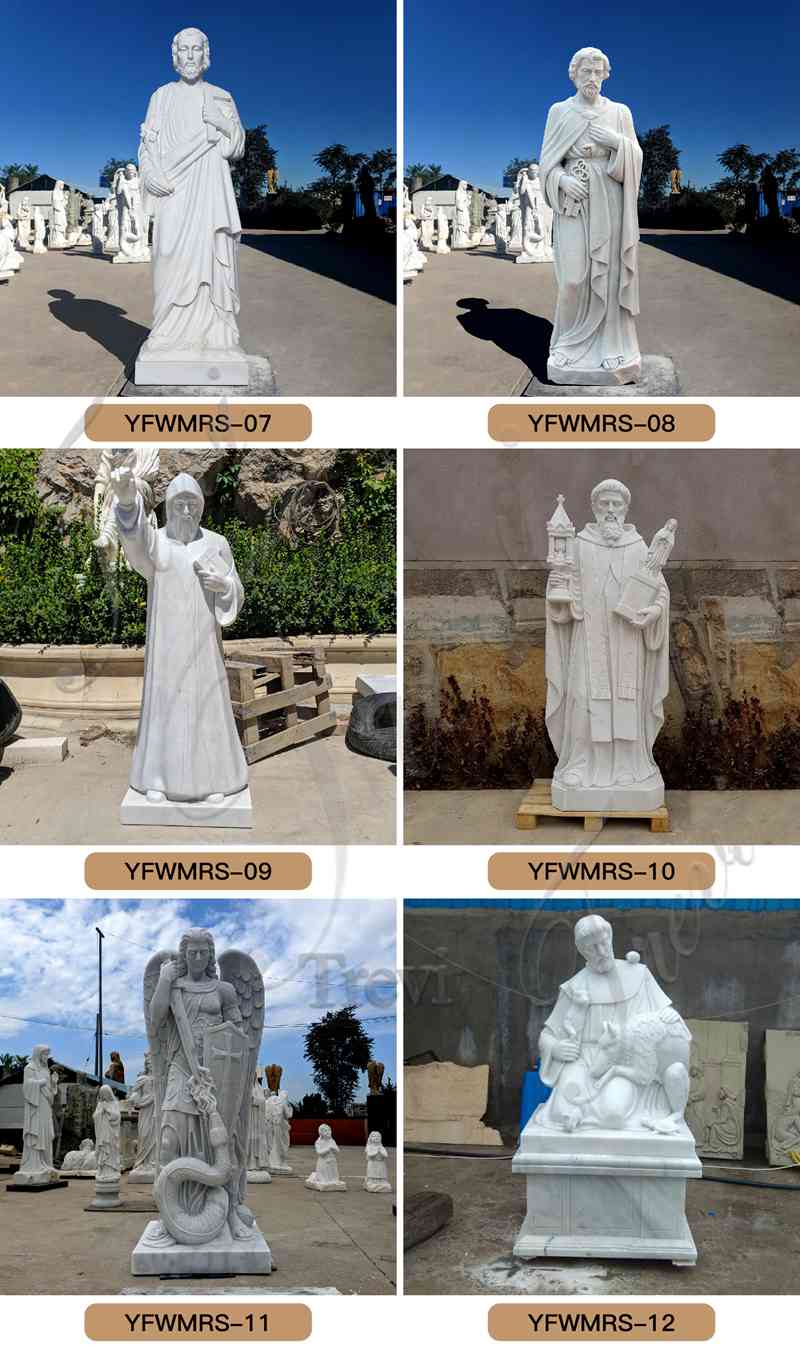 The Catholic Holy Statue of Trevi Anthony comes in several different designs. Welcome to chat with us for more references. Contact us today to get the Anthony Outdoor Catholic Saint Marble Statue!