St.Patrick Statue Introduces:
Trevi marble St.Patrick statue looks realistic. Especially the saint's catholic statue eyes are very firm. Of course, on the crown of the saint, our artist specially carved a cross. Moreover, there is clover in the hand of the saint. Of course, the robes of the saints are also very flowing, and such white clothes show the holiness of the saints.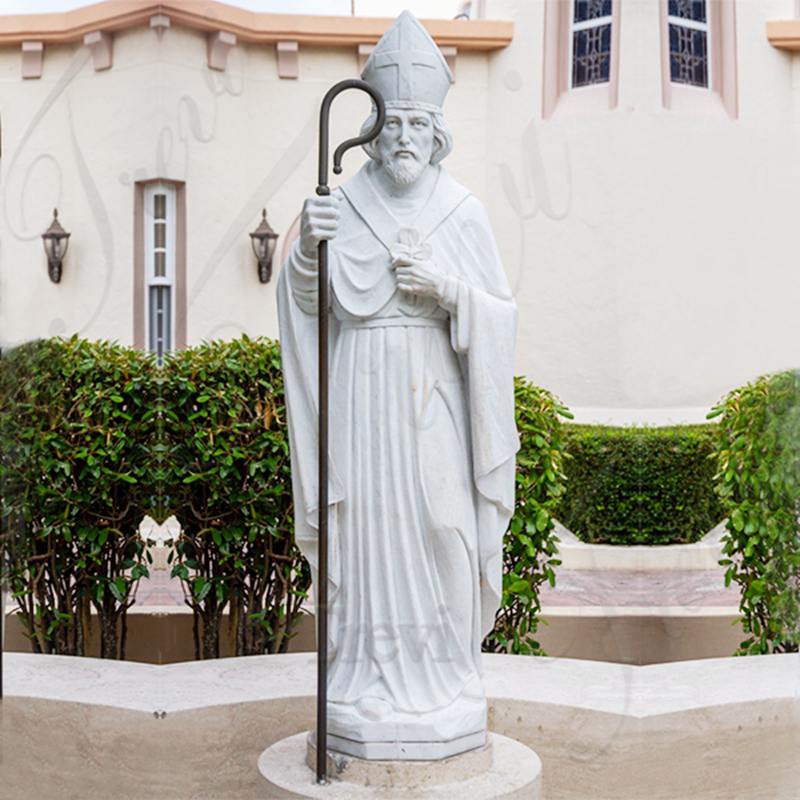 St Patrick's Origin:
St. Patrick was a 5th-century Roman Catholic missionary and bishop of Ireland. Most of what is known about St. Patrick's life comes from his Confessions (St. Patrick's Declaration/Confession). It is said to have been written by St. Patrick in his own hand. It says that he was born in the fourth century to a wealthy Roman-English family. His father was a deacon and his grandfather was a pastor in the Christian church. And, according to the Confessions, at the age of sixteen, he was kidnapped by Irish invaders and held as a slave. He was a shepherd there for six years. During this time, he claimed to have "found God". In his confessions, he said that God told him to flee to the coast, where a boat would take him home. After returning home, Patrick became a priest.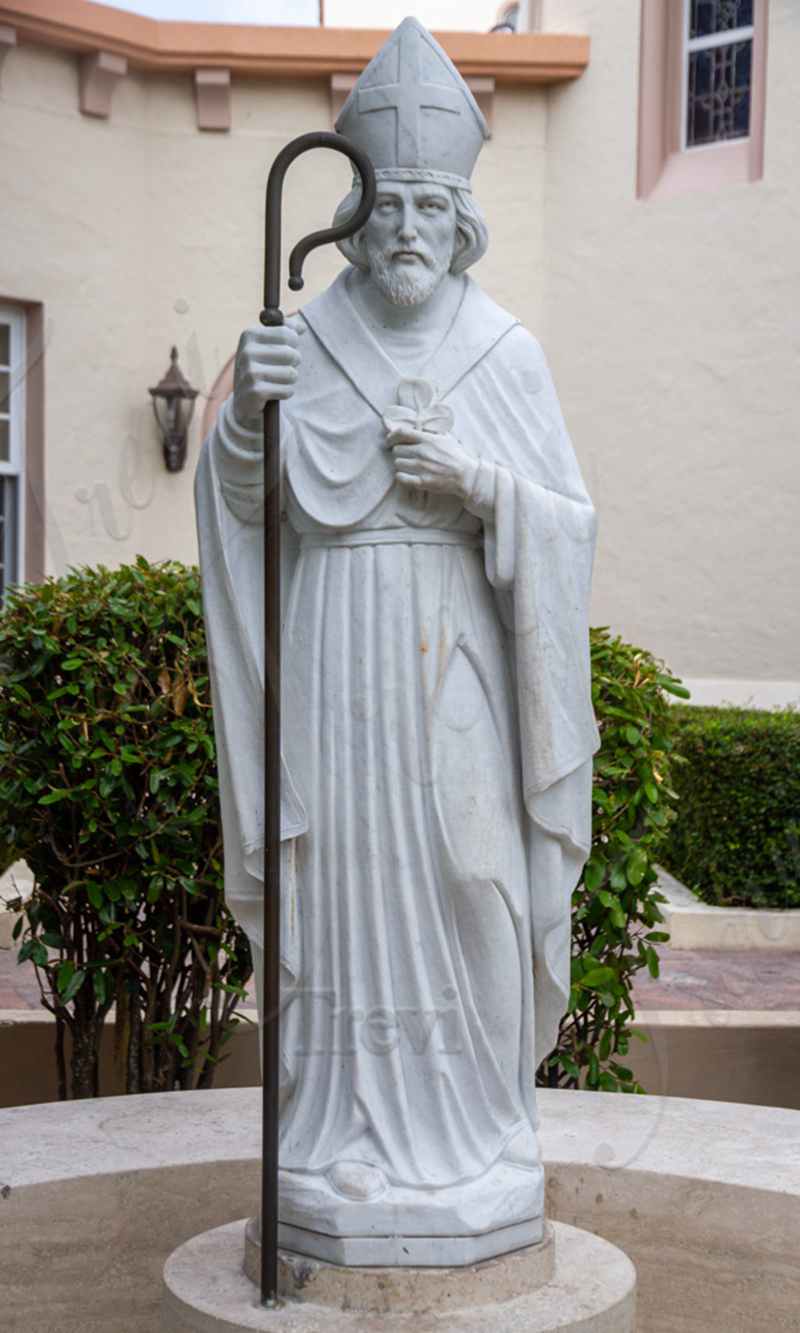 According to the tradition of duty, St. Patrick returned to Ireland to preach, converting pagan Irish to Catholics. The Confessions said he spent many years preaching the Gospel in northern Ireland and converted "thousands" of people to Catholicism. After the efforts of St. Patrick, most believe in Catholicism. Eventually, the story became a "he drove the snake out of Ireland" parable. (Ireland has never had any snakes). Tradition holds that he died on March 17 and was buried in Downpatrick. In the centuries that followed, the legend of St. Patrick spread. And derived more versions, making him the most important saint in Ireland.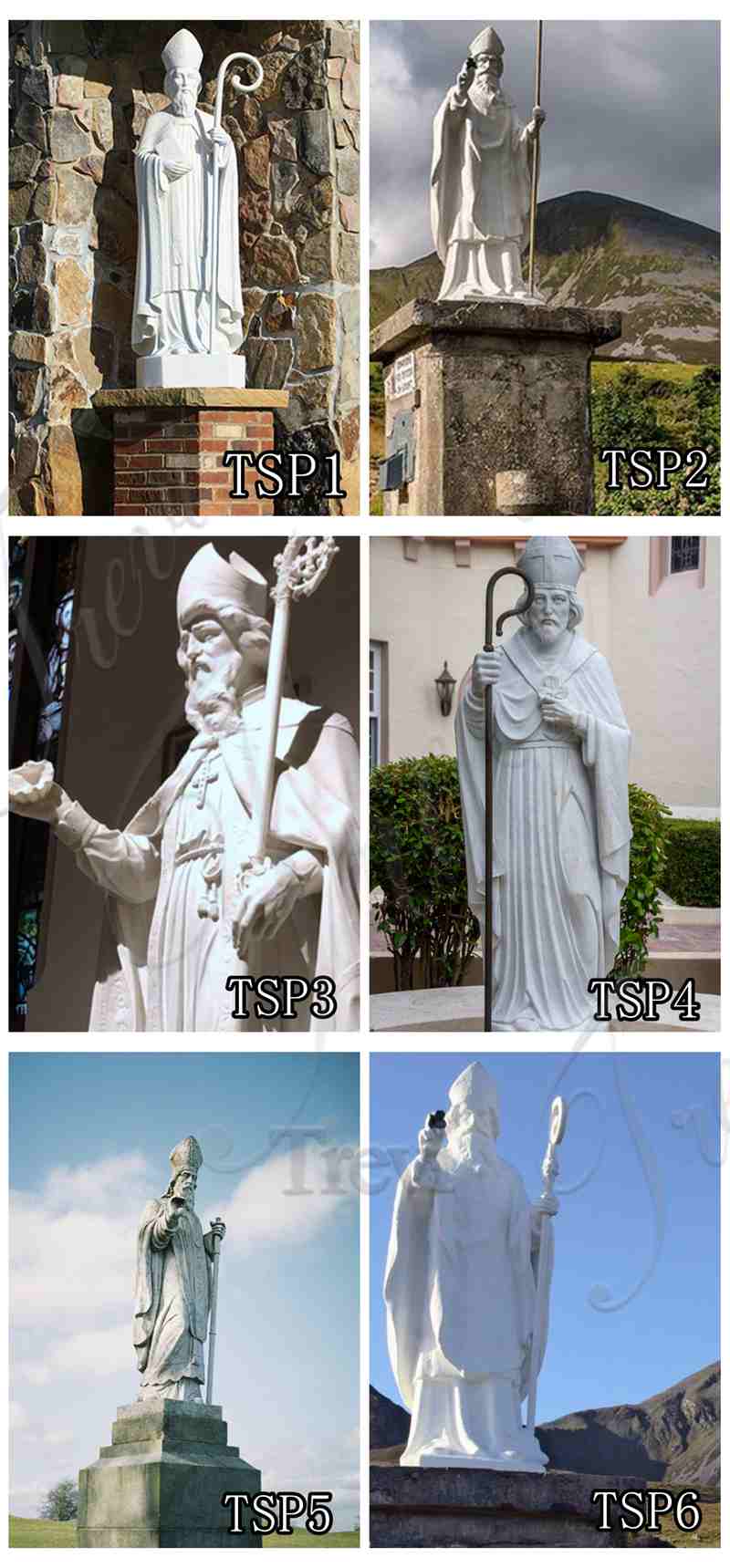 Trevi Uses Pure Natural Marble:
Trevi St.Patrick statue is carved from pure natural high-quality marble. Especially since we have our own mines. So there is no doubt that our marble is of good quality and looks very beautiful. Moreover, such marble sculptures have a long service life. Therefore, the Trevi St.Patrick catholic garden statue would have hundreds of years of practicality.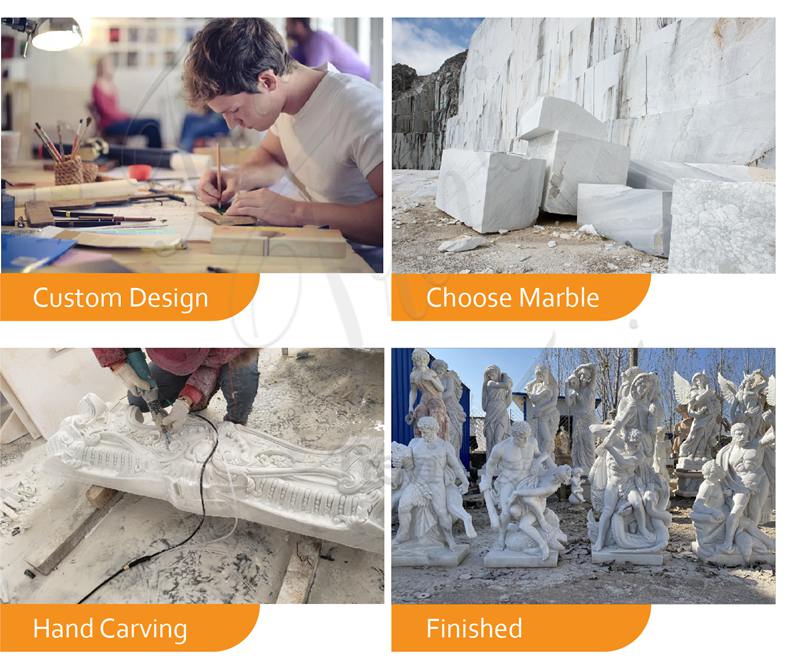 If you like this catholic sculpture please contact us immediately. Trevi would give you a detailed introduction to the types and differences of marble raw materials. Of course, we have many types of marble raw materials. You would have an extraordinary harvest.