Whenever you go to a large enterprise or public place, some people will sit by the outdoor water fountain and rest.
People generally feel that they are resting next to the fountain, not only its beautiful appearance, but also a more comfortable feeling, making it easier.
Feel relaxed. In fact, everyone's feelings are correct. The role of stone fountains on the roadside is not only for good looks.
While becoming a beautiful sight, they appear to be used in public places to purify the air, although the vision of the sculpture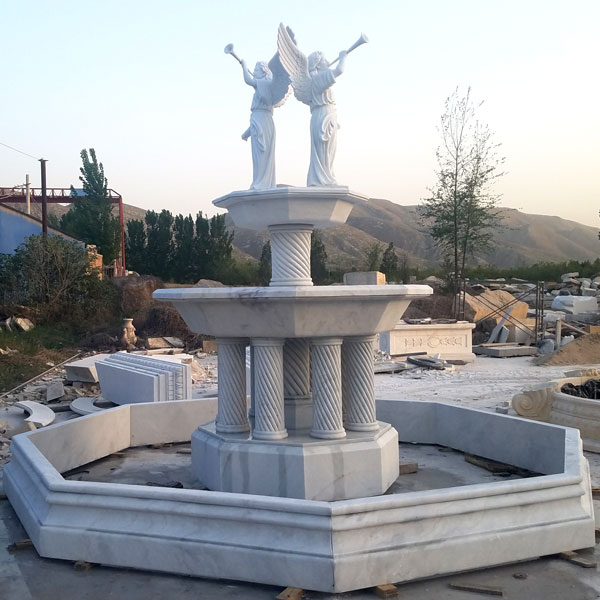 The impact ability is large enough to make everyone's vision appear a short relaxation, but the tiny drops in the water can condense the dust micromolecules in the air, which will produce a lot of negative oxygen ions, effectively improve the air quality and keep the crowd dense. The cleanliness of the area. The shape of the stone fountain is diversified.
Whether it is a character or an animal or a plant, it is vivid, and some highly skilled designers convey the abstract modern art atmosphere.
The outdoor water fountain is designed to be stylish and stylish, combining domestic and foreign design features. The feeling of sculpture is becoming more and more skillful.
From this point of view, the stone fountain shows the beauty and spreads the fashionable pop culture. The multi-faceted effect makes every department concerned with urban development look in the eyes. This is also the reason why more and more stone fountains appear on our city streets and in the parks.
Their figures are more and more beautiful, our lives.
The environment and air quality are then made higher and cleaner.
Caring for the stone fountains around us, caring for life, paying attention to the culture of beauty, and caring about our future development are the responsibility of everyone and the obligation of each of us.