Marble Virgin Mary Statue Introduction
Introducing our Marble Virgin Mary Statue, a captivating depiction of the revered figure with her hands outstretched and her head slightly bowed. The Virgin Mary stands on a spherical pedestal, her feet firmly crushing a serpent beneath her. This powerful depiction symbolizes her triumph over evil and serves as a poignant reminder of her unwavering strength and divine grace.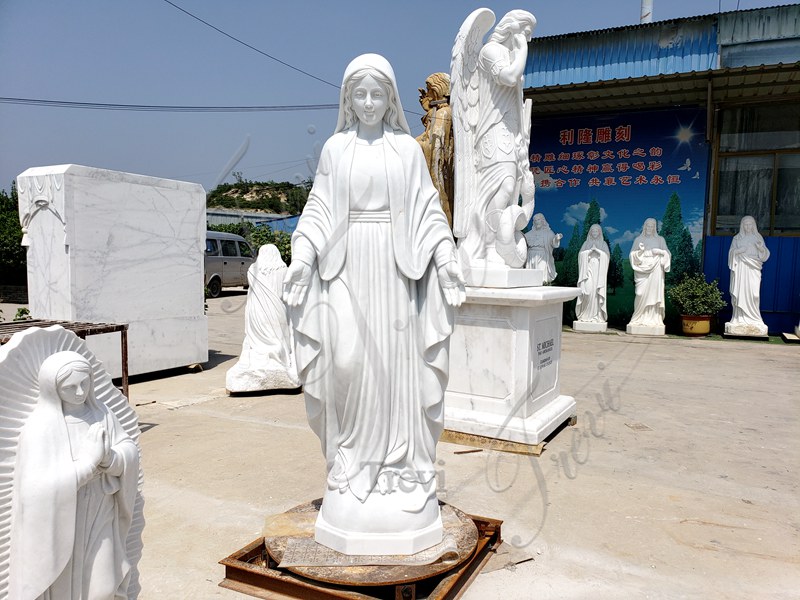 This exquisite sculpture beautifully captures the gentle and compassionate nature of the Virgin Mary, Crafted from high-quality marble, this statue showcases the skill and mastery of our artisans. The intricate details, from the delicate facial features to the flowing robes, are meticulously carved to evoke a sense of grace and serenity. The pose with outstretched hands symbolizes openness, offering solace and comfort to all who behold it.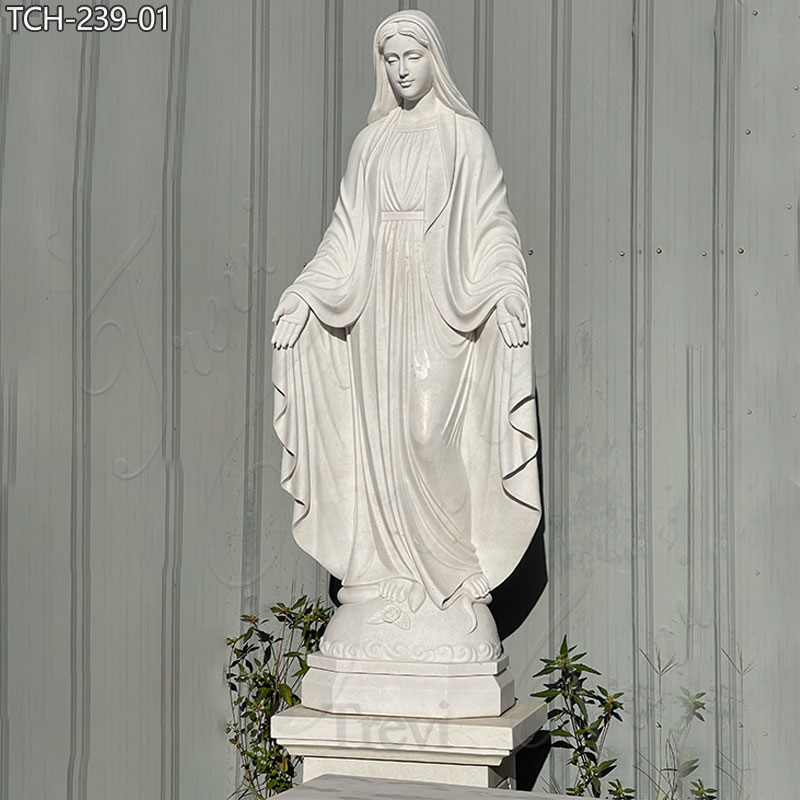 Whether placed in a sacred space, such as a church or chapel or in a personal setting, this Marble Virgin Mary Statue serves as a powerful symbol of faith and devotion. Its presence creates an atmosphere of tranquility and reverence, inviting contemplation and fostering a connection with the Divine.
Excellent Catholic Hand-Carving Artists
Trevi has been engaged in marble carving for more than 40 years and has a strong team of artists. Many artisans who specialize in carving religious sculptures are devout Catholics themselves. Their deep understanding and reverence for the subject matter contribute to the exceptional quality of their work. With their exceptional skills and dedication, they can transform blocks of marble into awe-inspiring religious sculptures that evoke a sense of sacredness and devotion.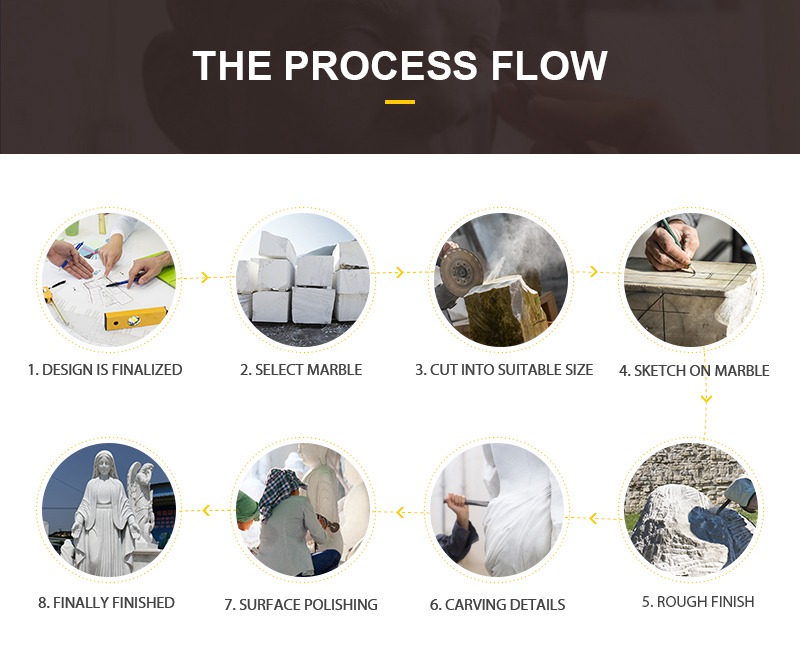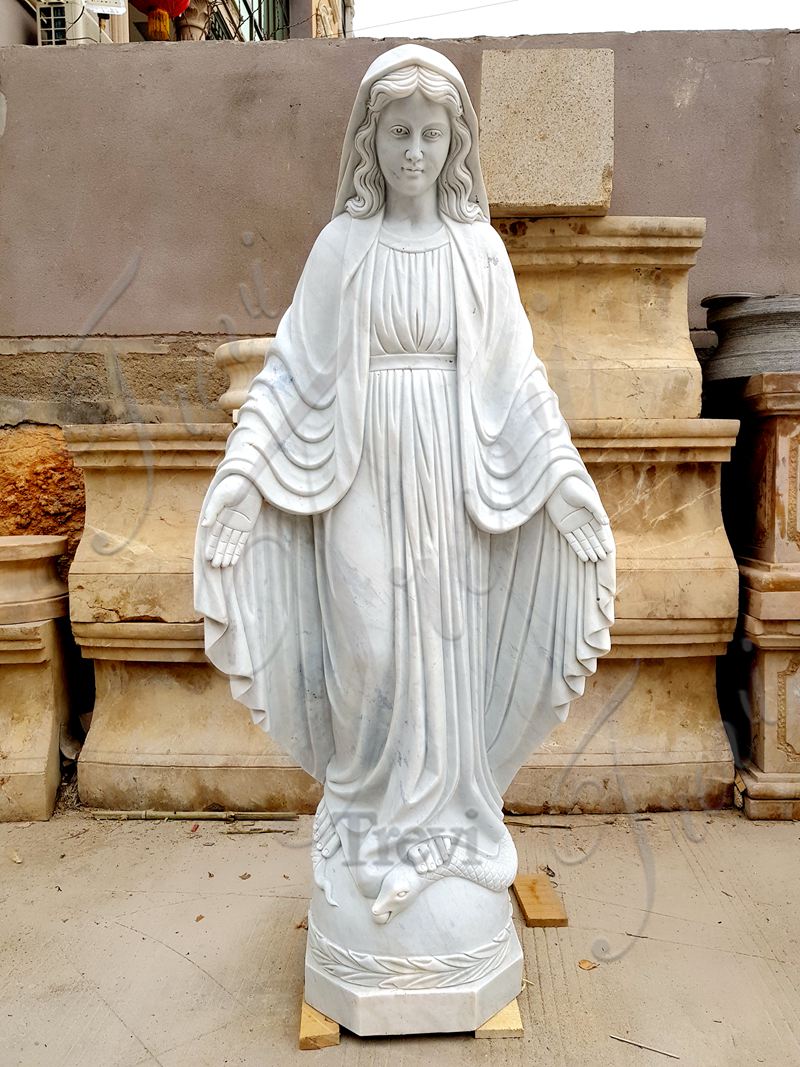 Customization and Design for You
One significant advantage of marble religious products is the ability to customize them according to specific requirements. Trevi manufacturer offers personalized services and works closely with customers to understand their vision and preferences. We can modify the height, shape, and details of the sculpture according to your requirements. This ensures that the result meets their expectations and aligns with their religious traditions.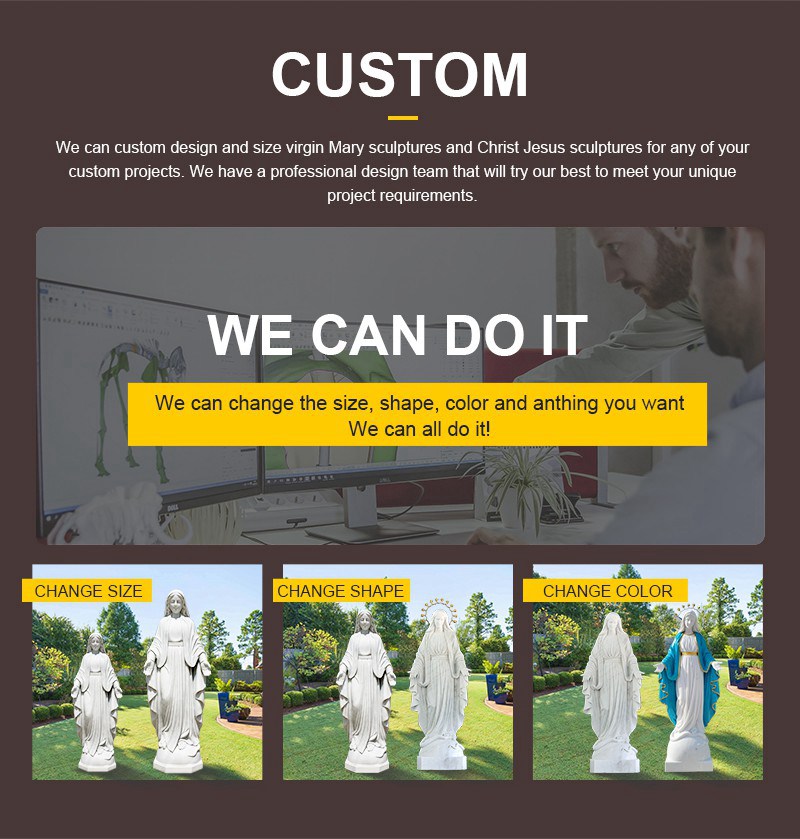 Different Styles of Marble Mary Sculptures
In addition to the sculpture of Our Lady statue, we are proud to offer a diverse range of marble Mary sculptures in various exquisite forms. Each Virgin Mary sculpture is meticulously crafted with the highest standards of quality in mind. Our commitment to delivering excellence ensures that every Virgin Mary sculpture is a work of art. The beauty and intricacy of these sculptures are a testament to the skill and artistry of our talented craftsmen. With a wide selection of Madonna sculptures to choose from, you can find the perfect piece to add grace and elegance to any space.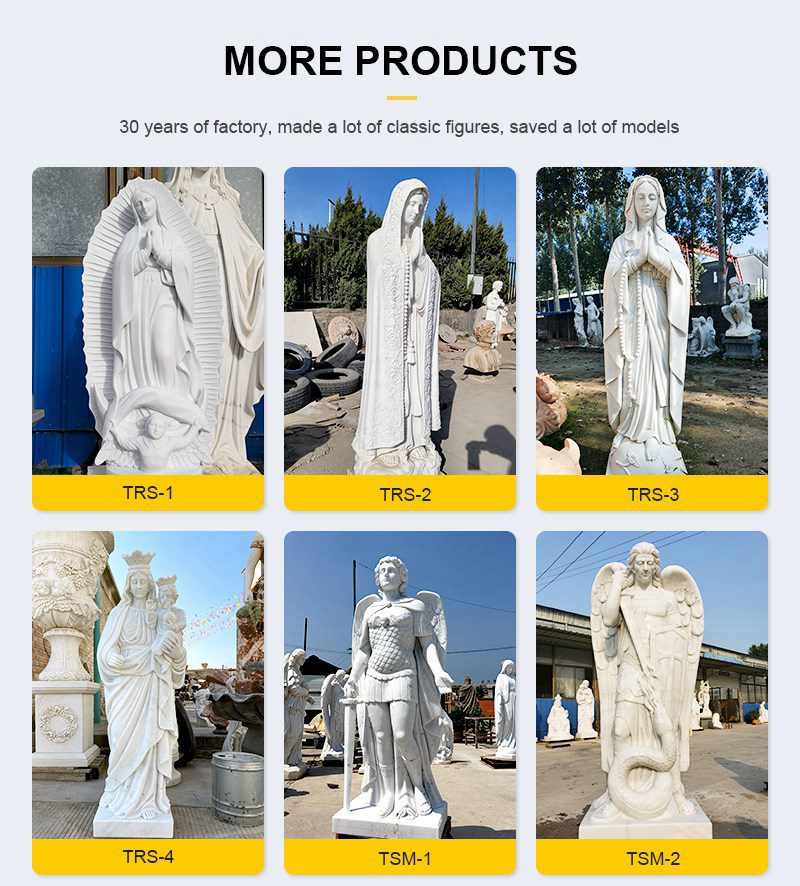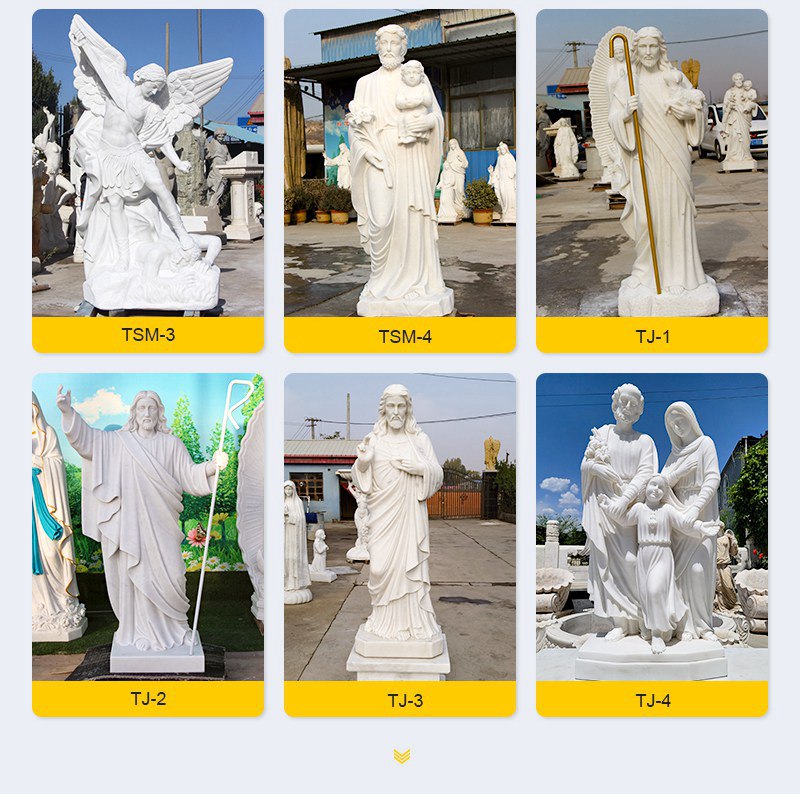 Large Inventory of Marble Religious Statues
Trevi factory has a selection of classic religious figure sculptures readily available in stock. These religious figures are from various traditions and are suitable for various purposes like religious ceremonies, devotional spaces, or commemorative displays. The availability of ready-made sculptures allows for quick order processing and faster shipment, making it convenient for customers who need their sculptures promptly.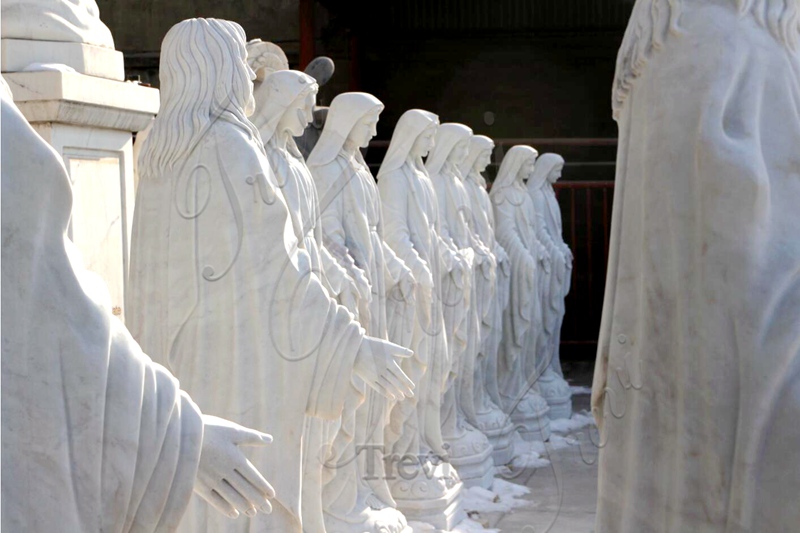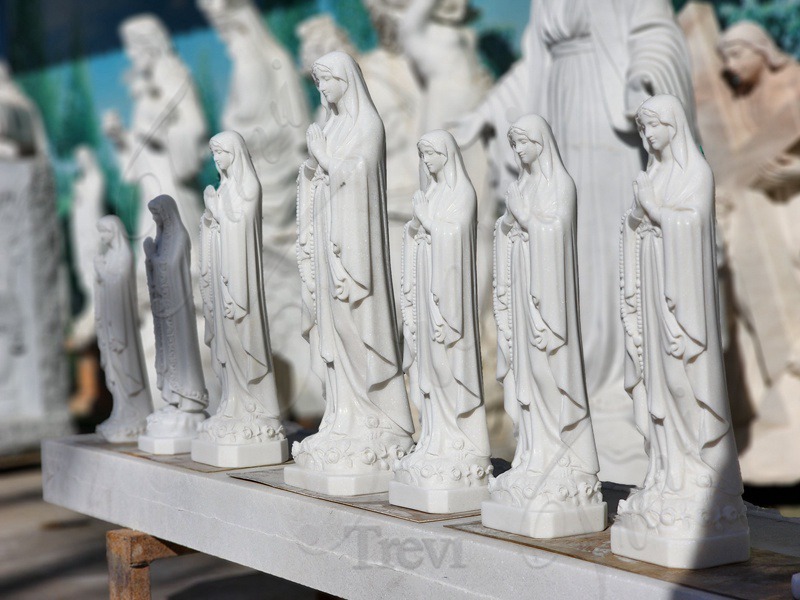 Trevi Art Sculpture is a professional marble carving factory of marble religious statues. So our church marble statue of the Virgin Mary could serve as the most exquisite outdoor sculpture for many years. Please feel free to contact us for more information.