Why do People Like Lion Sculptures?
A good lion sculpture is a bridge between wild animals and us. Some wild animals should never be touched by people. Because beasts are bloody beasts. However, everyone likes lions. There are many lion statues that could not only play a decorative role. It also has a high collection value. Today, we advocate cherishing wild animals.
We pay attention to the harmonious coexistence of humans and animals. This lion statue for front porch has the meaning of protecting the courtyard, and people give it many beautiful expectations in their hearts.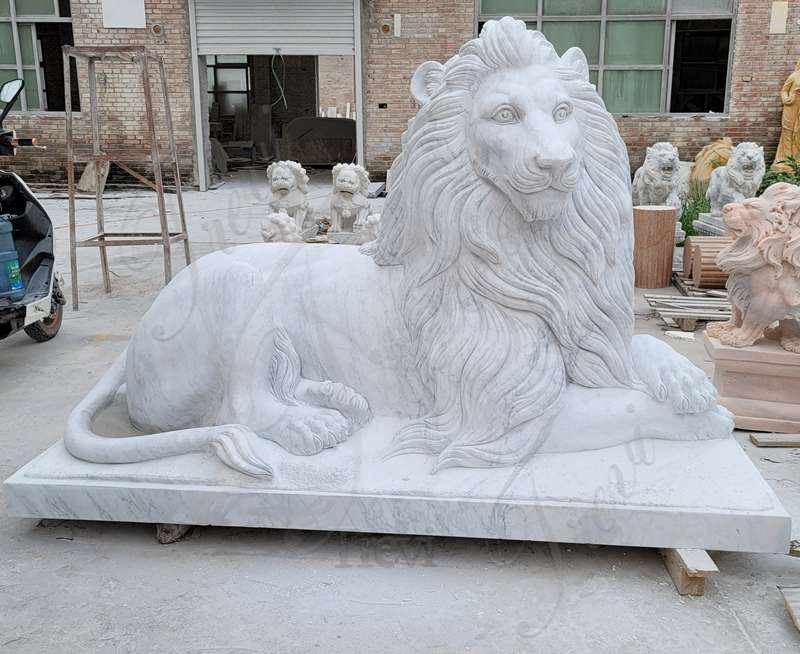 Lion Statues Decoration Style:
As we all know, lion statues for front porch are widely used in gates, courtyards, driveways, companies, banks, gardens, and other places. The reason why it is so widely used is due to the extraordinary aura of the lion. Lions could ward off evil spirits and bring good luck to people.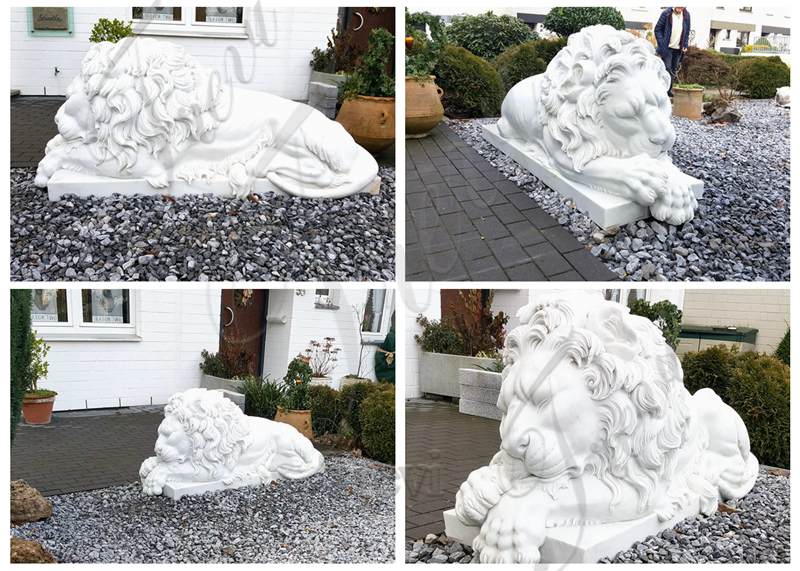 Therefore, it is deeply loved by ancient and modern people. The lion culture is combined with traditional culture. Trevi could customize the marble lion statue depending on your preference.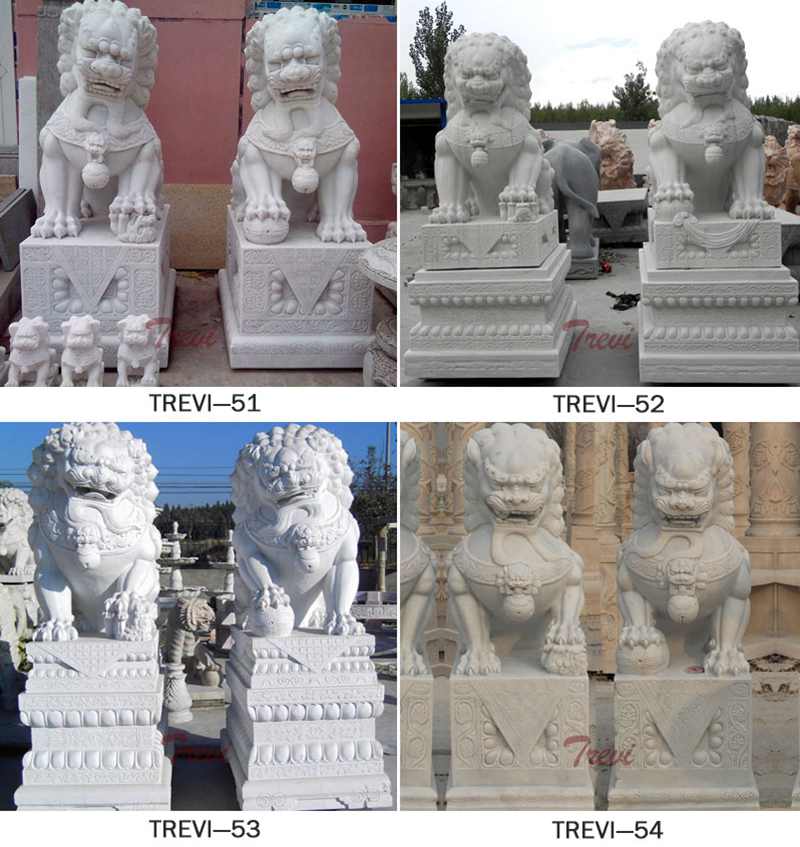 Lion Meaning:
The greater the number of Lions, it symbolizes the vitality of all things, and the meaning is full of vitality. It also means high morale. When a marble lion statue for front porch is placed in a person's home, it means that the person is striving towards success at a steady pace. They would also create a brilliant career.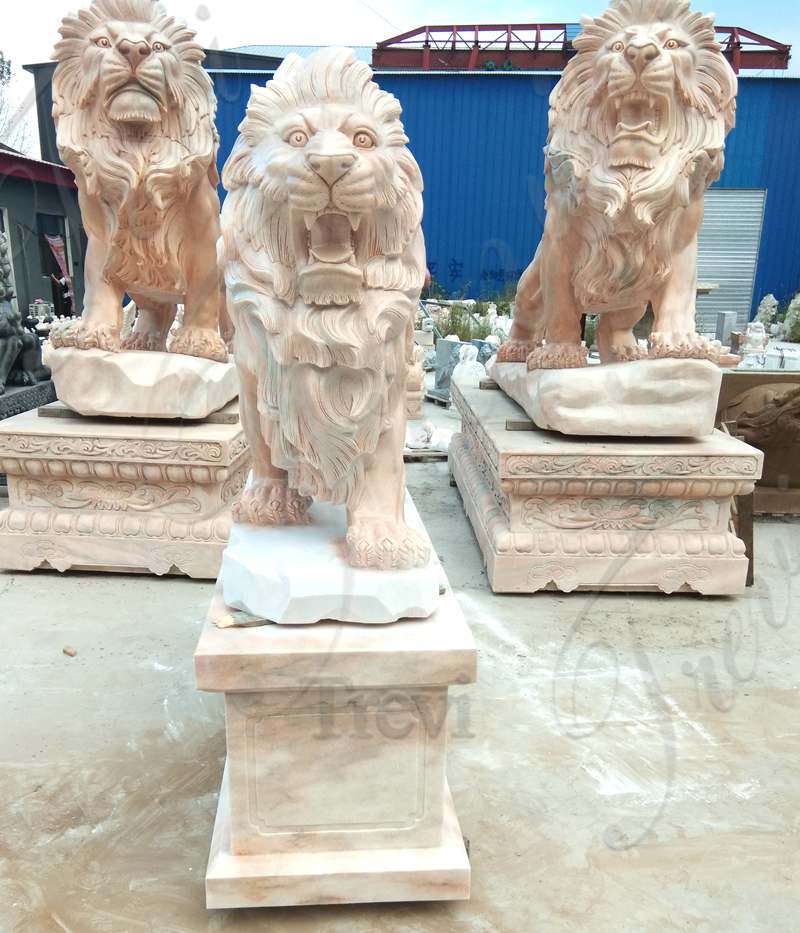 The implication of the lion sculpture is beautiful. We believe that the spirit of the lion fits well with people's inner feelings. The characteristics of these lion sculptures are that the lions are sitting, scattered, or pushing each other.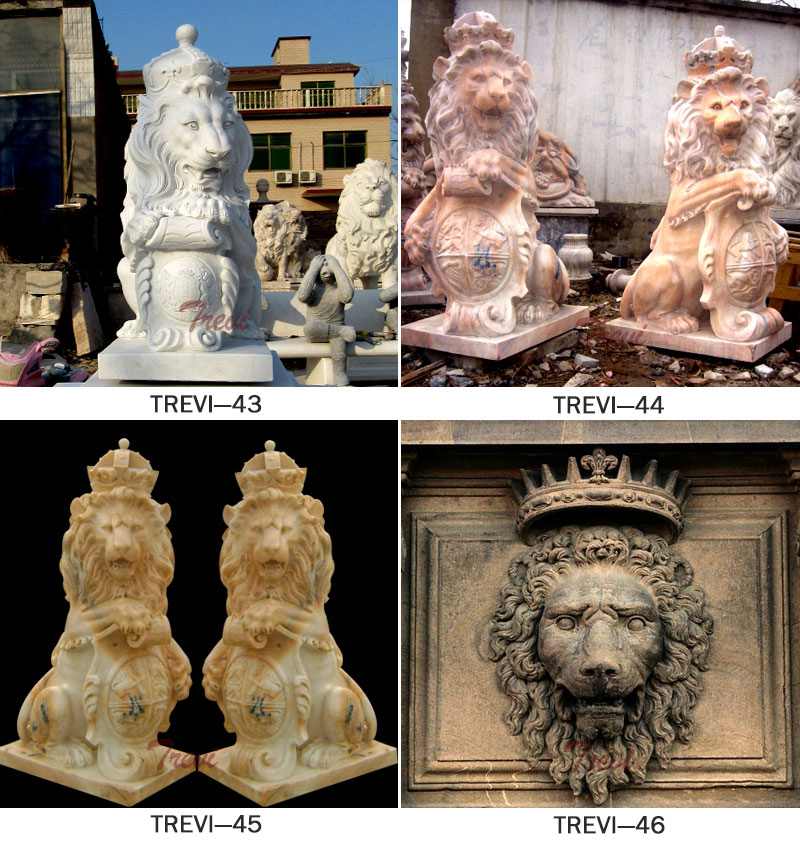 Lion Statues for Front Porch Description:
This pair of lifesize lion statues for front porch could be placed in your garden, driveway, or at the entrance of your front door. It would definitely become the best decoration for the outdoor space of your villa. From a full mane to muscular buttocks, Trevi's lion statue is made of high-quality marble, so this animal statue is ideal for placing on either side of the entrance or garden gate.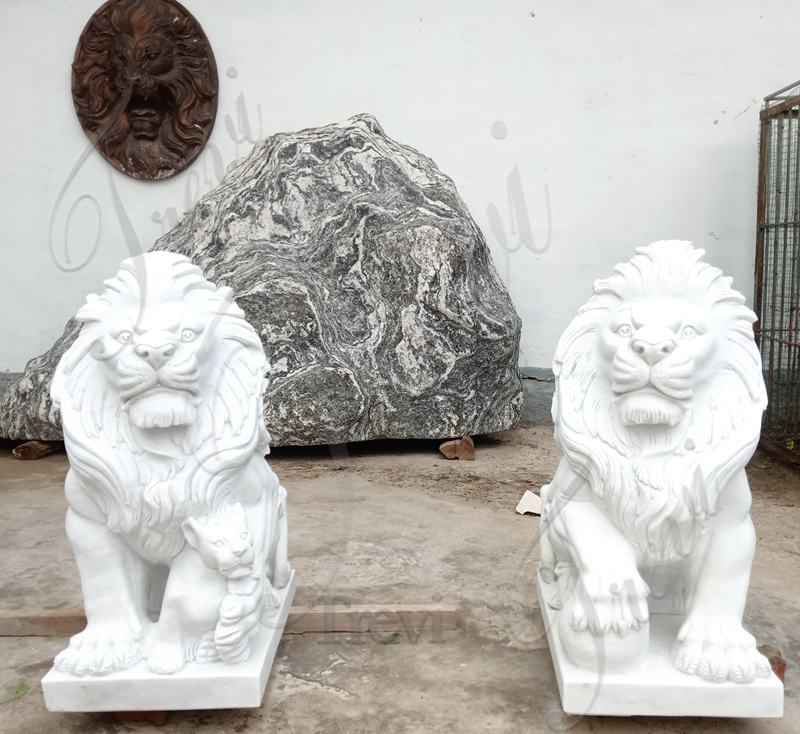 Especially Trevi's lion sculpture has a classical and simple base. This marble lion is very popular in our factory, and the sales volume is very large. The details of the lion are vivid, come to us for customization.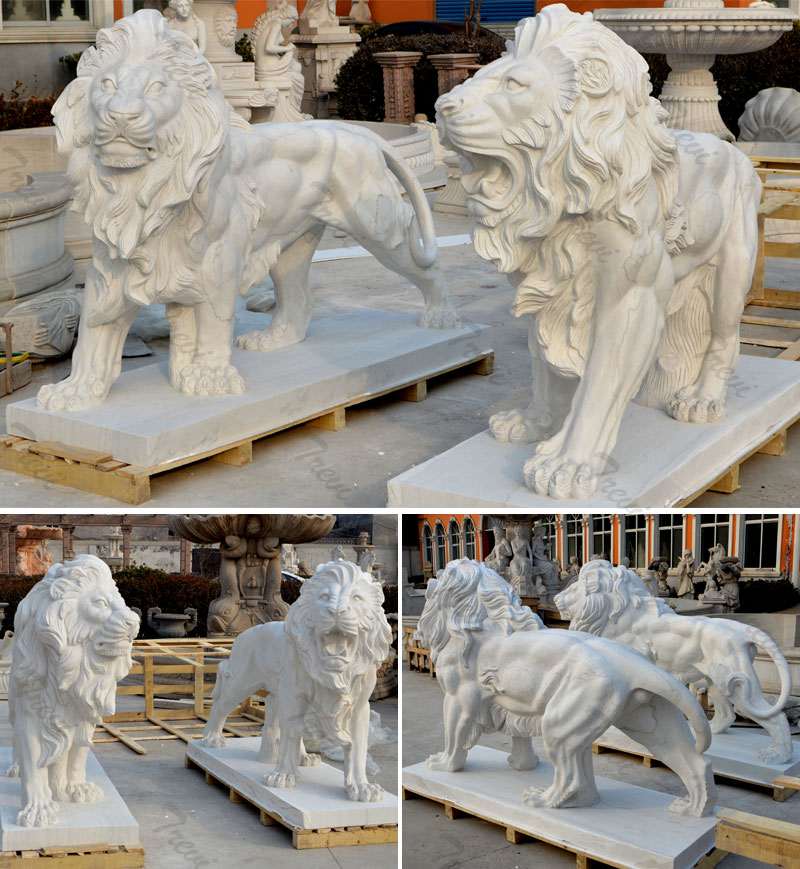 Advantages of Trevi:
Trevi uses high-quality marble carvings to make lion statues for the front porch. The lion's muscles and fur are very realistic. Especially natural marble is more three-dimensional and durable. And Trevi has excellent clay model artists. The so-called clay model is the basis of sculpture creation.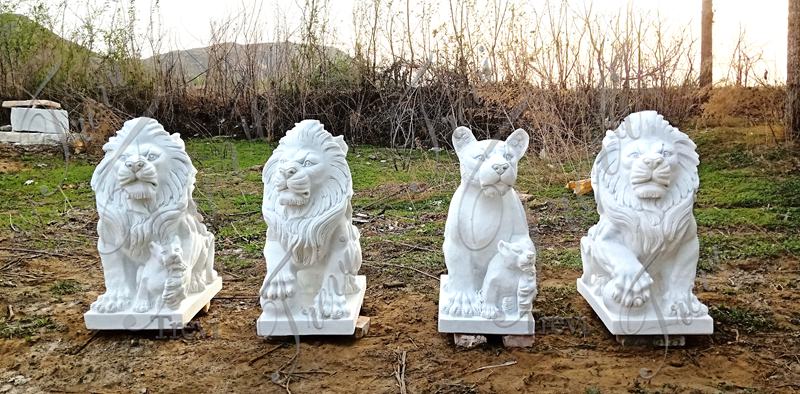 Every artist in Trevi is not just sculpting sculptures but is able to express the emotions and emotional sustenance of the client. Therefore, each of Trevi's sculptures is worthy of our careful appreciation. It's nice to have lion works in your home. Let you decorate your home with an elegant artistic atmosphere. I believe it would definitely attract everyone to stop and watch.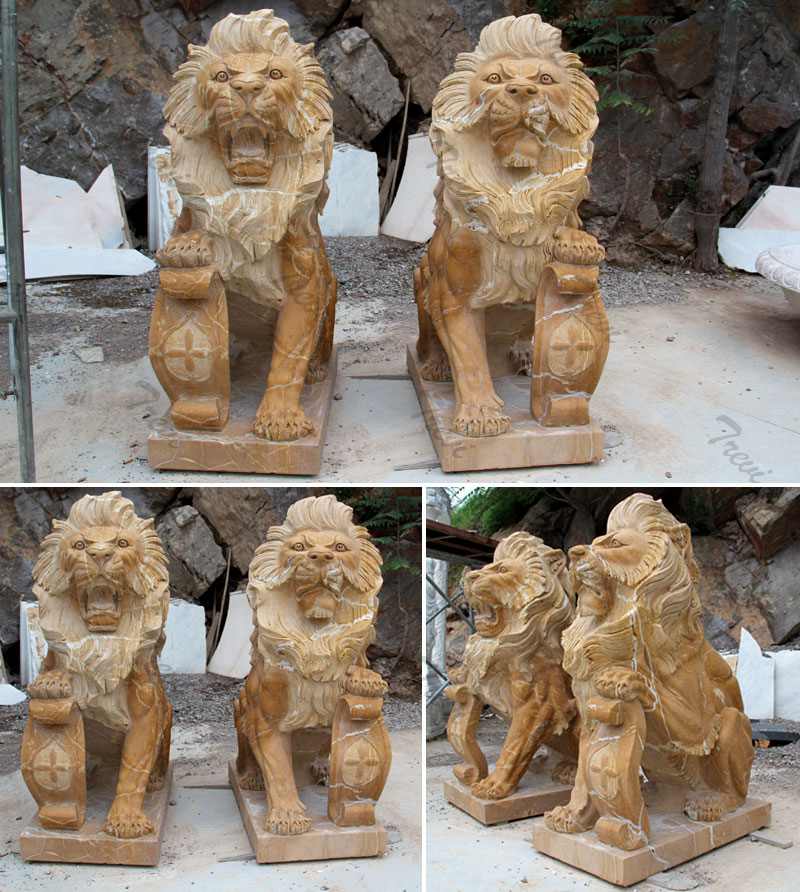 Feedback from Customers Around the World:
We have many clients who choose to place marble lion sculptures at the door. You could clearly see how these lions match their surroundings. Of course, our lions are very high quality. Therefore, the natural marble lion has a life span of hundreds of years. Our clients are very satisfied with our marble lion sculptures.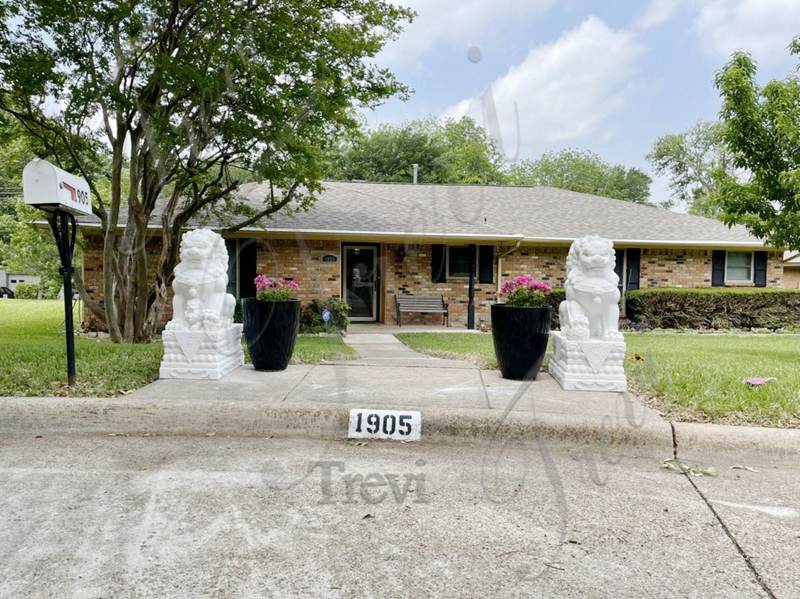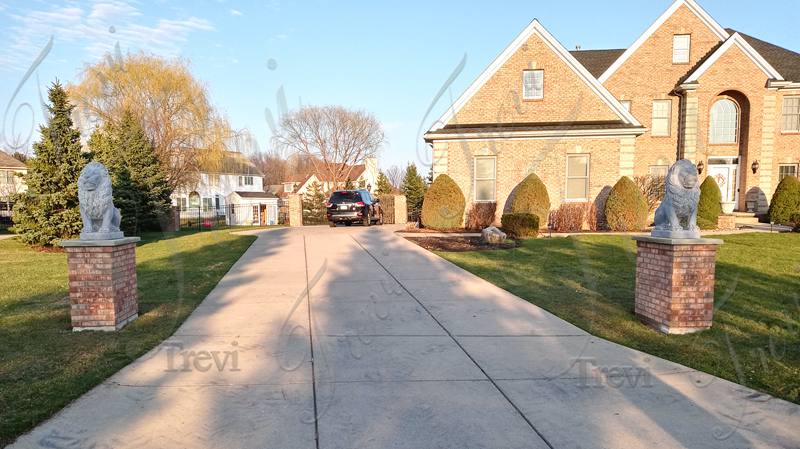 If you are interested in this lion sculpture, please contact us immediately. We would reply to you as quickly as possible and give you the most reasonable price.