Details of Marble Statues:
You would be delighted to see these exquisite life-size marble statues for sale. Trevi's marble sculpture vividly depicts the beautiful love story of Daphnis and Chloe. Daphne looked at Chloe affectionately, his eyes were so sincere. In addition, our artist could also sculpt the hair of the two figures very beautifully. Of course, Trevi's life-size marble statues Daphnis and Chloe are definitely your best choice.
Abandoned Handsome Man: Daphneis
Daphnis is a boy in ancient Greek mythology. He was born well, the son of the ancient Greek god Hermes and fairies. But unfortunately, his fate was unfortunate, and he was abandoned by his mother when he was born. Daphnis was nurtured by fairies and grew into an exceptionally handsome boy. Among these fairies, Daphnis and Chloe are often together.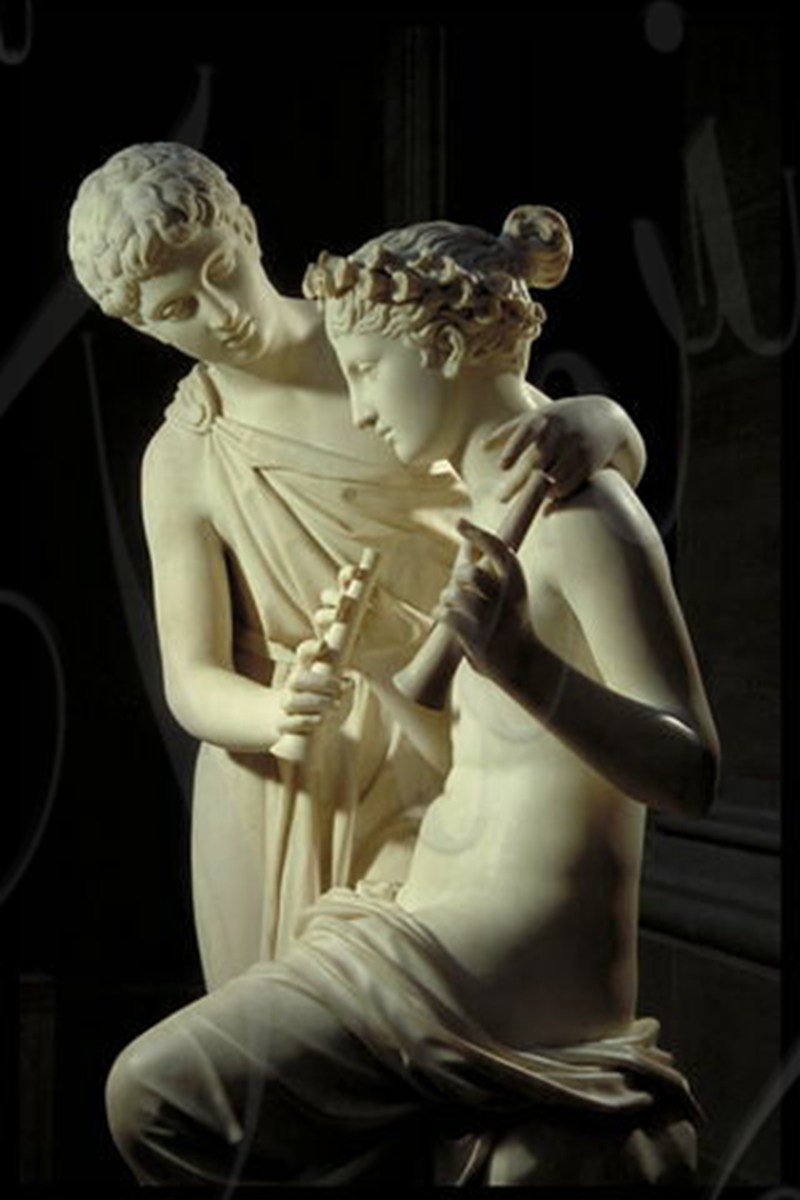 Daphnis' Flute:
Faun Paine taught Daphnis to play the flute. Therefore, in many works, the scene of a beautiful man playing the shepherd's flute and a beautiful woman is the story of Daphnis and Chloe. Daphnis's love experience was bumpy. There are legends that in pursuit of love, he lost his sight, wandered around, and was destroyed by the goddess. But the story between him and Chloe is very eye-catching. Artists are very fond of representing the story of this handsome man and woman, the "model couple". Therefore, the words used in English are Daphnis and Chloe.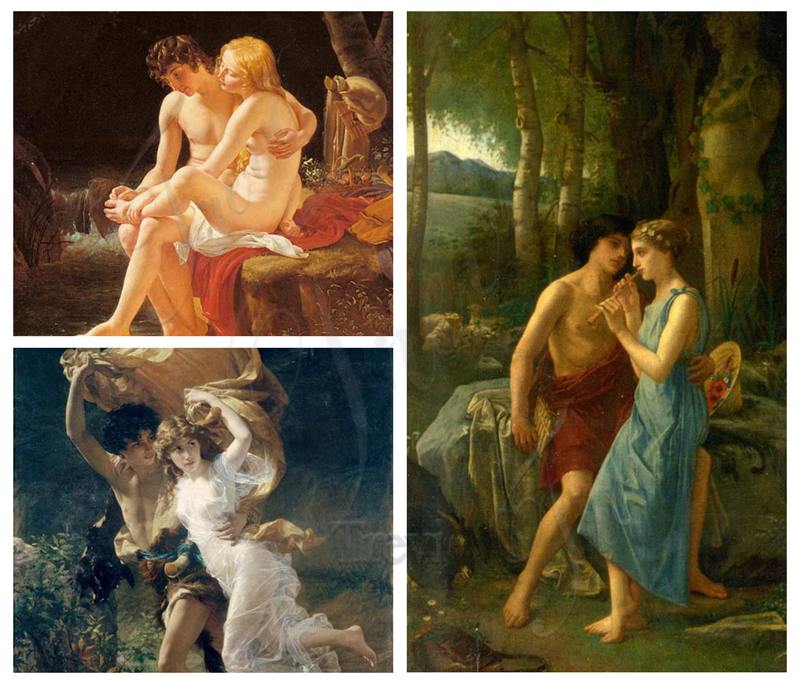 Trevi Has Great Artists:
We have been carving marble for 39 years. Our artists have also been sculpting marble figures for 20 years. They have carved marble sculptures all year round so they have extremely high carving skills. Especially our artists are very good at sculpting the expressions of marble figures. Therefore, our life-size marble statues for sale have received high praise from customers. And there are many clients who would write thank you letters to our artists. They have great admiration for Trevi's fine artists.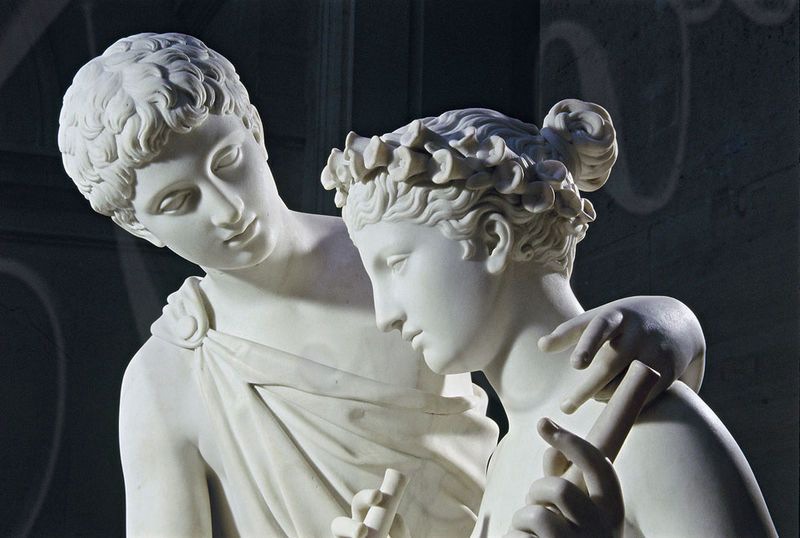 Is Marble Suitable for Statues?
Marble is often used for statues or sculptures. Because it is a very easy-to-process natural stone. As a result, the artist has the flexibility to sculpt lifelike figures. And, it could withstand temperature changes and could last for a long time. In particular, natural marble has a unique beauty. Each marble figure has a unique marble line. In addition, marble could be very delicate to reflect the beauty of the sculpture.
Are Marble Sculptures Expensive?
Today, marble has been mined for many years. So natural marble becomes rarer. Well, marble is more expensive than several other rocks used in ordinary stone carving. In addition, the marble itself is very heavy, making transportation difficult. However, Trevi has many years of experience in marble sculpture. We have a stable source of stone raw materials. And, we have a large number of marble sculpture orders every year. Therefore, our raw materials are very cheap. Because we are a direct factory, then you would get more cost-effective marble Daphnis and Chloe sculptures. Plus, we have a stable forwarder, so their transportation is not a problem. Therefore, you would have a wonderful experience buying life-size China marble sculptures at Trevi.

How Much Does a Life-size Marble Statue Cost?
First of all, marble has different grades, and the prices of different grades of marble are different. Second, when the marble is determined, our artist would determine the price based on the complexity and size of the carved figure. Of course, 1:1 marble statues and life-size human replicas often cost thousands of dollars. Generally, the average price is between $4,000 and $10,000. Well, that price range would change over time and as designs become more complex.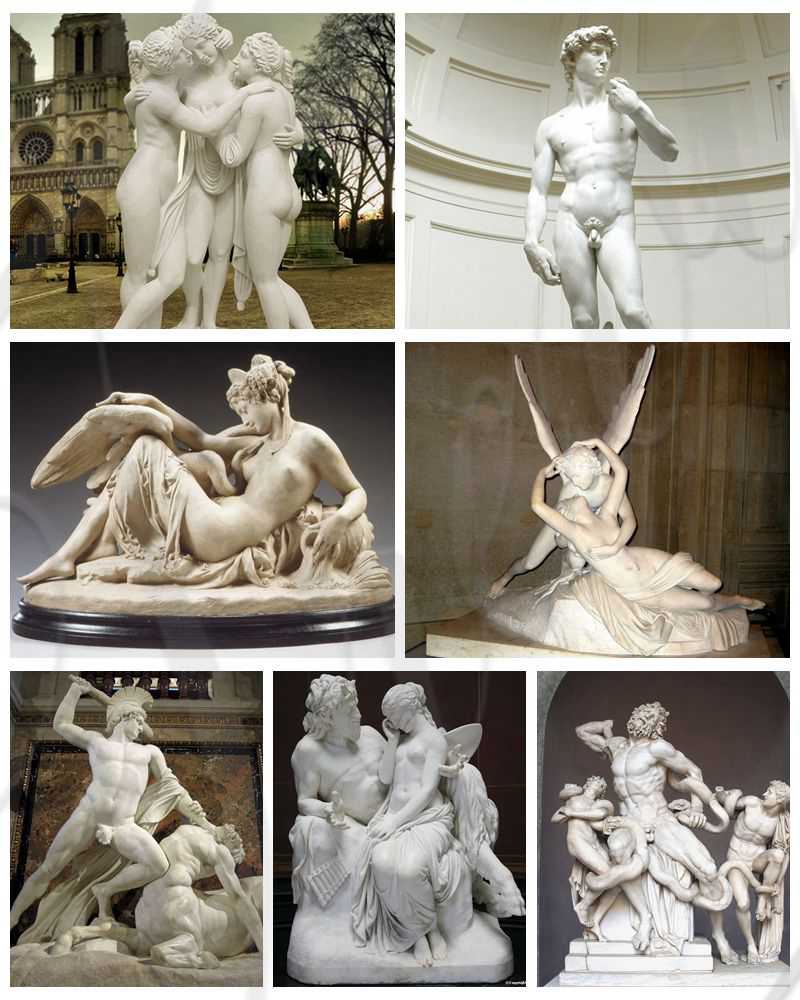 If you like these life-size marble Daphnis and Chloe statues, please feel free to contact us for the best offer. Trust that Trevi is definitely the best choice for you.