The four season sculptures are similar in size, color, and sculptural style. Standing 72 inches with base. Goddesses of the four season beige marble sculptures are carved from a single block of beige marble with high polished technology.
The Four Seasons are an ancient decorative image, usually become a set of popular garden decorative statues.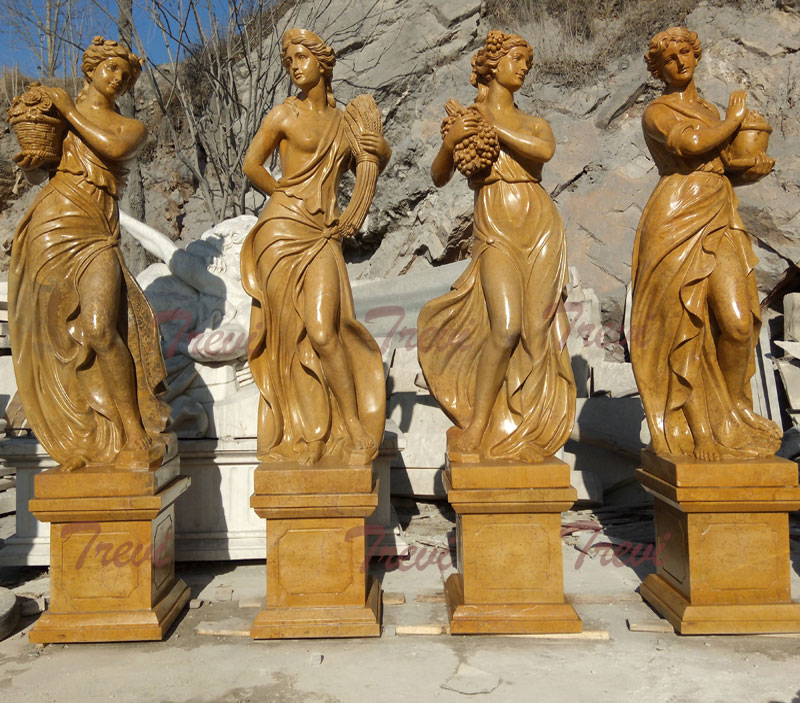 Spring beige marble statue, is distinguished by the presence of flower blossoms. The spring goddess stands with his left leg forward, supporting on his left hip a woven basket filled with blossoms. His right hand holds a cluster of large buds. The figure is clad in a cloth wrapped around his waist and rolled at the upper edge for support, and on his head he wears an anadem (wreath) of blossoms.
Summer beige marble statue, is identified with wheat. This summer goddess stands in a rather dynamic contrapposto, weight on his straightened left leg, swinging his laden arms out to his left side. With both hands he is holding a sheaf of harvested wheat. His head is turned slightly to his right. The figure is clad in a synthesis or draped cloth clasped over the left shoulder and belted around the waist, and he wears a thin cloth headband around his curls that is knotted in back.
Autumn beige marble statue, shows the fruits of the season and a goblet. The autumn beige marble statue stands in a slight contrapposto, weight on his proper right leg, and his head turned to his left. His arms reach out in front of his belly. In his proper right hand he holds a goblet, and his left hand holds a cluster of grapes. He is clad in a robe tied over the right shoulder and twisted along the upper edge across the chest. It is belted around the waist. He wears a wreath of grapevine in his curls. Behind him, to the proper right of the tree stump, is a basket of fruit.
Winter beige marble statue, bears no produce. In this sculpture a winter goddess stands with his weight on his straightened left leg and his right leg bent and crossed in front of the left, the ball of the right foot resting on a rock. His upper body leans right and his arms are crossed, right over left. The right hand grasps the left upper arm, and the left hand clutches the two ends of a cloth wrapped around the boy from waist to knee. The figure looks to his left. Unlike the other sculptures in this set,Winter goddess' curly locks are unadorned