Home Depot Lion Statue Introduction:
The marble lion sculpture is a very popular animal sculpture. Trevi carved this home depot lion statue out of natural marble. Through the delicate and realistic appearance of the lion, you could clearly see the exquisite artistic skills of Trevi craftsmen. Our artists have given new life to the marble material. Obviously, the facial expressions of this lion sculpture are very realistic. In particular, a lion with a big mouth shows the mighty aura of a lion. Secondly, his eyes are also piercing, staring angrily into the distance. Of course, the lion's hair and claws are also very delicate. Therefore, the Trevi lion sculpture is the best choice for your home decoration.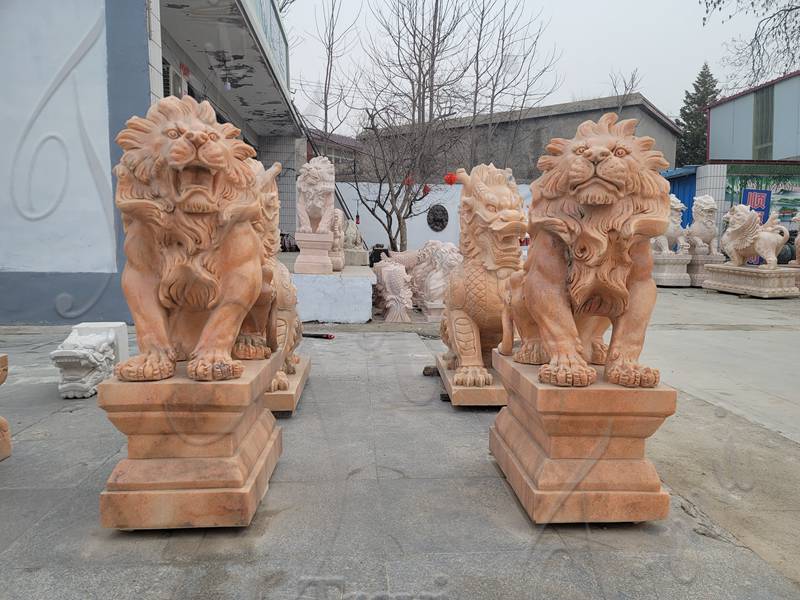 Why do People Love Lion Sculptures?
Of course, the lion sculpture comes from the needs of folklife. Generally speaking, marble lion sculptures vividly enrich the culture of traditional folk customs and festivals. Obviously, we could see marble lion sculptures everywhere. There is no doubt that lion sculptures have become a rare piece of art in the decoration of traditional Chinese festivals and folk activities. As soon as I hear the lion, I think of his mighty, domineering, and sturdy. So, it is precisely because of these characteristics that the lion sculpture has become an auspicious beast to ward off evil spirits and prevent disasters. Usually, when people build temples, they could put the stone male lion on the left and the stone female lion on the right. Of course, stone lions are very common in squares and parks, so these lion sculptures only have a decorative role for people to watch. In addition, people would also place a pair of marble lions at the gates of their homes, which means that the descendants are endless and the family is safe and healthy.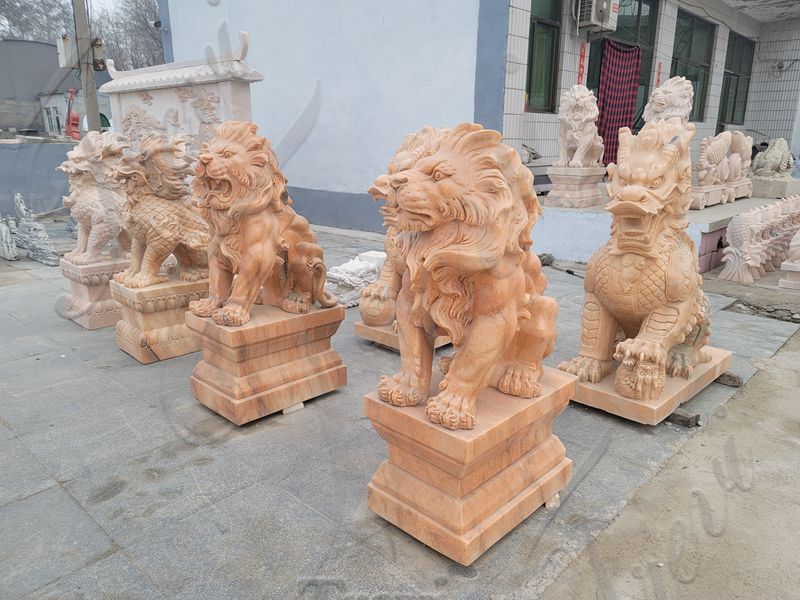 What Does the Lion Statue in Front of the House Mean?
First of all, we all know that the lion symbolizes the balance of power. In lion society, males and females work together to keep the race alive. Of course, they work together to maintain racial status and the healthy growth of their children and grandchildren. Secondly, it is said that placing the lion sculpture in front of the house is a hint to passers-by that the "warriors" who live here have achieved something. Of course, some people also want to show their high status in society. Or some people are trying to show that they have untold wealth. Therefore, placing a lion in front of a house is a symbol of wealth and high society.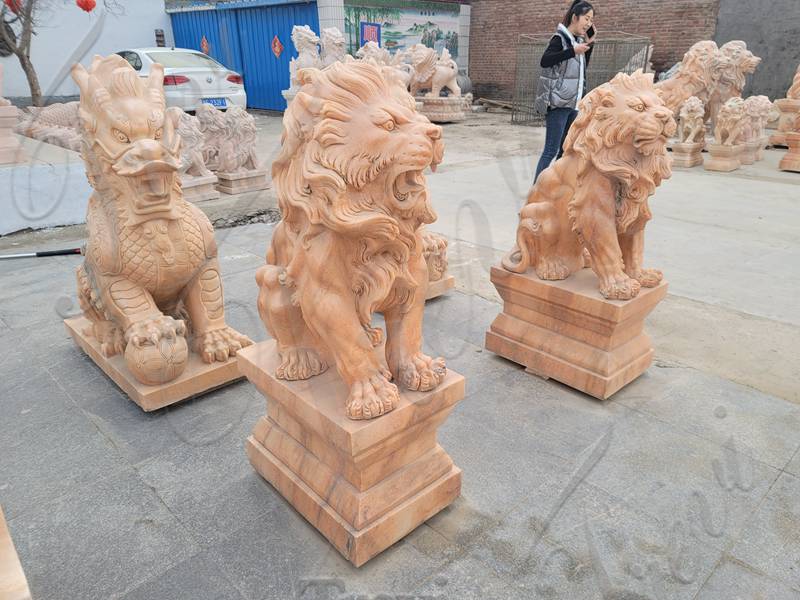 What Does the Lion Statue Represent?
Whether placed in front of the door or by the stairs, the lion is always a symbol of honor, respect, and power. Even we could see it in popular buildings in Paris and New York. Of course, stone lion sculptures have always had the auspicious meaning of exorcism. Therefore, the sculptures carved into lion images with marble as raw materials have certain artistic value and ornamental value. We often see a pair of marble lion sculptures in palaces, temples, gardens, squares, and other places.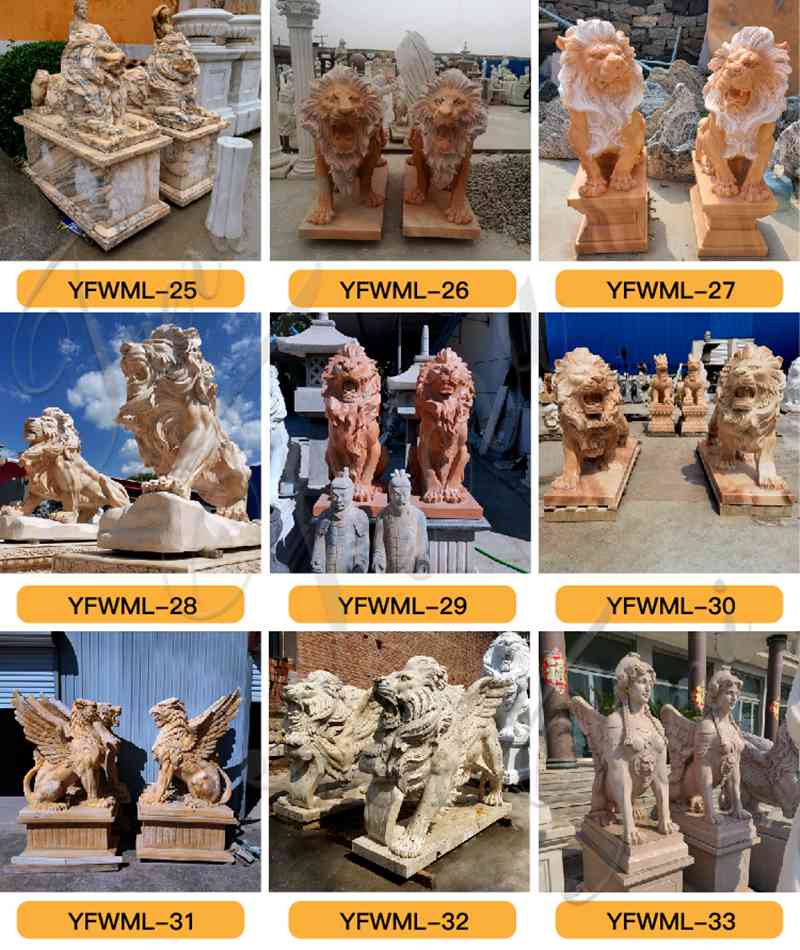 Trevi Uses High-quality Marble:
Trevi marble home depot lion statue would be your best choice. First of all, we choose high-quality marble to carve each marble lion. Moreover, our lion as a whole is made of a marble raw material. Therefore, the shape of our marble lion sculpture is very delicate and unified. Secondly, our marbles are all-natural, so the service life of the lion sculpture is very long.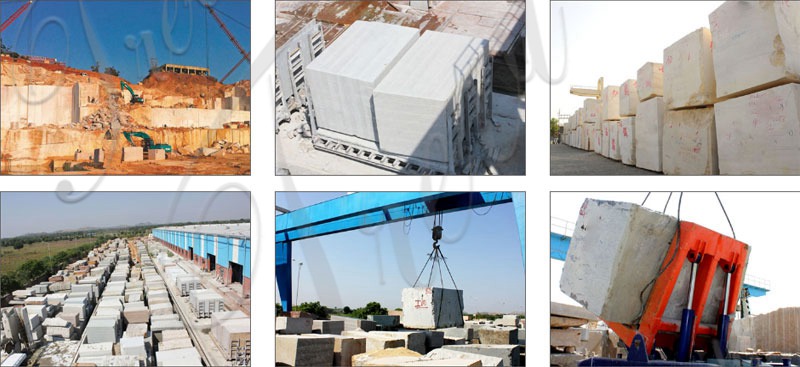 There is no doubt that Trevi works in a professional marble lion carving factory. Our lion sculptures are of high quality and low price and are well received by customers. If you want to buy a beautiful marble lion sculpture, please contact us now. Trevi would provide you with satisfactory service as soon as possible.